London's all-American favourite, Christopher's, has re-opened its doors after an extensive four-month refurbishment.
The Hon Ambar Paul and family, who have been running the Covent Garden stalwart since 2010, have been keen to retain the essence of what has made Christopher's one of London's most loved dining rooms since it opened in 1991.
Speaking about the refurbishment, Director, Anika Paul said: "Since we bought Christopher's in June 2010, I've spent over two years working at the restaurant, talking to our regulars, and understanding our strengths. We felt it was now time to give a new lease of life to the building and reinvigorate the space, while retaining the charm and spirit of Christopher's that has been established over the last 22 years."
When asked about the restaurants continuing success in the face of stiff competition, Anika added: "For over 20 years Christopher's was the original American restaurant in London, doing steaks, burgers and shellfish well before today's trend and in doing so acclaimed a great reputation.
"I think Christopher's success lies in the fact that its focus has always been on the customers and the kitchen produces good food that everyone wants to eat, seemingly more so now than ever before."
The refurbishment has encompassed works to the Dining Room, Martini Bar and new Club Room for private parties and events.
The new Martini Bar will serve classic and creative cocktails in a sleek, contemporary Art Deco setting. The bar food menu will be available all-day until late, and will feature Po'boys, alongside sandwiches, salads and burgers. There will also be a selection of sharers available, offering something for all appetites, whether it's a quick lunch, tempting snack or something to nibble on whilst sampling the cocktails.
For those with a sweet tooth or looking for a treat, a selection of coffee, desserts and decadent martinis, including a New York Tart Martini and a Chocolate Cherry Mochatini, will be available, to name but a few.
The first-floor Dining Room will serve a reinvigorated menu that incorporates Stateside Staples alongside Christopher's classics. Signature dishes, such as the USDA Prime steaks, Maryland Crab Cake and the popular Surf'n'Turf remain, alongside new creative classics such as Missouri-rubbed rack of lamb with Boston beans, and blackened salmon with jambalaya risotto.
Weekend brunch will also be a speciality, offering light and healthy breakfast dishes, pancakes and eggs as well as more substantial options, such as the signature steak and eggs, corn beef hash with béarnaise sauce, and the lobster club. Desserts to finish will include pecan maple pie with salted caramel ice cream and apple and blueberry cobbler with cinnamon ice cream.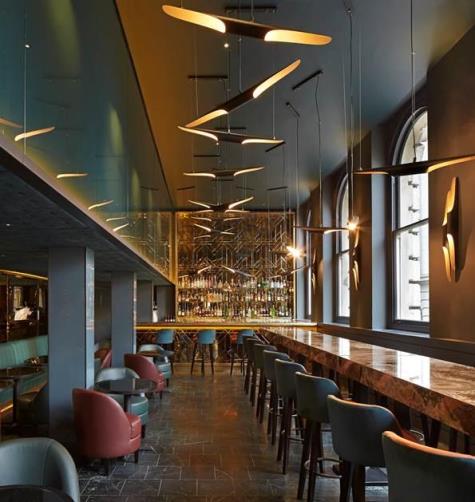 The new Club Room will be an exclusive retreat to host anything from sit-down dinners, to drinks parties, events and corporate presentations throughout the day. With its own bar and tailored menus available, the Club Room will be a space suited to all private occasions.
Specialist decorators Pretty Ruff completed all the wall and stair finishes at Christopher's in addition to the entrance hall, columns and magnificent gold gilded ceiling in the main restaurant. Director, Sophie Cowdy said that Christopher's was "a great project to work on" and that Pretty Ruff are currently enjoying success decorating the super yachts that dot the Monaco coastline.
For more information please visit: www.christophersgrill.com.
Pure CF ltd
For the past 30 years Pure CF has been in business providing quality contract furniture to the hospitality and leisure industry. In that time the company has forged a reputation based on reliability, trust, integrity and professionalism.
Paul Gill, Managing Director of Pure CF, worked closely with the designer Jose Esteves De Matos on Christopher's. He said: "The furniture in the bar area and on the first floor including tables , chairs, cabinets and modular seating was all hand made to the designers specification. We manufactured samples to bespoke designs and then made the furniture once they had been approved."
When asked what Pure CF prides itself on as a company, Paul added: "Pure CF prides itself on its reputation for excellence in the manufacture and installation of quality contract furniture products to the leisure industry. The quality of our work, the expertise of our people and our ability to understand our clients' needs ensures a smooth transition from commission through design, manufacture and installation."