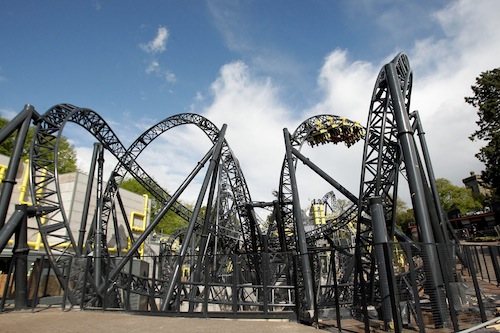 Renowned across the UK for its adrenalin-pumping spills and thrills, Alton Towers Resorts is one of the most visited theme parks in Europe.
 Opening for the 2013 season is the theme park's biggest rollercoaster yet, The Smiler. Not for the faint hearted, construction on the coaster began in September last year amid much secrecy.
Featuring a Guinness World Record breaking 14 loops, The Smiler is Alton Towers' biggest ever investment at £18m. In addition to the 14 loops, the ride also features a series of twisted psychological effects including optical illusions and blinding lights designed to mess with your mind.
 With plunging drops of 30m- comparable to 17 black cabs stacked up on top of each other, a ride time of 165 seconds which is 10km/hr. faster than Air and a track length 3x the length of Oblivion, The Smiler is set to be an intense addition to the Alton Towers Resort's line up.
Tom Ibison from Guinness World Records commented: "Alton Towers Resort has smashed the record with The Smiler's epic 14 inversions – four more than their nearest rival located halfway around the world. We've seen a number of extreme roller coasters open, but it's so exciting to see such a world class attraction opening here in the UK."
Katherine Duckworth from Alton Towers Resort added: "We have been saying that The Smiler will 'marmalise' your mind for a long time and today we can officially reveal that it is set to do the same to your body. The combination of 14 loops with a variety of elements such as optical illusions, designed to mess with your mind make The Smiler a truly unique rollercoaster.
"This is by far the most exciting roller coaster for Alton Towers Resort to date. It is twice as big as Nemesis and our biggest ever investment."
John Wardley, a ride consultant on The Smiler, commented: "The amount of time, money and energy that has been poured into creating this world first attraction is huge. I've been working in the industry for over 35 years and this rollercoaster really does push the boundaries. Who knows what we will have to do next to top this one!"
Alton Towers Resort is home to over 50 rides and attractions and there is something for all the family to enjoy, whether you're after gentle thrills or pure adrenaline pumping experiences! After an action packed day, enjoy a short break at the Alton Towers or Splash Landings Hotel situated just a stone's throw away from the theme park. Discover the fun and quirky features of the Alton Towers Hotel, whilst over in Splash Landings, the sun shines every day in the crazy Caribbean themed hotel.
Visitors have been able to experience The Smiler's 14 record-breaking loops and all its twisted psychological effects since May 31st, for more information please visit: www.altontowers.com.