St Austell Brewery has a fantastic reputation in the industry for its award winning beers, and with over 170 pubs and hotels in the South West – including the recently acquired Cornish Arms, Tavistock, The Three Crowns, Chagford and The Globe Hotel, Topsham – the company continues to expand its portfolio.
Keen to continually improve its offering, St Austell Brewery has recently refurbished a number of its sites as part of its ongoing asset management programme, all with the aim of giving customers the highest level of service and hospitality.
Humphrey Voelcker, Estate Surveyor at St Austell Brewery, took time out of his hectic schedule to sit down with Premier Hospitality, along with some of the key players working on the refurbishments, to explain the Brewery's success.
Humphrey said:
"St Austell Brewery is an independent family business, founded in 1851, brewing real ales and lager in Cornwall. The pub estate is spread throughout Cornwall, Devon, Somerset and Bristol. In addition to supplying our own pubs and hotels we also supply beers, minerals, wines and spirits to many independent free trade accounts in the South West.
"Within the last 12 years our National Sales department has flourished, with Tribute, our core beer brand, gaining impressive market share. The export market is also doing particularly well too, and we are currently seeing our beers go to 17 foreign countries."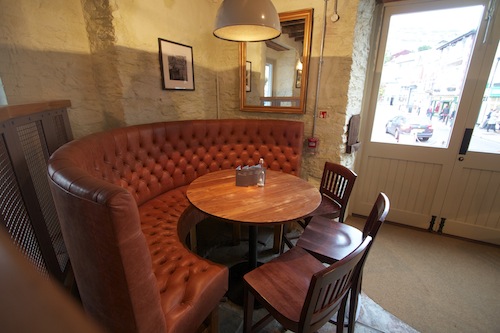 With such an impressive estate, St Austell Brewery has built up a strong, long lasting working relationship with its contractors, who have been instrumental in the refurbishment of some of the Brewery's leading sites. Design Management Partnership and Cummins & Pope Ltd, have worked on many of the Brewer's sites, including The Pandora Inn, Restronguet and The Pedn Olva, St Ives.
Humphrey explained:
"We first met Cummins & Pope Ltd whilst working on the Pandora Inn and we've continued to work with them on a number of projects since."
Discussing The Pandora Inn, Humphrey said:
"The Pandora is an iconic, flagship site for us, it is a Grade II, thatched, traditional waterside pub and extremely popular with customers. Unfortunately, in 2011 the building was devastated by a fire which ripped through the first floor and saw water damage ruin the ground floor.
"The restoration of this building was very important to us so we had to ensure that every aspect of the project was carefully considered. The site had to be restored to its former glory in a very sympathetic way to retain the character that people had come to love so much."
Gareth Hardy of Cummins & Pope Ltd, said:
"The Pandora Inn was our first meeting with St Austell Brewery. The project was a very important site for the brewery, so it was a big challenge for us. We had to rebuild the inn back to its original form, or as close to its original form as we could get it within current building regulations."
Design Management Partnership was the designer on Pandora Inn. The practice had recently started working with St Austell Brewery when the fire broke out at Pandora Inn and they received the call to action.
Design Management Partnership Company Director, Steve Peacock, said:
"We were working on two different sites for St Austell Brewery when we got a call informing us that Pandora Inn was on fire. As this was a flagship site for St Austell Brewery we knew that we would have to get this building back up and running for the Brewery as soon as possible."
Following on from the restoration of The Pandora Inn, St Austell Brewery set its sights on improving another key hotel site within its portfolio, The Pedn Olva.
Humphrey said:
"The Pedn Olva in St Ives is an iconic hotel, situated on the cliffs overlooking both Porthminster and Harbour Beaches. In order to give this site the refurbishment it needed we shut for three months.
"Although the site is first and foremost a hotel we felt that to further maximise its potential we needed to attract more "non-resident" trade. The refurbishment comprehensively updated the site, making it more contemporary and we are now seeing far more people walk in off the street than ever before."
Steve said:
"This refurbishment has given the Pedn Olva a complete makeover, putting it in line with boutique-style hotels. The hotel is in an exceptional location and the refurbishment only goes to highlight this. The exterior has been enhanced, the balustrading replaced, external landscaping improved and external furniture was also installed."
Steve added:
"We have worked on a number of projects for St Austell Brewery, including The Three Crowns, Chagford, The Globe, Topsham and The Old Market House, Brixham and we have recently finished working on the Cornish Arms in Tavistock. We value our working relationship with St Austell Brewery and we always aim to be the first name on their list when it comes to getting the job done right."
Cummins & Pope was the leading contractor on Pedn Olva, which proved to be another great project for the team to be involved with.
Gareth said:
"Compared to The Pandora Inn, The Pedn Olva was a smaller scale refurbishment, but it wasn't without its complications, due to the nature of its location. Thankfully good communication and working with a team who know what they are doing really makes all the difference.
"To date, we've worked on five sites for St Austell Brewery. Just like the Brewery, we are a family-run business, providing a good, friendly service. St Austell Brewery is one of the best companies I've worked with, they are great at what they do and we look forward to seeing this working relationship continue on future projects."
The future is of course something which all good businesses look towards, especially during the challenging financial times, however it is not something which St Austell Brewery hasn't already thought about.
Humphrey commented:
"Moving forward the future continues to remain bright for St Austell Brewery, as we continue to cement ourselves as the South West's number one brewer and pub operator. We are keen to acquire and invest in more sites, however we will do this strategically and organically and certainly won't be buying new sites just for the sake of buying them.
"We have a world class beer and pub portfolio, but we always remain in touch with our roots and that is the key to our success."
For more information on St Austell Brewery, please visit: www.staustellbrewery.co.uk.
AG Rutter Ltd
AG Rutter Ltd is a specialist in ceramic wall and floor tiling contracting, predominantly providing services to the leisure industry.
AG Rutter Ltd has been in operation since 1991 and conducts work across the UK. Within this time the company has worked with countless pubs and clubs throughout the UK, including Greene King, Brewers Fayre, Hungry Horse and of course St Austell Brewery.
AG Rutter Ltd has worked with Cummins & Pope on projects for St Austell Brewery. Andy Rutter, Managing Director of AG Rutter Ltd, commented:
"It is important to work for good builders and we have worked with Cummins & Pope for many years. Cummins & Pope are an excellent, well run and well structured company and we appreciate our involvement with them on St Austell's projects."
Andy added:
"At AG Rutter Ltd, we pride ourselves on our workmanship, all of the stock we use is branded and of the highest quality."