Hopecarton is a newly built single plot high-end property located on the site of the former Hopecarton cottage, situated in a quiet location near Biggar, Scotland.
The large four-bedroom house, including four en-suites, three public rooms, bespoke kitchen and separate garage, was recently completed and handed over to the delighted client in May this year.
Construction work began at Hopecarton in November 2011, with all practical work reaching completion in April 2013. The project has achieved an NHBC Pride in the Job Award Single Plot Commendation for site manager Robbie Lindores.
The architectural design and supervision on the project was carried out by Aitken Turnbull, whilst the main contractor was JMS Harkin Ltd. JMS Harkin Ltd caters to all domestic, commercial and industrial customers and specialise in all aspects of building work, completing jobs to the highest standards.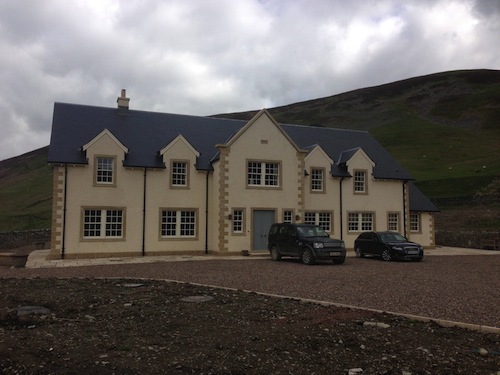 Speaking about JMS Harkin Ltd's involvement in the scheme and what it meant to win an NHBC Award, Mike Harkin, Managing Director of JMS Harkin Ltd said:
"We have been registered with NHBC for a number of years now, but this is the first time that we have been involved in an award winning project. We are all very proud and quite excited to have received this recognition.
"As Robbie Lindores is the site manager, the award goes to him for his good work and high standards on site but for a small builder like ourselves we feel that this was a team effort from all involved. We did a great job both on site and off site with the organisation and management and we ensured all of the details were completed to the best of our ability.
"There was a lot of hard work put into this scheme, from Robbie and myself, the architect and client, sub contractors and everyone else on the team. We all pulled together to make this a great project overall."
Although work on the project ran relatively smoothly, a few challenges did appear on the horizon, as Mike explained:
"The construction of the house experienced some difficulties with very limited access to the site via a hardcore farm track and a low weight limit on the bridge over the river Tweed that leads to the property. The weight limit on the bridge was just 12 tonnes, including the vehicle weight and not just the materials it carries; therefore we encountered challenges in transferring labour, plant and materials to the site.
"In order to overcome the obstacle the bulk of materials had to be unloaded in a compound at one side of the river and loaded onto smaller vehicles and dumpers to be taken over the bridge and hauled up the half mile track to site. This also had an impact on the suitability and choice of materials and components that could be used. For example the original design called for a self levelling pourable screed over the underfloor heating pipes but we simply could not get the ready mix lorries up to site and had to change this to semi dry mixed material delivered in bulk, dumped and transported to site by dumper for spreading and screeding by hand. We were also limited to the choice of plant which could be used – mainly backhoe loaders and mini excavators which again influenced activity on site.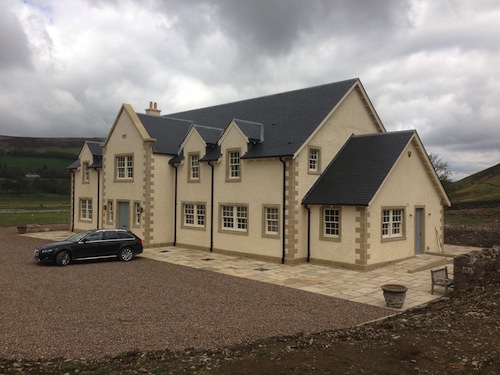 "The house was a traditional cavity wall construction, with concrete ground floor and beams and block first floor, timber trusses and a slate roof. It did have some modern methods however; the house was built using H+H Celcon Thin Joint system (as JMS Harkin Ltd are Celcon approved thin joint contractors) and made use of Solar Panels and Air Source Heat Pumps for power and heat and was highly insulated."
JMS Harkin also completed landscaping works and other siteworks such as rubble walling, stone built retaining walls, external stone slabbing and formation of drive and parking areas.