Situated on the outskirts of Ballymoney town centre, County Antrim, Bann Meadows is a 45 unit housing development which is currently taking shape.
The site comprises a mix of detached and semi-detached three and four-bedroom homes, with a focus on attracting first time buyers.
The houses on Bann Meadows are being constructed using traditional methods of brick and block, with UPVC windows, fascias and soffits. Internally the properties are being fitted with modern, high quality, fixtures and fittings, including oak internal doors with chrome fittings, tiles and carpets throughout.
White sanitary ware is being installed into bathrooms, alongside power showers in en-suite rooms, where applicable. The majority of the units are traditionally built however a few of the properties include open plan kitchens, as requested by the buyers.
Each property also includes front and back gardens, designed for low maintenance, as well as pathways. Each plot has room for a garage if requested, and include front and rear outside lights and close board fencing to rear gardens.
A large open space area connects the development, creating the perfect picturesque community in Northern Ireland. All of the properties at Bann Meadows include a ten-year NHBC warranty.
Landbank Homes is the main contractor on Bann Meadows, whilst Moore Design is the architect.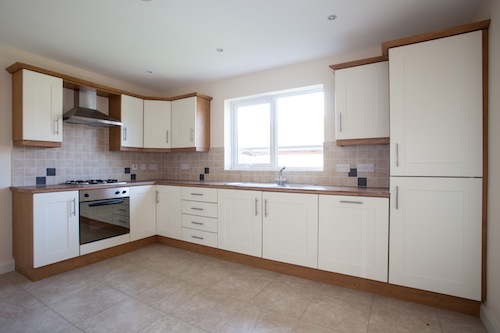 Work began on Bann Meadows in 2010 and with units being constructed to meet demand, Landbank Homes has only 14 units left to build to complete the development.
Site Manager Geoffrey McAllister has recently received an NHBC Pride in the Job Award 2013 for his work on Bann Meadows. The recognition marks the first time Geoffrey has received an award with NHBC and it is something he is very proud of.
Discussing the award, Geoffrey, said:
"To receive an NHBC Pride in the Job Award is great. I have been in the building trade for 35 years, so it is fantastic to get this recognition – my hard work has finally paid off.
"All of my colleagues are very pleased about this award too, especially as this job is very much a team effort. Bann Meadows is not all down to me, so this award highlights all of the hard work put in by everyone involved in this project."
Good progress continues to be made on Bann Meadows, with Landbank Homes currently working on the remaining properties that round out the development.
Commenting on the site's progression, Geoffrey said:
"At present we are currently in the process of constructing the next six units, which have already been sold. Work has run fairly smoothly on the project so far, with no major problems, and we continue to work hard to meet demand."
Ballymoney is an expanding town, which is served by many local amenities, including shops, schools and churches. In addition, Drumaheagles Marina and Gracehill Golf Club are just a few minutes drive away.