Officially opened in April 2013, Hatston Pier is a 385 metre pier situated on the outskirts of Kirkwall.
Hatston Pier was the second phase of the Three Port Strategy, the ambitious development designed to upgrade and improve pier and quayside facilities in Orkney.
As Phase Two of the Three Port Strategy, the completion of Hatston Pier marked an important milestone in turning the overarching scheme into a reality. The project saw the existing 225 metre port extended by an additional 160 metres, making it Scotland's longest commercial deep-water berth.
Commenting on Hatston Pier project, Peter Bevan, Orkney Islands Council, said:
"Hatston Pier was a Design and Build contract which was awarded in October 2011, with construction work beginning in March 2012. The new berth was created to primarily contend with the expected increase in marine renewables traffic, although it is also used for general cargo and cruise liners.
"The pier was handed over to the council's marine services on 22nd April 2013. The pier provides a great deal of additional space for the marine renewables sector and already we have seen the greatest concentration of tidal turbines on the pier at any one time, which is great."
Hatston Pier is strategically located for European Marine Energy Centre (EMEC) tidal test site off the island of Eday, where a number of tidal energy devices are undergoing trials. As well as supporting the marine renewable energy sector, Hatston Pier will also serve as a berth for a variety of vessels, including ferries, cruise ships and those serving the offshore oil and gas industries.
The new pier was officially opened by Neil Kermode; the managing director of Orkney based EMEC. The occasion was marked by the unveiling of a plaque, whilst Hazel Stephen, Marine Services office manager, cut the ribbon.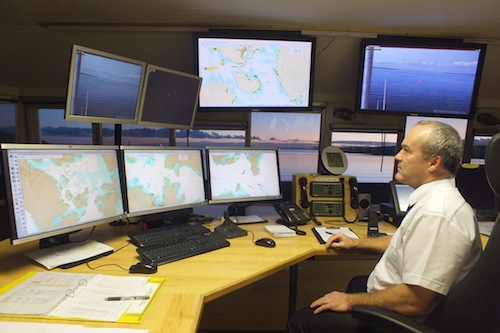 Commenting on the newly extended pier, Neil said:
"Orkney enthusiastically welcomed the first developers of tidal turbines and has seen first-hand how hard they all work and what they need.
"Orkney has rolled up its sleeves to do everything it can to help them succeed and Hatston Pier is the biggest manifestation to date of this can-do attitude. I can't think of a clearer signal to the burgeoning wave and tidal industry that Orkney is open for business."
McLaughlin and Harvey was the main contractor on Hatston Pier. McLaughlin and Harvey operates throughout Great Britain and Ireland and delivers quality construction projects, which benefit from the company's 150 years of experience.
Orkney Island Council Vice Convenor, Jim Foubister, commented:
"With the completion of Hatston two new companies are already on board and we have a number of enquiries coming in about operating from this site.
"Orkney Island Council has agreed to the installation of a 500 cubic metre water tank which will deliver a water supply of 40 tonnes per hour and we are currently in discussions with oil companies about the possibility of installing bunkers at the pier. We have a lot of opportunities for future development at Hatston Pier."
Streamline Shipping Group
Streamline Shipping Group offers specialist point-to-point transport and logistics services for construction and building supply projects across Europe. Based in, and operating its own cargo vessel from the port of Aberdeen, Streamline offers a unique service package for movement of plant and materials to and from the Northern Isles of Orkney and Shetland, with daily services for trailer, loose, bulk and project cargoes to the far north.
Often working directly with contractors' suppliers, Streamline take the pain out of planning and delivery of 'just in time' site supply. With its own fleet of haulage and lifting equipment, and a network of partner transport operators, there is no collection or delivery that can't be covered.
Streamline's proven track record in getting materials from A to B on time, to specification and at the right price makes the company a first choice for logistics planners and contract managers, allowing construction and site managers to get on with the job of building – to plan and on time.
Hazel McMullan, Business Development Manager with Streamline Shipping Group commented:
"Our service offer is simple, we work in partnership with our customers and their suppliers, investing time to ensure we properly understand the project requirements and the particular demands of the supply chain schedule. We deploy our in-house resource across all aspects of the job from lifting or crane work, through haulage, seafreight, including the loading and discharge of vessels and storage as required, before effecting final delivery to site in accordance with the customer or site manager's schedule.
"By tailoring our service to the needs of the project we find we can build professional, rewarding and long lasting relationships across the construction sector."