Bringing the energy of underground Tokyo to the streets of Soho, Chotto Matte brings together the best of Japanese and Peruvian cultures in one unique dining experience.
Located on Frith Street, Chotto Matte opened in September 2013 and is the latest site from acclaimed restaurateur Kurt Zdesar.
Speaking to Premier Hospitality about this brand new venture, Kurt Zdesar, said:
"Chotto Matte is almost a 200-seat restaurant with a lounge that can accommodate almost 100 people. The concept is based on Nikkei cuisine, which is a fusion of traditional Peruvian food and Japanese cuisine. Having spent some time in Peru I have seen firsthand where the cuisine comes from; its origins, and its evolution over the last ten years alone.
"As the food we serve at Chotto Matte is a combination of two cuisines we have incorporated this into the design and operation of the restaurant. We have two sushi counters, a flexible downstairs dining area and a large upstairs dining space able to accommodate up to 130 guests.
"Chotto Matte has been designed to be an all-day restaurant, beginning at lunch time and running through into the morning. The restaurant is a fun, lively and very entertaining experience for all guests."
Kurt acquired the site which became home to Chotto Matte in November 2012. Lambro Europe Ltd was the main contractor on Chotto Matte, whilst Andy Martin Architects provided all architectural services.
Spread across three floors, Chotto Matte comprises six distinct areas, which includes the restaurant's fantastic dining spaces and sushi counters. The ground floor includes an expansive cocktail lounge with retractable glass walls which expose the lounge to the street, allowing guests to spill into Soho and take in the sights and sounds of the bustling neighbourhood.
Adjacent to the bar is a raised dining area, complete with a 55-cover a-la-carte restaurant and fixed-price raw bar, whereby master sushi chef – previously chef to the Emperor of Japan – serves an ever-evolving menu of sushi and raw specialties. Meanwhile, a spiral, burnt-timber staircase leads guests to the upper level which boasts an open Robata grill, sushi bar and 100-cover dining room.
In both the upper and lower level dining rooms, an affordable, a-la-carte menu has been specially designed to encourage a relaxed, sharing environment with dishes such as Avocado Tempura with smoked purple potato; and BBQ Pork Belly nashi pear salsa.
The interiors of Chotto Matte are designed to evoke a sense of modern day Tokyo, offering guests a multi-layered experience that blurs the boundaries between modern and traditional aesthetics. Andy Martin's striking design fuses both natural materials such lava stone and burnt cedar, with art inspired by Tokyo's contemporary urban culture.
Andy Martin, Andy Martin Architects, said:
"Prior to my involvement with Chotto Matte, I had worked with Kurt on a couple of projects so during this time we developed an understanding of what we expect from each other. We worked on the brief together and then my practice took this to a 3D concept.
"At Andy Martin Architects we specialise in projects like this, where we get to work with great clients such as Kurt. I hope to work with Kurt on similar projects in the future."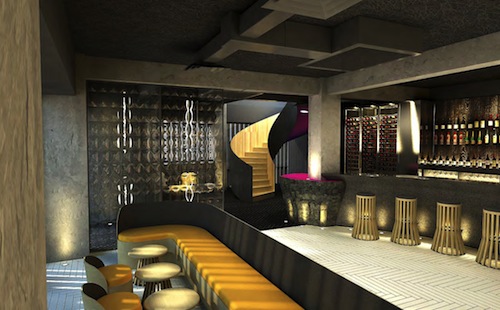 With the grills fired up and the doors now open at Chotto Matte the future looks good for Kurt's latest restaurant, which is not surprising considering the success of Kurt's previous sites. Discussing what the plan is for the new restaurant, Kurt Zdesar, said:
"The plan is to keep this restaurant as the only site in London. Chotto Matte is the first of what hopefully will be more to come, but for the time being we want to concentrate all our energy into making this the success we know it will be."
Chotto Matte is open daily from 12pm to 1am, offering guests the complete package, from deliciously prepared Nikkei cuisine to live music and DJ sets. For more information about Chotto Matte please visit: www.chotto-matte.com.
Kurt Zdesar 
As an experienced restaurateur with a track record in establishing and developing fine dining restaurants, Kurt Zdesar has certainly made a name for himself throughout Europe. Kurt established Nobu's first European restaurant in London – helping the site achieve a Restaurant of the Year Award in 2003 and 2004 – before moving onto his brainchild Ping Pong which achieved Emerging Concept of the Year in 2007.
As a restaurant consultant and concept developer, Kurt has previously lent his abilities to Alan Yau in order to establish Hakkasan, London's second Asian restaurant to receive a Michelin star. Working on the site, Kurt helped select key employees, embedded operational procedures and helped manage the business during its critical opening phase.
Throughout the course of his career Kurt has used his industry knowledge and experience to build three further fine dining restaurants: Mews of Mayfair (London, Les Bains Douches (Paris) and Block 338 (Bahrain), as well as two casual dining restaurants, Roma Café (Bahrain) and Icha Icha in Stockholm's Mood Galleria.