Oddfellows is a quirky and very imaginative 18-bed boutique hotel located in Chester.
Having undergone a multi-million pound redevelopment throughout 2011/2012, the hotel now offers additional bedrooms, a revamped garden and a fantastic new restaurant.
The 17th Century Grade II Listed hotel was restored by Lister Carter, a multi discipline consultancy with a wealth of experience in innovative projects. The design practice provides a tailored service to its clients, with attention to detail, and was paramount to the redevelopment of Oddfellows.
Speaking to Premier Hospitality, Lister Carter Design Director, Ken Roscoe, said:
"As the lead designers on Oddfellows, Lister Carter was responsible for the entire project, covering all aspects of architecture and interior design and landscape design work.
"The scheme saw the introduction of 14 new bedrooms and the revamp of all existing facilities, including the bar, restaurant and garden."
The unusual hotel displays animal inspired decor with key features including, a giant urban fox and 6ft tall woodland animals as murals in the bar. Other highlights of this individually designed hotel include a replica Valkyrie bomber aircraft wing for the reception desk, a potting shed bar and vintage typewriters displayed on the walls.
One of the most notable changes at the hotel are the introduction of new bedrooms, all designed to offer something a little bit different than what you might find in a standard hotel. The bedrooms take inspiration from three British born Cestrian professionals, including artist and illustrator Randolph Caldecott; cinematographer Peter Newbrook; and architect John Douglas.
Discussing the rooms, Ken commented:
"We chose people who were born in Chester for our inspiration. The rooms have subtle hints of the life and works of the men they are based around, so for example some of Randolph Caldecott illustrations form the interior design of the Caldecott rooms. Likewise the rooms inspired by Peter Newbrook have a feel of Lawrence of Arabia about them, which is a film he worked heavily on, whilst the John Douglas suites have many architectural touches."
To compliment the new rooms, Oddfellows' existing garden was transformed into a 'secret garden', with the already popular outdoor space expanded, revamped and upgraded. Features include large comfy sofas, open fire places with 360-degree seating and an open air and covered and heated seating area which makes the garden an appealing choice come rain or shine.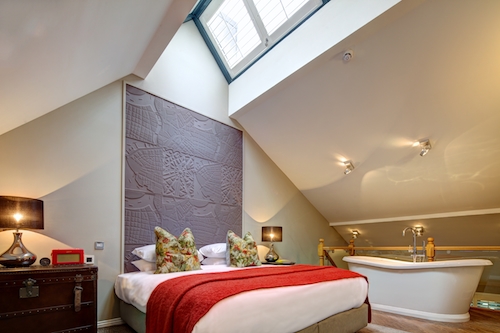 White picket fences and olive trees all add to the tranquil and quirky feel of this landscaped space, with secluded areas and private booths available to guests who wish to have a more intimate experience.
One of the main changes in the new Oddfellows is the Mediterranean-inspired restaurant The Garden by Simon Radley. This exciting new venue offers a relaxed vibe with solid wood comfortable seating and table fittings and a clean fresh colour palette of caramel and soft, silk creams.
'The Garden' serves mouth watering dishes all day and into the evening, with options including broad bean and mint hummus and gazpacho and salt cod fritters with anchovy and lime. Guests can choose from a wide array of menus with a la carte, sharing plates and 'munch' menus available to cater for any diner's requirements.
The success of Oddfellows has so far won Lister Carter an award at the Northern Design Awards 2012 as well as a nomination in the recent Restaurant & Bar Design Awards 2013. Although Oddfellows did not take home the award in the category best Restaurant or Bar in a Hotel, the nomination was something that Ken is very proud of.
Ken commented:
"The fact that Oddfellows was nominated in this category, alongside the likes of many well known practices, is great for a regional design practice like ours. This was high praise indeed!"
Oddfellows is sited within 5 minutes walking distance of Eastgate Street; the pinnacle of the city's shopping centre, fabulous restaurants, and boutique shopping and bustling night life. This ideal location makes the hotel a favourable choice for the endless array of Chester's fashionable, leisure and business travellers.
For more information about Oddfellows, please visit: www.oddfellowschester.com.
Mellwood Construction Ltd
Mellwood Construction Ltd is a main contractor working on a mix of new build and refurbishment projects, from social housing schemes through to developments in the education and healthcare sector. The company has been in operation for 12 years and within this time has worked on many important projects, including schemes for the Clatterbridge Cancer Research Centre and the Wirral Autistic Society.
Mellwood Construction was the main contractor on Oddfellows and at present is overseeing the conversion of a Grade II Listed building in the Wirral into 14 flats.
Mellwood Construction Ltd Company Director, Paul Mellor, said:
"We value all of the work that we are involved in. Being associated with high profile and prestigious schemes is great and it demonstrates our ability to complete high quality finishes.
"All of our projects are different, with a unique brief and their own set of challenges and specifications. With each completed scheme we are able to demonstrate our adaptability."
Paul added:
"At Mellwood Construction Ltd, customer service is our main priority."
Peter Oakes Ltd
Peter Oakes Ltd are multi-discipline engineers, offering a complete tailored service to the most discerning of clients, whether it's for individuals, corporations or practises alike.
The Cheshire based company's work encompasses design, manufacture and build, whether a bespoke one off or a complete refurbishment. Peter Oakes Ltd's attention to detail is paramount to every commission the company undertakes.
Peter Oakes, Company Director, explained: "All our clients have one thing in common and that is their requirement for imaginative design, unrivalled delivery and installation second to none."
The company has worked with Nando's, the popular restaurant chain for over 6 years, offering them a service for all their needs to maintain the high level of performance that their restaurants require.
Other reputable projects undertaken by Peter Oakes Ltd include, Piccolino Restaurants, Bar and Grill Restaurants, (IRC) Dutton's Manchester (J.W.Lees) and Oddfellows Restaurant.
Peter Oakes, added: "As a company we have excelled in every job to maintain the levels of service and maintenance we offer all our customers. We strive to offer our services and assist in larger projects be it a refurbishment or a new build project."