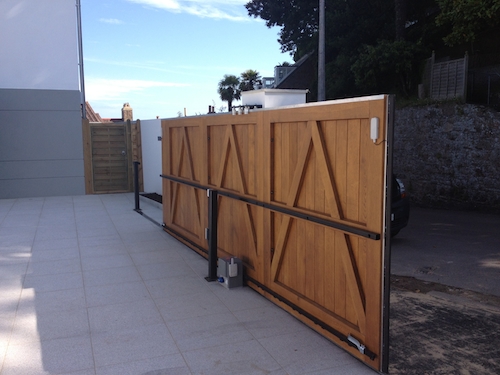 Founded in 2011 by Andrzej 'Andy' Lipinski and Paul Williams, Andy's Garage Doors & Gates specialises in doors and gateways, including balustrading and balcony systems.
The company caters across the board to all markets including domestic clients, industrial agricultural and commercial, architects, main contractors and private developers.
Andy's Garage Doors & Gates make use of the latest software packages including Photoshop and Auto Cad so they can provide clients with drawings and images of how projects will look both before and after completion. This is very helpful to the client, as well as architects, contractors and developers and reduces the chance of any mistakes.
Over the past two years Andy's Garage Doors & Gates has built up a fantastic reputation in Jersey, for its excellent work in the industry.
Andy commented:
"We achieve all of our work through sheer hard work and determination. At the beginning we were too late for the telephone directory and had to wait almost a year before we were in the mainstream of advertising in Jersey. Therefore, we designed our own flyers and literally delivered door to door around the island!
"Everything that we do, from flyers, yellow pages and magazine advertising, to business cards, van signage and uniforms we always keep the same layout and logo. Repetition of these images tends to sub-consciously stick in people's minds and one day we hope that when they think of a garage door or entrance gate, they automatically think about Andy's Garage Doors & Gates!"
Paul added:
"Being situated in Jersey, word of mouth is also paramount and equates to a large percentage of our workload and repetition of work. In the two years we have been trading we have built up a large database of clients who continually come back to us, because of the service, and more importantly, the after service we provide. We have had lots of positive feedback from clients via e-mails and hand written letters, this is very rewarding and there are some lovely people out there."
Andy's Garage Doors & Gates has worked on some fantastic projects over the past two years, from the Pomme D'Or Farm refurbishment through to a scheme for Aviation Jersey. At present, Andy's Garage Doors & Gates is halfway through a contract with Camerons Ltd to supply and fit 25 automated Hormann garage doors to new build properties for Trinity Homes.
Additional projects for Andy's Garage Doors & Gates include Somerville House and Hamel Bros Old Farm in St Clement. Working on Somerville House, Andy's Garage Doors & Gates worked with main contractor Lotheringtons Interiors Ltd, supplying and installing a large oak hardwood automated sliding gate and intercom system to an exclusive refurbishment of a private dwelling, which included fitting a Hormann double garage door. 
Working on the Hamel Bros Old Farm project, Andy's Garage Doors & Gates worked with main contractor W.M.Staite Ltd, supplying and installing six automated industrial sectional doors – all measuring more than 4.5m wide x 4.5m high – and four fire exit pedestrian doors to a new agricultural building.
Many of Andy's Garage Doors & Gates' projects include the repair or replacement of small garage doors, in various colours and designs, all approved by their clients. Some have had a variety of services from the company, to include garage doors, electric gate and glass balustrading in the same project.
Paul said:
"All of the projects that we have been involved with are very important to us, we feel very proud where we leave a job when the client is happy, and the change to the property is evidently improved. We can't go anywhere on the island without looking at a property and seeing the potential of what a new door or gate can provide – we drive our other halves crazy!"
Andy's Garage Doors & Gates is currently working with some of Jersey's finest architects and developers to bring together the best door and gate specifications available to suit the fantastic design schemes. The company is quick to respond to all inquiries and provide the best possible product at the most competitive price.