Britain's new global shipping port has welcomed its first scheduled vessel, the MOL Caledon from South Africa.
After more than a decade of planning and construction across three square miles of development, DP World London Gateway deep-sea port is now open, providing British exporters and importers with a more efficient way to ship globally, at less cost.
London Gateway is located closer to major population centres of London, Birmingham and Manchester than other ports that are capable of handling the world's biggest ships. The new port reduces transport costs for exporters and importers by reducing millions of trucking miles from supply chains. In addition, the port also provides 21st Century infrastructure for shipping lines that are building bigger ships.
Junichiro Ikeda, Chairman of MOL Liner, said:
"We believe that the new port through its modern facilities and convenient links to the business community provides us the perfect platform to continue the efficient and reliable services MOL is committed to offering its UK customers.  The conditions at London Gateway, like draft and tides also gives us the opportunity to grow further through the introduction of bigger ships and a further expansion of our network. It's a promising new port for a great country."
The first scheduled ship to dock at the port, operated by MOL Liner, received exports and delivered containers carrying a variety of cargo, including fruit and automotive parts. The MOL Caledon is part of the South African Europe Container Service (SAECS) which is made up of a consortium of shipping lines including MOL, Maersk, DAL and Safmarine.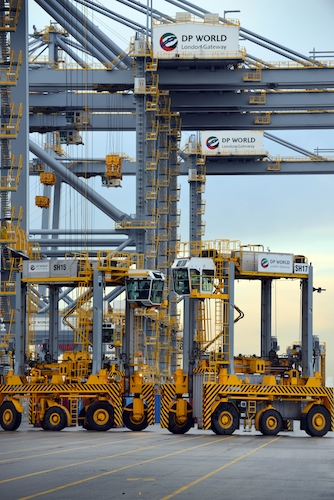 DP World – a leading global port operator with more than 65 marine terminals across six continents – built Britain's new port for today's and the next generation of ships. Known as 'ultra large container ships' (ULCS), they are up to 400 metres long and can carry over 18,000 shipping containers.
Sultan Ahmed Bin Sulayem, Chairman of DP World,said:
"We are proud and pleased to be able to contribute to the UK economy by building and operating this state-of-the-art modern infrastructure that will support trade growth far into the future. This is the first port to be built in the UK in a generation and so there is nothing else like this in the country. Shipping lines can now bring the world's largest ships closer to key UK markets and reduce the costs of transportation. At the same time, global businesses can make their supply chains more efficient."
London Gateway is the UK's first 21st Century major deep-sea container port and Europe's largest logistics park. Owned and operated by DP World and situated on the north bank of the River Thames, London Gateway provides unrivalled deep-sea shipping access to the largest consumer markets in the UK. The port's location, with its superior operational systems and service ensures ships load and unload as fast as possible, making London Gateway a world class asset for the UK.