Cabana has quickly become London's hottest Brazilian Barbecue restaurant since it opened its doors in November 2011.
Having secured three sites within its first year of opening, the group has expanded with two new sites for 2013 – Cabana Wembley and Cabana Islington. These new sites join established restaurants in Central St Giles, Westfield Stratford and Westfield White City.
To date, Michaelis Boyd has been involved with all of Cabana's UK restaurants and this is an association which the practice holds in high regard. Premier Hospitality caught up with Michaelis Boyd Associate, Hannah Borthwick, to discuss the latest openings and to find out what continues to keep the brand at the forefront of the hospitality sector.
Hannah said:
"Cabana Wembley is in a prime location, situated directly opposite the arch of Wembley Stadium. The project was on site for eight weeks, with work reaching completion at the end of October. Materials within the restaurant where possible were sourced directly from Brazil, with the overriding theme being to convert waste materials into new products and give them a new lease of life, reminiscent of the Favellas of Sao Paulo.
"As you enter the restaurant you are drawn to a wall of colourful iconic prints with Portuguese text and Brazilian references. These were printed in the suburbs of Sao Paulo on a 1929 German letterpress. Below the posters, the banquette seating is wrapped in a recycled patchwork of denim supplied by the Recicla Jeans venture in the Paraisopolis Favella. Since 2003, they have been recycling jeans and using the material for clothing and furniture projects.
"The feedback for the Wembley restaurant has been great, with customers loving the giant illuminated letters which sit in the window and spell out the Cabana name. These are so large they can be seen from the Stadium! We have also placed a few nods to football within the site, to extend the association with its location."
Cabana Islington followed the opening of Cabana Wembley; making its debut in November. The restaurant is located on a busy high street and therefore has a slightly different approach than the Wembley offering.
Hannah explained:
"Situated in the middle of an existing busy high street, Cabana Islington needed to establish itself quicker than Cabana Wembley which is part of a brand new development. We studied existing footfall to ascertain the expected clientele and group sizes during the day and evening."
The restaurants have a common design theme; however, Hannah is quick to point out that each site has its own individual style.
Hannah said:
"We ensure that each site incorporates a unique feature which keeps the design fresh and site specific. The key aspect of Cabana Wembley is the Cabana hut which encloses the kitchen and bar area in the centre of the restaurant. The concept of cooking the food on show brought the barbecue to the forefront where it has been given pride of place.
"The Islington restaurant has a striking façade inspired by the Dutch artists Haas and Hahn who are involved in an ongoing project in the Santa Marta Favella in Rio De Janeiro. They are encouraging inhabitants to paint the facades of their homes according to a specific pattern which creates a candy stripe effect."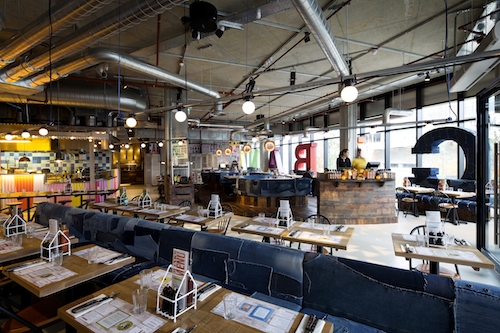 Cabana Wembley & Islington
Watching the brand continue to grow is something which Hannah finds very interesting and it has allowed Michaelis Boyd to gain a clear understanding of what works best for each restaurant.
Hannah said:
"Working on every Cabana has allowed us to determine which design elements are successful and should be repeated in future sites. We have been keen to showcase the real Brazil and focus on creating a bright contemporary uplifting vibe which has been well received by the customers to date."
For more information on Cabana, please visit: www.cabana-brasil.com.
Templeton's Ltd
Templeton's Ltd is a specialist contract cleaner working on a vast array of projects within the leisure industry. The company has been in operation for 20 years and within this time has worked with many leading contractors, including Thompsons, Armfield Contracts, Stenball Contractors, WFC and French Contracts, where the company conducts a builders clean.
Working within the industry, Templeton's Ltd has provided specialist contract cleaning services to restaurants that include Cabanas, Las Iguanas, Nandos, Byron Burger, GBK, The Shard and Delaunay, amongst others. Templeton's Ltd also specialise in daily cleaning for night clubs and bars, including Revolution Vodka bars, Café de Paris and Ministry of Sound.
Working on Cabana Wembley, Cabana Islington and Las Iguanas Wembley, Templeton's Ltd provided the sites with a builders clean.
Discussing the new restaurants at Wembley, Frank Templeton, Templeton's Ltd, said:
"The Designer outlet is a new high-end shopping facility and the clean had to be to a very high standard."
Frank added:
"At Templeton's Ltd we pride ourselves on the quality of our work, our reliability and flexibility, and if the cleaning date changes or we are required to carry out more work last minute, we are more than capable of accommodating our client."