Taking inspiration from the Jungle and the idea of world travel, brand new restaurant Wondertree has opened in the newly redeveloped Terminal 2 at Heathrow Airport.
The new terminal building opened on June 4th this year, welcoming a number of brand new restaurants and boutiques. Wondertree is the largest restaurant in the brand new terminal, occupying over 5000 square feet and offering 190 covers at any one time, allowing customers to take in the airfield view.
Wondertree is the exciting new venture from co founder of Giraffe Restaurants, Russel Joffe and The Restaurant Group. Nick Ayerst, Managing Director of TRG Concessions commented:
"When challenged by Heathrow to create an iconic restaurant for the new Terminal 2, we approached Russel Joffe to collaborate with us following our highly successful partnership with Giraffe in the airport. Wondertree embraces the new generation of eating and drinking and promises to provide a unique experience for Heathrow passengers."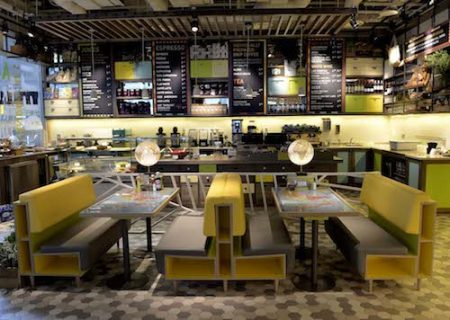 Wondertree plans to serve all meals within 15 minutes and boasts a cooked to order menu from the open plan kitchen featuring daily fresh breads, morning pastries and global salads. Travellers can order a coffee or beer through to a full family meal from a menu that includes artisan flatbreads, two handed sandwiches, small and large plates as well as all day breakfast dishes, smoothies, freshly-pressed juices and shakes. The menu has a number of gluten free options, a breakfast menu, and a kids menu serving healthy mini dishes and desserts.
Russel Joffe said:
"I'm hugely excited to be opening Wondertree, the terminals largest restaurant site. We aim to deliver on quality, efficiency and great value dishes in a unique environment morning, noon and night. We hope Wondertree will share the same success as our Giraffe restaurants in other terminals."
As well as boasting an impressive restaurant menu, Wondertree offers an extensive list of takeaway options to travellers on the go. The takeaway menu delivers healthy options, classic British favourites, new favourites, indulgent shakes, as well as a selection of coffee and tea.
Wondertree was designed and finished by Fusion DNA; a design and architecture company based in London. Fusion DNA works within the hospitality industry, designing bars, hotels and restaurants. The company have worked with a number of prestigious clients including Nandos, Las Iguanas, Gourmet Burger Kitchen and The Anthologist. The main contractors for Wondertree were Interiors UK.
Located directly after security, the entrance to Wondertree stands tall with colour changing LED trees; welcoming customers and introducing them to the fun, fast dining experience on offer within the restaurant.
Circling the idea of travel, Wondertree is adorned with green and yellow upholstery, light oak, timber and bamboo wood finishes and world maps within the table tops. Taking a modern approach, Wondertree comprises a variety of seating options, longer booth like tables are accompanied by café style tables and chairs, as well as high tables with bar stools.
Jonathon Richardson from Fusion DNA said:
"A large part of the design for Wondertree was the kitchen area and back house, which is in a timber pod, following on from the Congo theme and influenced by the pods you'd see in the jungle. The design is unique; it's not something that we've ever done before or something that the client has ever done before."
The £2.5 billion pounds development of the new Terminal 2 building will eventually serve 20 million passengers a year and be home to 23 Star Alliance airlines, as well as Aer Lingus, Virgin Atlantic Little Red and Germanwings.
Marking its territory, Terminal 2's biggest restaurant is accompanied by a number of newly launched restaurants such as The Gorgeous Kitchen and The Perfectionists' Café as well as old favourites such as Costa, Eat. and Yo!Sushi scattered amongst 28 retail boutiques for travellers to peruse at their pleasure. Additionally, The Queens Terminal is the first UK airport to operate a personal shopping experience and to allow passengers to reserve products prior to check in from a number of retail stores including Boots, Bottega Veneta, Bulgari, Cath Kidston, John Lewis, Dixons, Paul Smith, Mulberry and Harrods.
For more information visit http://www.wondertree.net