Combining all the buzz and flavours of East coast America including live lobster, steak, seafood and deli sharing platters, Anchorage Bar and East Coast Kitchen has opened in Sheffield's West One Plaza.
Inspired by modern dishes from America's east coast and with a strong presence of seafood, the menu at Anchorage features restaurant quality food in a contemporary bar setting which makes it a 'first' in Sheffield.
The new venue, which has a distinctive look and feel, was created via the conversion of a former bar/restaurant on the same site. It is split over two floors with the Anchorage bar and deli on the ground floor and the East Coast Kitchen and cocktail bar upstairs.
The space has been transformed, with a combination of masculine contemporary style and retro furnishings, with curved chesterfield booths, mid century modern furniture, original cotton mill boxes and even an American railway sign complete with real bullet hole!
The project to create the new bar and restaurant was carried out for the Rootstock Group by Main Contractor Benjamin Thomas.
The design was the brainchild of Toby Grattidge, Rootstock Group's Trading Operations Manger who commented to Premier Hospitality on the completed work:
"I absolutely love it, the concept was my creation and I managed the project myself. Since the official opening feedback has been very good, with the restaurant full almost every night."
"The downstairs bar area has a very American feel to it – like the kind of bar you would walk into in Brooklyn. Here the offer includes six types of American craft beers. Upstairs the restaurant takes its inspiration from New York, with American style cuts of steak such as Tomahawk and New York strip proving popular, together with lobster and other seafoods, and Italian style meatballs."
He added that design features of the downstairs area include reclaimed parquet flooring, large tables made from recycled and adapted woodwork benches from a local college, and a four and a half metre high back bar displaying drinks. Upstairs features a striking engineered polished concrete floor, comfortable American style dining booths and recycled parquet table tops.
Downstairs, sharing serves dominate. These include platters of home cured meats and pickles, deli-style sandwiches, subs and meats that include salt beef, pastrami, and bresaola.
The 65 seat restaurant upstairs features a live lobster tank, an illuminated barrel vaulted ceiling and a glazed wall overlooking the plaza below.
Upstairs, diners can choose a lobster from the tank to be cooked on the grill and served with a heap of fries and garlic butter; clams, shrimps served by the half pint, pork and veal meat balls, knish, and variety of other east coast specials.
Anchorage prides itself on its large selection of handpicked wines and popular drinks; however it specialises in modern craft beers and cocktails. For craft beers, the emphasis is strictly on quality ingredients and flavour; whilst cocktails range from the simple classics, to the bespoke, with a lean towards bourbon to match the food and beer.
Highlights will include the Dirty Martini – an Anchorage specialty served on a slate with blue cheese and cracker; Bloody Mary – another house specialty using an exclusive chipotle infused vodka and unique spice blend; and Popcorn Old Fashioned, made with homemade orange and honeycomb liqueur served with Bourbon caramel popcorn.
Anchorage is the third venue for the Rootstock Group, with The Harley and the Wick at Both Ends – both also in Sheffield – being the other two.
The Harley is now in its 10th year and home to the Twisted Burger Company, and The Wick at Both Ends is in its fifth year and staffed by an award winning bar team (Eat Sheffield Best Bar Team 2012).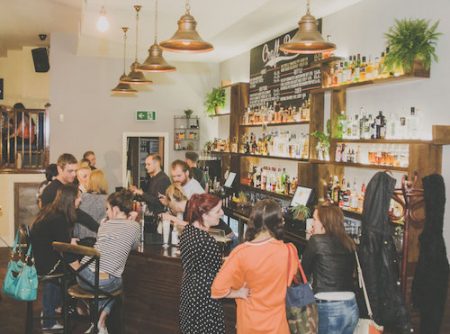 "These have been hugely successful," said Toby Grattidge. "We see Anchorage as the start of expansion and if it goes well we may consider other projects such as opening a new delicatessen next year. There are lots of options."