Situated on the Chouet headland, Guernsey, Roc Salt Beach Café and Restaurant is a fantastic new restaurant serving up simply cooked food and stunning sea views.
The restaurant is the third venue from owners Steve and Jane Le Poidevin – the duo behind Muse Café and Mint Brasserie – and officially opened its doors on 3rd June 2014.
Since opening, Roc Salt Beach Café and Restaurant has been a big hit with locals and foodies alike, where its fish dishes continue to wow all who pass through the restaurant's doors. However there is something on offer for all tastes at Roc Salt, with a variety of dishes that feature local Guernsey produce.
The views that are on offer at Roc Salt Beach Café and Restaurant are certainly appealing, but so is the design and layout of the restaurant, which is very inviting. The interior design of the restaurant is best described as shabby chic, with little touches here and there that highlight the restaurant's culinary influences.
Family-run company, Concept 360 was the main contractor on Roc Salt Beach Café and Restaurant. Concept 360 is an expert contractor, with many years' experience working in the construction industry. Concept 360 believes in using the highest quality materials and equipment on all its projects and this was evident in the creation of Concept 360.
Steve Le Poidevin, commented:
"Concept 360 is a highly professional and reliable company who delivered a restaurant of the highest standard."
A7 Design Architecture was the architectural practice behind the project. Established in 2003, A7 Design is one of Guernsey's leading practices and takes designs from initial inception through to completion.
Steve added:
"Working with the team from A7 was a very stress free experience. The practice interpreted the brief and delivered a truly impressive project."
Roc Salt Beach Café and Restaurant's menu utilises the best local produce available in its dishes and as such regularly changes its menu in accordance with the seasons. Daily specials are available, alongside a brunch, lunch, dinner and children's menu, but you can always guarantee fresh fish will be on offer as it is a true highlight.
Non-fish dishes currently include the likes of 8oz sirloin steak, served with house salad, French fries, baked tomato and Portobello mushroom, with either garlic butter or brandy & green peppercorn sauce; or mushroom & chestnut cottage pie with a mixed root vegetable top. Those with a sweet tooth will also be pleased by a delicious array of desserts which include homemade apple and cinnamon brownie with custard or Guernsey vanilla ice cream; or mousse au chocolat.
To round out Roc Salt Beach Café and Restaurant's offering the restaurant has a fantastic selection of drinks available from hot drinks and milk shakes to fruit smoothies and the good old fashioned Coke float! A range of alcoholic beverages are also available including a collection of champagnes and sparkling wines, alongside red, white and rosé.
Roc Salt Beach Café and Restaurant is open Tuesdays & Wednesdays from 10am until 5pm; Thursdays, Fridays and Saturdays from 10am until late; and Sundays 10am until late. Roc Salt is closed on Mondays and due to its popularity reservations are advised.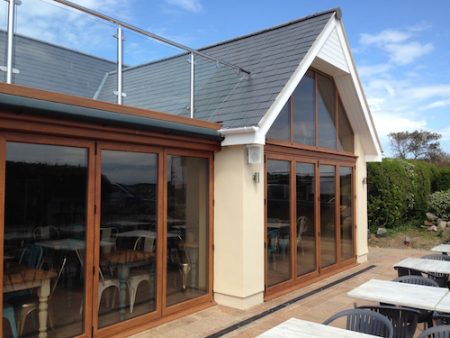 For more information about Roc Salt Beach Café and Restaurant, or to make a reservation, please visit: www.rocsalt.gg.