The latest phase (Phase 3B) of the Smithton and Culloden flood alleviation scheme has just been completed in a project focusing on the installation of debris screens and erosion remediation of sections of the watercourse.
The project was carried out for The Highland Council, who were also project managers for the scheme. The main contractor was Pat Munro (Alness) Ltd, with JBA Consulting as designers.
Homes and gardens were devastated and roads were closed by torrents of water which poured off high ground through properties in Smithton and Culloden, as well as Balloch four years ago. The area was again hit by flash flooding in October last year.
Senior flood engineer Alan Fraser, who project managed phase 3B of the flood alleviation scheme on behalf of The Highland Council said: ""Although many culverts could cope with the flow of water, their capacity was greatly reduced by blockages. Areas were identified upstream of these culverts where there was significant erosion of the watercourse banks, which was providing the material resulting in blockages further downstream and work was undertaken to stem the erosion."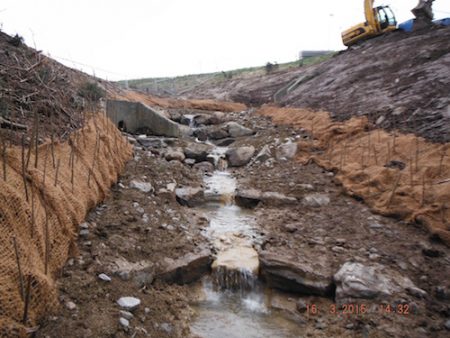 These works included the use of large rocks to create stepped pools in the Smithton burn. These pools are designed to dissipate the energy of the water as it flows down the steep section of the watercourse. Erosion protection of the banks including willow planting and the installation of erosion protection blankets was also carried out in vulnerable areas.
The project also included the installation of coarse debris screens to aid in preventing woody debris and large stones from being washed downstream to culverts which have been blocked in the past.
In addition a new security/debris screen was installed at Murray Road to reduce the likelihood of blockage within the culvert beneath Smithton Park.
"Phase 3A was completed last year, also by Pat Munro (Alness) Ltd. After heavy rainfall in October, we did not have the problems we had in the past in the areas covered by that phase, so the measures worked well. However the problems persisted in the areas covered by the current phase which the new works should hopefully alleviate," said Alan Fraser.
The council has spent around £1 million in Smithton and Culloden on the first three phases of the flood alleviation scheme.
A further £7m is needed for the completion of a fourth phase, which will require a Scottish Government grant to proceed and an application for this grant is being submitted.