Located at the historic former Alexandra Trust Dining Rooms, just two minutes' walk from Old Street tube station, Ceviche Old St is a 130-cover restaurant and bar from leading Peruvian restaurateur, Martin Morales.
Ceviche Old St officially opened its doors to guests on Monday 30th March 2015 and is already proving very popular with guests.
Ceviche Old St comprises a 70-cover dining room, with dedicated ceviche bar, Peruvian rotisserie and open charcoal BBQ grill; a separate 60-cover bar area serving Pisco cocktails, plus Latin American and British craft beer; and a modern Peruvian art gallery. The design of the restaurant's interior is a collaboration between Martin and the award-winning Fabled Studio and remains faithful to its Victorian architecture, whilst at the same time introduces same-era Peruvian aesthetics.
The Ceviche menu showcases a range of classic dishes alongside a collection of new dishes inspired by Peru's Criollo, Chifa and Nikkei gastronomy. Each dish has an emphasis on healthy, sustainable, Peruvian superfood ingredients with a diverse and creative list of small plates which include Huevo Criollo and Torreja de Sesos – lamb brain fritters.
The open charcoal BBQ grill, meanwhile, serves anticucho skewers made with a variety of meats and vegetables, showcasing the best of Lima's street food in its authentic form. Diners are treated to the likes of Corazon de la Tia and Panza con Sauco, as well as Pollo a la Brasa, a rotisserie chicken served in Ceviche's own-recipe marinade, and a debut dish at Ceviche Old St.
At the dedicated ceviche bar, guests can watch ceviches being made in front of their eyes, with Martin's signature Don Ceviche available alongside new creations by Head Chef Jorge De Baumhauer including Ceviche del Dia – tiger's milk, red onion, limo chilli, sweet potato cream and plantain chifles.
Martin Morales said:
"We are in awe of the legacy of the former Alexandra Trust Dining Rooms. It's an incredible building and dining space and we're thrilled to take inspiration from it for Ceviche Old St. We are pioneering Peruvian food with new recipes and influences, ingredients and techniques alongside new flavours; all on one floor and available for all to see.
"The freshest ceviches are prepared before your eyes, as are the barbeque meats cooked anticucho-style on an open grill. Peru's favourite Pollo a La Brasa rotisserie chicken has made its debut as has Somos Libres pale ale and our own Pisco Punch bottled on-site."
Martin added:
"It's a dream come true and to further the cause for Peruvian arts, our restaurant, through its surrounding gallery, is a unique platform for contemporary Peruvian artists. I am very proud of my team and what we have achieved at Ceviche Soho and Andina in Shoreditch and now hope both locals and visitors to the area will embrace our partnering of British and Peruvian heritage and creativity and visit us at Ceviche Old St."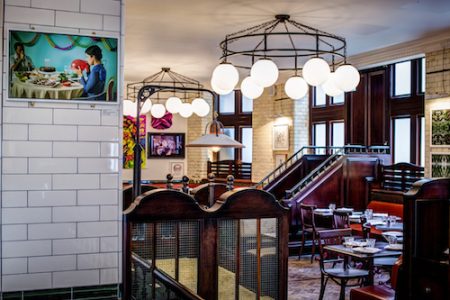 Ceviche Old St is open seven days a week from lunch through to dinner, with a brunch menu at the weekend. Takeaway and local delivery is also available.
For more information, or to make a booking online, please visit: www.cevicheUK.com.