Growing from strength to strength after investing its way through the recession, the Galgorm Resort & Spa – Northern Ireland's premier spa resort in Ballymena – is nearing completion of yet another phase of expansion.
The new developments put the four-star venue in prime position to further increase its already major share of the business, leisure, wellness, wedding and dining sectors.
Set in 163 acres of lush parkland and with the spectacular River Maine flowing through the estate, Galgorm Resort & Spa has a truly unique and beautiful setting.
This premier resort is now home to 128 luxurious guest rooms, a selection of restaurants and bars, including the 2 AA Rosette River Room, an award-winning spa with an inimitable thermal spa experience and outdoor spa village, two outstanding wedding venues and extensive conference and banqueting facilities.
The latest round of improvements includes the refurbishment of the Lower Great Hall wedding venue completed in March 2015, designed by RPP Architects, with Abbey Upholsterers and Specialist Joinery as lead contractors for the fit-out.
Also within the current phase of works is the construction of a new bedroom and spa extension, due for completion in September 2015 and being carried out by main contractors Martin & Hamilton, with Douglas Wallace Architects as project architects. The addition of bigger bedrooms will also equip the resort to apply for five-star status, propelling it in to the company of Belfast's Merchant Hotel and Fermanagh's Lough Erne Resort.
Recently completed expansion schemes at the resort include the creation of a stunning new River Room conservatory restaurant and the refurbishment of the Renaissance Suite wedding venue in the resort's Upper Great Hall.
Paul Smyth, Operations Director of the Galgorm Resort & Spa said: "We did an extensive refurbishment of the hotel in 2006, upgrading the accommodation from 23 bedrooms to 75 bedrooms and introducing a world class spa. Between 2006 and 2015, a number of the hotel's restaurants and bars were refurbished – all aimed at improving the hotel's infrastructure – in order to enhance the experience of guests. The spa was a new element for the hotel and has proved very successful and formed the basis of what has become a very significant leisure market for us, which has grown steadily over the years.
"As a result, our room occupancy has continued to grow steadily and around three years ago we identified that we were missing opportunity through lack of availability – particularly at the weekends, so we decided to add 48 bedrooms, and significantly increase to Spa area. This is currently underway.
"We have a wonderful riverside setting and really wanted to make the most of it so we created the Great Hall – a building primarily used for wedding functions – in 1991. Part of the river was diverted to run directly behind the window of the Great Hall and we created a waterfall in this location, forming a dramatic backdrop to the top table. This is one of the unique aspects of the Great Hall and still looks fantastic over 20 years later.
"The £300,000 refurbishment project of the Lower Great Hall wedding venue, completed in January 2015, concentrated largely on improvements to the arrival and lobby areas, since the dining area has always been a superb space.
"The project comprised a complete refurbishment of the reception area with the design centred around providing a relaxing arrival area where guests can enjoy tea and coffee and arrival Cocktails. This area now features bespoke tiling, wooden flooring and new bespoke furniture, including sideboards that are illuminated from within. There is also a new marble fireplace, and we completely refurbished the bar with a marble counter and a gold and pewter backdrop. The bar has a great history and was created in Chicago in the 1930s – before we subsequently acquired it in 1991.
"This project also included the re-carpeting of the lounge and the introduction of new, bespoke furniture. In addition, the main function room was fully re-decorated and the windows were re-conditioned throughout the ground floor, with new mouldings and window dressings being added.
"This refurbishment has been very well received, with the number of wedding bookings rising steadily since the project was completed at the end of January.
"The Great Hall's first floor venue was re-named The Renaissance Suite and £1.5m was spent in April 2014 on developing this function room complete with swathes of marble, a marble bar, ornate wooden doors, a centrepiece bar and bespoke chandeliers, bespoke all-leather furniture and a lovely large feature window with a stunning view of the river and a fantastic raised level garden outside."
The wedding suite itself is accessed through a set of grand opening doors drawing the eye to the top table behind which stands a most dramatic fully glazed wall. This gives a panoramic view of the cascading waters of the River Maine.
Paul Smyth continued: "This is a very high end venue with a wonderful backdrop and an elegantly designed space. The sizeable £1.5 m spend is reflected in the quality of the furniture and materials used – everything was hand crafted and bespoke."
The new look venue was an instant success and this is one of the factors which has enabled us to continue to grow a very strong wedding business.
"The idea of these investments in the Great Hall was both from a point of view of increasing returns on the money spent by boosting the number and size of wedding bookings and maintaining our status as the leading wedding venue in Ireland.
"Each of the two floors in The Great Hall operate as a completely separate venues, with each having their own serving and kitchen staff."
The resort also offers a wide range of all-inclusive wedding packages that draw on the services of a number of highly respected and skilled wedding suppliers. From photography, flowers, cake and entertainment, these tailored packages allow Galgorm's dedicated wedding co-ordinators to take the stress out of making arrangements
"The four storey new bedroom and spa extension, due to open in September 2015, represents a £10m investment for the resort and incorporates 48 new bedrooms, including deluxe rooms and suites. The spa element of the building is on the ground floor, with three storeys of bedrooms above," said Paul Smyth.
The extension will bring the total number of guest rooms at Galgorm Resort and Spa to 128.
Guest room accommodation includes the stunning Signature Suite which will be the ultimate resort guest room in terms of space and in-room facilities. The suite boasts 122m² of pure luxury with a show-stopping feature terrace complete with outdoor soft seating area and a private hot tub overlooking the stunning River Maine.
A separate living and dining area with folding patio doors opening onto the terrace creates a fabulous indoor/outdoor space, allowing for private in-room dining for six guests.
The luxuriously spacious Junior Suites boast a separate lounge area with sumptuous leather Rolf Benz seating and 42" Flat screen TV. They also feature a large balcony complete with outdoor seating overlooking the spectacular River Maine. A marble bathroom with deep slipper bath adds a real wow factor and a super king sized bed assures a great night's sleep.
"This latest extension is being built on to an extension we constructed in 2006, which incorporated 51 bedrooms and a spa," said Paul Smyth
"The new extension will treble the size of the original spa. The internal space will double in size and we are also adding the exciting new concept of a spa village with outdoor features.
"Again this is geared to taking advantage of the riverside location and will feature outdoor boardwalks leading to an outdoor sauna, steam room and four two-person outdoor Dutch hot tubs, an outdoor hot tub which will accommodate 12 people, a 'Beehive' gym within a striking outdoor structure, and a sunken seating area – all of which works alongside our original outdoor pool and hot tub.
"This element of the project was about building on the massive popularity of our original pool and hot tub which have been used and enjoyed religiously, despite the climate in Northern Ireland.
"In another development, we decided to increase public space in the lobby/entrance area and so added a new fully glazed Conservatory
"This can accommodate 80 people and is built out towards the river, making the most of our riverside setting. Again, all the furniture is bespoke and made by a company which we have been using for a number of years. Design features include marble counters, heavy use of oak and light boxes made of onyx, which has a see-thorough quality.
"The conservatory is a beautiful space and includes a coffee area, and a gin bar with almost 200 gins on display.
"The River Room has also been extremely successful in serving afternoon teas. Whereas before we had the facility we were serving around 100 afternoon teas a week, we are now serving over 500."
Guests can enjoy a selection of finely cut sandwiches and miniature savouries, freshly baked scones and delicate miniature desserts and Galgorm's creative team are continually coming up with twists on afternoon tea classics to surprise and delight their guests.
Menus inspired by seasons or events are available throughout the year to ensure every visit to Galgorm for afternoon tea offers something truly unique and memorable.
Paul Smyth continued: "Between the wedding market, the leisure market and the local market, our food and beverage outlets are extremely busy.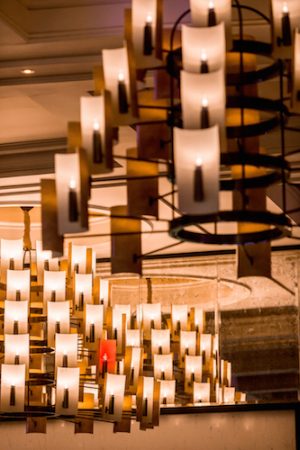 "In 2013 we added our Italian restaurant, which now serves just under 900 covers a week and sits alongside and Gillies Bar & Grill and the two Rosette rated AA River Room Restaurant. These venues are very popular – particularly with non-residents – and between them are serving around 3,000 covers per week.
"Being located 26 miles from Belfast, 3 miles from Ballymena and around 15 miles from the airport, we see the market developing in terms of longer stays and have a very strong local following with people coming from all over the province to stay with us. Coupled with that is our commitment to develop our out of state business.
"With this in mind we feel that we should be offering a vast array of things to do including dining, beverage, spa and wellbeing experiences to entertain our guests.
"We are very focused on providing high end accommodation and service, with emphasis on enhancing the customer experience and aiming to delight our guests.
"We have invested our way through the recession and increased the number of staff we employ which now totals 350 – and this had paid off with a significant success story and the creation of a resort which would stand proud against any in Ireland. We are in a great place at the moment and looking forward to rising to the challenge of expansion."
Design innovation and quality manufacturing – Halodome Ltd
Halodome Ltd supplied one of their prefabricated timber domes for use as the gym in the Galgorm Spa project.
Halodome is a building designed to ship anywhere in the world and can be used for a multitude of purposes – as a house, a studio, a showroom a workshop – the possibilities are endless.
The 13 meter diameter column-free dome is made up of 70 individual pre-finished panels transported to site in standard shipping containers. The panels use fully certified PEFC timber framing and reclaimed timber linings that bolt together on a level concrete ground slab pre-installed by the customer.
Exterior battening and roofing shingles are then fitted, followed by taping of the airtight interior membranes and installation of the timber linings to complete the basic dome shell.
Canadian red cedar roof shingles and treated battens are supplied for cladding onsite along with all stainless steel door and window flashings and a stainless steel dome cap.
A standard Halodome provides approximately 160m2 of floor area, if the standard design half floor mezzanine and spiral staircase are installed.
The design of Halodome uses a high level of airtightness and insulation to achieve ultra-low energy consumption, and the Halodome structure is also accredited by UK structural engineers to UK standards.
Triple-glazed doors and windows, of the highest available European quality, are pre-installed into the finished panels and can be positioned in various configurations to suit the location and orientation of the building.
A highly efficient ventilation and energy recovery system constantly replenishes fresh air, ensuring the temperature inside remains constant and comfortable all year round.
As part of the standard package Halodome Ltd supply: thermal modelling of a client's preferred internal layout, and the required orientation and glazing design to achieve Passivhaus standard; a full triple glazing package comprising two doors with side lights and four opening windows for the ground floor, and nine opening roof light windows.
Halodome will also provide a minimum specification for the foundation slab and services and onsite technical support during assembly of the outer shell, based on one person for five days.
Priding themselves on design innovation and quality manufacturing, Halodome Ltd have been established for four years and have previously undertaken international projects in locations including Guangdong China, and currently Herning, Denmark.
"The Galgorm Resort and Spa scheme offered a great opportunity for Halodome to be associated with this great project and for the space to be used in this kind of context," said Simon Laws of Halodome.
A one-stop shop for turnkey fit-out – Abbey Upholsterers Ltd Specialist Joinery
Main fit-out contractor for Galgorm Resort & Spa's magnificent Lower Great Hall refurbishment, Abbey Upholsterers Ltd Specialist Joinery of Carrickfergus were responsible for manufacturing, fitting and supplying all items used in the scheme, as well as carrying out a range of ancillary services.
These works included the manufacture and fitting of the doors, floors, bar and feature back bar, fireplace and wall paneling to list but a few. In addition the company carried out the manufacture of the bespoke furniture including occasional chairs, sofas, footstools, credenzas, console units and coffee tables, as well as decorating works, including plastering, as well as full mechanical and electrical installation.
"Over the years we have carried out numerous projects at Galgorm Resort & Spa, and with every successive project our scope of works has increased. We supplied the joinery for the Upper Great Hall project, the Spa area, and the Four seasons suite as well as restaurant fit outs for the company at separate venues within Belfast," said Jonny Mallett of Abbey Upholsterers Ltd Specialist Joinery.
"We are extremely proud to be associated with such a prestigious and successful company striving to continually raise the standards of the Northern Ireland hospitality industry, we hope to further build on the excellent working relationship we have had with them over the last 10 years," he added.
Abbey Upholsterers Ltd Specialist Joinery is a one-stop shop for all types of high quality fit- out projects and encompasses all the necessary expertise and manufacturing capability to meet requirements for bespoke furniture, fixtures and fittings, as well as mechanical, electrical and decorating works.
Established for 80 years, the family owned company moved into a new state of the art factory seven years ago. Their 100,000 sq ft premises, within 10 miles of Belfast, has benefited from a £5m investment and is equipped with some of the latest energy efficient systems.
The company's team of skilled craftsmen and operatives are trained to the highest standard using only the very best materials and techniques to offer a specialist bespoke service for every project.