In a UK 'first', major international burger chain Fatburger is set to make a nationwide debut in Jamestown Road, Camden, after which it hopes to expand to 20 eateries over the next five to seven years.
Fatburger, founded in the US, is moving forward with growth initiatives, with emphasis on entering new and un-represented markets.
The Camden restaurant will also be the first co-branded location for Fatburger, which it will be sharing with sister restaurant Buffalo's Express, offering a delicious combination of juicy made-to-order burgers and delicious wings in a variety of sauces.
The all-American brands have experienced rapid international expansion, with more than 300 stores in development in 32 countries. The new restaurant will be the first Fatburger and Buffalo's Express in Europe.
The original, custom-made, Fatburgers come in a variety of sizes, ranging from the single to the double (XL) and triple (XXL), and include an array of toppings such as guacamole, egg, chilli, cheese, mushrooms, and bacon, to name a few. Guests will also be able to enjoy Fatburger's world-famous, hand-scooped milkshakes, like the Maui-Banana or Cookies & Ice Cream, for a cool, tasty dessert.
The design of the new restaurant was created by Fatburger, with 360 Interiors as main Contractors and Salix carrying out the kitchen installation. Arif Hussein of Brockley Consulting, the entrepreneur behind Fatburger's UK launch said: The main contractors have been great – they are very well organised and are doing a good job."
The new restaurant is being created on two floors within premises formerly occupied by Yo! Sushi, with the ground floor where the restaurant will be located being completely stripped out and refurbished.
Arif Hussein said: "The type of kitchen that we will use is much more complex and larger than the Yo! Sushi kitchen, so this has been completely replaced, together with all new associated services. This was a major element of the project, because the important thing for us is the speed of service.
"All the food is fresh, with the beef being sourced from Ireland, and each burger is cooked to order with the idea being that we want to deliver an order within 10 minutes or less. The kitchen is therefore very much set up to produce fresh, good quality food quickly and is designed to allow customers to see their burgers being made.
"These high quality gourmet burgers are very much American in style, so they include a green cucumber relish, gherkin and lettuce, as well as extras, if required. We also have a 'Skinny Burger' for people who are more health-conscious and a 'Veggie Burger' – there are options to cater for everybody.
"The buffalo wings can be served on the side with burgers, if desired, and there is also a chilli option."
The dining room can cater for 60 people, with a combination of booth seating and free-standing tables and the takeaway option will also be an important part of the business.
"The shopfront is glazed and the decor is colourful without being garish. We have some very nice coloured raft features on the ceiling and murals as well – plus a wall mounted illuminated Fatburger sign with a map showing all the chain's international locations. The overall design brings a touch of LA to the venue, creating a fun interior," said Arif Hussein
Ancillary facilities including a manager's office, toilets and storerooms are located upstairs.
The works commenced in February, with the restaurant opening scheduled for the end of May.
Fatburger was founded by Lovie Yancey in Los Angeles, California in 1947. It was originally named "Mr. Fatburger" (on behalf of Lovie's boyfriend), until the "Mr." was removed by Yancey in 1952. At that time, she bought out her start-up partners and retained sole ownership of the Fatburger brand until 1990, keeping and operating only the original store for herself.
Fatburger remained mostly a California chain until the late 1990s, when it began an expansion in North America.
The chain has opened eight locations in Dubai, U.A.E., and In January 2013, opened its first branch in Karachi, Pakistan. Owing to the success of the burgers and positive response in Pakistan, Fatburger opened its biggest flagship outlet globally on June 2013 in Lahore.
360 Interiors
360 Commercial Interiors specialise in the project management, refurbishment and fit-out of prestigious high street and independent retailers throughout the UK. The firm are a multi-disciplined principle contractor with over 20 years experience in the industry; during this time their established client base has include high street retailers, restaurants, pubs, patisseries and food court outlets.
Since their inception the firm have established a strong presence in the retail and fashion sector, and have a proven track record of consistently delivering high standards of service, as well as fulfilling demanding project schedules.
360 were approached by Fatburger in late 2014, to be involved with the brand on their latest project. Martin Turner from 360 commented:
"Given our past restaurant experience we welcomed the opportunity. We liaised with their new UK and main USA team detailing up and specifying the project into the UK market place environment.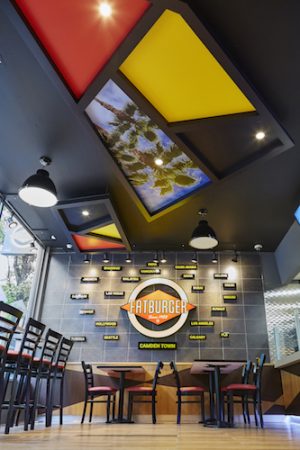 "Fatburger are a renowned brand in the USA, and given the large burger market in the UK, it was inevitable that they would make a move into the UK. Once we were in discussion with them we saw this as an exciting opportunity to be involved on their first UK outlet."