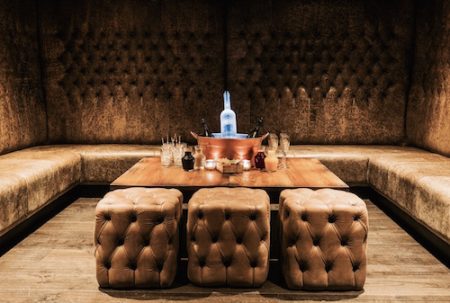 Located at 4a Ridgefield, in the heart of Manchester City Centre, Suburbia is a fantastic new club serving up warm hospitality, a choice selection of drinks and a funky 1920s-style vibe.
Taking its cue from the prohibition era, the basement club is the second site in the Suburbia collection and joins the extremely successful Suburbia Hale in Cheshire.
In February 2015, Tom Thornton-Brookes bought Suburbia Hale from former owners Living Ventures with a view to continuing the site's success. The plan worked and now the team have expanded the offering with the Manchester-based club, serving up everything Suburbia guests have come to expect, and more.
Keen to get an insight on Suburbia Manchester, Premier Hospitality recently took a tour of the club to get a feel for the North West's newest hot spot. During our visit we spoke to Tom who filled us in on what makes Suburbia so special and why it's currently the talk of the town.
Tom said:
"Suburbia takes its influence from a number of different places; from a bar I once owned in Orlando called Envy; from my time working with Tim Bacon at Living Ventures; and from a bar I frequented in Manhattan – a bar I perhaps frequented too much!
"Suburbia comes from all these influences, but ultimately it's about all the things that I like. Suburbia has an old fashioned vibe to it and it's a place where girls can come and dance, guys can come and have a drink and everyone can have a great night all within a safe environment."
Tom added:
"I'm not trying to reinvent the wheel I'm just trying to provide the city with a great late-night club. Manchester has a lot of great bars, but there aren't as many clubs, so that's where Suburbia comes in."
Since Suburbia Manchester opened its doors in June, the feedback has been extremely positive, with guest numbers increasing each week. It would appear that word of mouth has been the key to the increasing numbers, and this is extremely encouraging for Tom.
"We're trying to get the right people in Suburbia, but that doesn't mean the right people have to be millionaire football players, you just need to be a nice person who simply wants to have a good time. I'm a massive Frank Sinatra fan, but gone are the days where men go out on a Saturday night in a suit, so we are aware that we need to adhere to the current fashion trends, and we don't mind that, so long as the people who come to Suburbia have the right attitude then that is what matters to us the most," said Tom.
He added:
"We've had good feedback and I've not heard a bad word. People who come here have been having a great time, dancing until the early hours, all enjoying themselves."
Guests enter Suburbia at street level where they are greeted by a reception desk and a set of stairs which provide access to the club below. Anyone familiar with the site – formerly Avici White – will notice that it has been given a complete makeover courtesy of C Owens Builders Ltd, with reclaimed brickslip used to enhance the visual look of the interior.
Tom said:
"We stripped it back. The first month of work we simply focused on removing everything that was here before.
"Suburbia in Hale showcases rich velvet and vibrant pinks throughout its design, but when we came here there was a lot of natural brickwork, which we wanted to highlight as much as possible. Because some of the brickwork was not in the best shape we made use of reclaimed brickslip. Its real bricks, but it was laser cut and tiled on to the walls to create the desired effect."
Key design highlights of Suburbia include private VIP areas, a spacious dance floor and a stunning bar stocked full of delicious drinks. At the top end of the dance floor is an illuminated Suburbia sign, whilst walls are decorated with prohibition-era photos.
Furniture has been kept to a minimum in Suburbia, ensuring there is plenty of space for guests who want to get up off their seats to head to the dance floor – something which Tom actively encourages.
Tom said:
"On the opening night my mum was the first person on the dance floor, but we get a mixed group in here; a real eclectic group."
The minimalist design approach works very well for the club, very well indeed; and with lowered ceilings and low lighting, Suburbia has a real intimate feel, providing the perfect location to unwind at the end of the day.
Tom commented:
"I set out to make Suburbia Manchester a fun place to be and I believe this comes across in what we do and the design we have used. We're a modern take on the old fashioned idea of going out to have a drink and a dance, and we never pretend to be anything other than what we are."
With Suburbia continuing to get the thumbs up from Manchester's night scene, Tom is keen to keep the momentum going and already has plans to take Suburbia further.
"I would like to open another site and I have a couple of ideas for some bars that I'd like to launch, so there are definitely plans in the pipeline. I'd love to see where the ideas take me and Suburbia Manchester is a great step along the way."
Suburbia Manchester is currently open Friday & Saturday 10pm until 5am. Last entry to Suburbia Manchester is 2.30am.
For more information about Suburbia Manchester, please visit: www.suburbiacocktail.com or follow Suburbia on Instagram: www.instagram.com/suburbiacocktailco.
C Owens Builders Ltd
For more than 60 years, C Owens Builders Ltd has built up a fantastic reputation as a versatile construction contractor. When it comes to construction, the company works across the board, including projects within the hospitality sector.
C Owens Builders Ltd is a family-owned company and is operated by business partners Steve Smethurst and Mark Owens. Over the last six decades, C Owens Builders Ltd has worked on a vast range of projects, including Gusto and Artisan.
Most recently C Owens Builders Ltd was appointed as the main contractor on Suburbia Manchester. The appointment follows the contractor's involvement on Suburbia Hale, only this time with a much larger involvement.
C Owens Builders Ltd Co-Owner, Steve Smethurst, said:
"Working on Suburbia Manchester was very important to us as we had previously installed the bar and flooring at Suburbia Hale. This project provided us with the next step up and demonstrated that Tom trusted what we could do."
Steve added:
"At C Owens Builders Ltd, we pride ourselves on the quality of our work. We are always on hand to help out and we treat all of our clients with the same level of respect."