One of Bristol's finest hotels, the Mercure Bristol Holland House and Spa, has undergone an impressive refurbishment, transforming it into a modern, stylish hotel for guests to stay.
Located in one of the South West's most chic and luxury destinations, this hotel is the perfect getaway.
The delightful hotel offers conference facilities for up to 230 delegates, spa, indoor pool and a gym. The hotel is ideally situated for business and leisure – whether a business meeting, a couple's retreat or a fun-packed adventure in this cosmopolitan metropolis.
In honour of the history that Bristol is renowned for, the design concept for the Mercure Bristol Holland House maintains a rich industrial and maritime theme, yet entwined with contemporary notes to create an up-to-date, lavish feel, while still staying true to its locally inspired roots. Design features include industrial and iron works, in contrast with softened tones, warm colours and bursts of vibrant upholstery fabrics.
The Mercure feature wall – a signature statement in the flagship hotels – greets guests as they arrive, clad in riveted copper sheets, as a tribute to the city's heritage. The warm and welcoming reception, illuminated by stunning feature pendant lights, contains comfortable seating areas for all visitors.
There are a mixture of classic and privilege rooms situated in the Mercure, all ensuring the highest level of luxury comfort, with large beds and facilities to meet every guests' needs. Each bedroom is equipped with a TV including international satellite channels, 24-hour room service and free Wi-Fi throughout the hotel.
Boasting a fitness suite, large indoor 14m heated swimming pool and a Spa Naturel Fitness, there are plenty of things to do within the hotel on a rainy day. Guests can choose to unwind and indulge in a pampering session in one of the 14 beauty treatment rooms, in which massages and other treatments are given by experienced staff.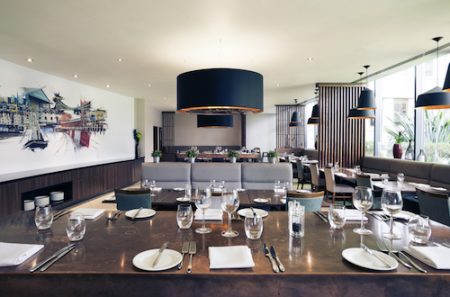 Among the other desirables in the hotel, the exciting new addition – the Urban Bar & Kitchen – is a chic restaurant that offers a place of comfort for lounging, socialising, drinking and dining. Modern and stylish, the diner boasts new feature floor tiling with intricate detailed inset carpet areas and a grand feature wall graphic inspired by Bristol's rich maritime heritage.
The restaurant-bar focuses on producing international modern cuisine made from seasonal, sustainable and generally, local produce. A variety of small plates and larger dishes from around the globe are on the menu, inspired by the high street food revolution and the increasing influence of Asian dining.
Guests can choose from burgers, burritos, Indonesian Nasi Goreng and a host full of sinfully delectable treats on the desserts menu. A complimentary breakfast buffet is also in place for guests. The wide-ranging wine list named 'Flavours from the Cellar' includes three handpicked wines available across the Mercure Hotels brand, carefully selected by the BBC Saturday Kitchen Masters of Wine, Susie Barrie and Peter Richards.
There are a number of popular and interesting attractions that guests of all ages can visit when staying at the Mercure Bristol Holland House, such as Bristol Aquarium, the 3D IMAX Theatre, Bristol Zoo Gardens and SS Great Britain. Similarly, Bristol Museum and Art Gallery and the Bristol Science Centre are also within a short distance from the Mercure.
Alan Bickerton, General Manager for the Mercure Bristol Holland House said:
"We are delighted to welcome guests to this stunningly refurbished hotel, one of the finest in the city. The hotel's new look captures the essence of Bristol's heritage and we're very much looking forward to welcoming guests and locals to experience the hotel's new look."
Jonathon Sheard, SVP Operations Luxury, Upscale & Midscale Hotels, Accor UK & Ireland said: "We are confident that the refurbishment will place The Mercure Bristol Holland House as one of the premier hotels in the city, The hotel's new look reflects the brand's commitment to strong local connections with its inspiration being drawn from the incredibly history of the area."
Interior designer Jennifer Preston of Koncept Interior designs, comments on the project:
"The ethos of Mercure Hotels is based on local inspirations; we wanted to capture this theme throughout the design by embracing Bristol and its rich industrial history. Throughout the public areas of the hotel, the interior encompasses stylish industrial design, clean lines and patterned surfaces, and contrasting materials to add depth and interest."
Well-lit on-site parking is also available, or for guests who require a train journey, the Bristol Temple Meads railway station is only a few minutes' walk away. The hotel is within a short distance of the business district and the lively Harbourside, offering a vast amount of attractions such as shopping, theatre and the arts, local bars and restaurants.
Mercure Exeter Southgate
Positioned in the heart of Devon and enjoying a prime location in one of England's most historic cities, Mercure Exeter Southgate is the gateway to the South West neighboring the famous Exeter Cathedral and historic Quay whilst providing the perfect break en route to the Cornish coastline.
The interior of the city centre hotel is transformed including a redesign of the reception, Gate House restaurant, bar, lounge, terrace and all 156 bedrooms. Mercure has drawn influence for the hotel's new interior design from Exeter's rich Roman and Medieval history including the Cathedral Library's Exeter Book, a tenth century Anglo-Saxon poetry anthology, along with inspiration from the Richard Hooker Statue, Custom House and River Exe.
The entrance is striking – a warm space that is both classic and modern, with luxurious fabrics and feature furniture that creates a stunning and expected welcome for guests. Warm and rich tones permeate the interior design throughout all public areas, with the Exeter Book evoked through calligraphy inspired wallpaper, feature page light shades, script collage flooring and delicate historical design references.
All 156 bedrooms have been refurbished over the past few years, including three executive suites, each having a King size bed, living room, dressing area and bathroom with walk-in shower and air conditioning. The bedroom collection also features newly designed bedrooms and privilege rooms. Using the River Exe for creative motivation, 84 bathrooms have been re-designed throughout the hotel.
The hotel boasts extensive business facilities including seven multi-purposes meeting rooms, with conference facilities for up to 180 people, providing Exeter's largest hotel based conference and banqueting facility. Meanwhile, following improvements to the poolside and reception area, the hotel's fitness facilities offers an 18-metre indoor heated pool, Swedish sauna and fully equipped gymnasium for guests to enjoy as part of their stay.
Jonathan Sheard, SVP Operations Luxury, Upscale & Midscale Hotels, Accor UK & Ireland said:
"We are extremely proud of the locally inspired renovation of Mercure Exeter Southgate. It perfectly reflects the brand's DNA to be in harmony with people and places. At all points in the hotel, the design reflects Exeter's rich heritage. This is the third flagship Mercure hotel we have opened in the UK following Mercure London Bridge and Mercure Burford Bridge hotel and we are very excited to be doing it in the South West."
Mercure Oxford Eastgate Townhouse Hotel
 The 4* Oxford Eastgate Townhouse Hotel welcomes locals and tourists to the beautifully restored hotel following a substantial refurbishment program. The newly re-vamped hotel is in keeping with the style and heritage of the charming city, drawing inspiration from local influences such as the iconic cycling culture of the historical university town.
On arrival guests will be greeted by Mercure Oxford Eastgate's Townhouse feature wall, a signature statement in Mercure's flagship hotels. The striking feature wall consists of a classic basket-weave design in a modern monotone print, subtly marrying the ancient roots with the modern practices of the trendy cosmopolitan town.
The Mercure Oxford Eastgate Townhouse boasts 64 refurbished bedrooms including a brand new suite, showcasing a luxury bedroom with lounge space. The newly redecorated bedrooms feature an elegant colour scheme with a muted background and opulent jewel accent colours. This is complimented with an antique mirror effect and traditional furniture with bicycle spoke inspired details. Another signature feature of Mercure flagship hotels are the headboards, which exhibit local artwork, images or scenes of the area. The Oxford Eastgate Townhouse headboards display digital prints of punting boats and local statues with an ornate vintage-style frame, again perfectly blending old styles with the new, a running theme throughout the hotel.
The refurbishment also includes an upgrade of the Mercure Oxford Eastgate's Townhouse dining facilities to incorporate the refined High Table Brasserie and the Library Bar and Lounge. The contemporary restaurant has a distinct literary influence in line with the hotel's university surroundings. The High Table provides fine dining in stylish surroundings with locally sourced produce and is named after a favoured dining tradition at the Oxford colleges.
Jonathan Sheard, SVP Operations Luxury, Upscale & Midscale, Accor UK & Ireland said:
"The newly refurbished Mercure Oxford Eastgate Townhouse Hotel proudly displays the best that Mercure Hotels have to offer in terms of unbeatable hospitality, top modern amenities and innovative hotel design."
Peter Watt, General Manager of the Mercure Oxford Eastgate Townhouse Hotel said:
"I am delighted to welcome new and returning guests to experience the new and improved Mercure Oxford Eastgate Townhouse. Guests can enjoy a delightful mix of the best in modern luxury in a traditional setting that wonderfully reflects this city's proud heritage."
Mercure
Mercure is the midscale non-standardised brand of Accor, the world's leading hotel operator with 3,700 hotels and 180,000 employees in 92 countries. Mercure hotels share common quality standards and are driven by passionate hoteliers. Whether they are located in major city centres, by the seaside or in mountain resorts, each establishment offers an authentic experience for both business and leisure travellers.
Each and every Mercure hotel has a distinct character, delivering an experience that is true to its local environment, boasting local produce and authentic products. The Mercure network spans 711 hotels in 52 countries around the globe, represents a real alternative to standardised or independent hotels, and combines the power of an international network with professional and digital expertise.
For conference meetings, Mercure hotels offer flexible packages that are fully inclusive, tailored around every individual's meeting requirements. Day delegate and 24-hour delegate packages include everything expected from a mid-scale network, as well as free standard Wi-Fi, fully set up rooms with coffee and a range of teas; LCD screens with user guide and onsite support, and quality, varied and healthy lunch options.
Many of the hotels cater for weddings, providing an extensive range of fine cuisine by talented chefs. In fact, many of the Mercure restaurants are award-winning. A dedicated wedding co-ordinator can help to design the perfect menu, whether a six-course wedding breakfast or an informal buffet.
When the big day is over, bedrooms and wedding suites are only minutes away. All bedrooms and suites are individually decorated and furnished, some with the added romance of four poster beds, panoramic views, fine antiques and oil paintings.
In addition to elegant and versatile banqueting rooms, bars and restaurants, many of the Mercure hotels have terraces, pools and gardens that are ideal for drinks receptions and the perfect backdrop for wedding photographs.
For more information, please visit: www.mercure.com.
Ultimate
 Ultimate specialise in the delivery of high-end Design & Build interior fit-out works, refurbishment works and the supply of bespoke and loose furniture to the hotel, leisure, office, education and healthcare sectors. Based in Yorkshire – but with additional offices in Manchester – Ultimate has been in operation for 13 years, working with a range of clients from small private business to large blue chips companies.
Clients include the likes of Hilton, the NHS, Codemasters, Quaker Oats, Glaxo Smith Kline, Walkers Snack Foods, Pepsico and Network Rail, whilst projects range from a £150,000 fit-out for Scottish Power to a £2m refurbishment at Leeds City College. More recently, Ultimate has been involved with the Mercure St Pauls, Sheffield.
Acting as Principle Contractor, the brief was to undertake a complete refurbishment of 163 bedrooms – over five floors – including corridors. In addition, Ultimate refurbished the lounge, restaurant, bar and reception areas.
As the hotel remained fully operational during the works, tight management and programming works was crucial to ensure no disturbance to the business.
Dan Platt, Director of Ultimate, said:
"This is the first project we have undertaken for the Mecure chain and one we are pleased is now in our portfolio, we are very proud to have undertaken this prestigious project for their flagship hotel. We have now built a very good relationship with the client and are hopeful to work on future projects with them and their team.
"Mecure have a big reputation in the hotel sector and the fact we are on their supply chain and have delivered such a sizable project will present a great case study for us when pitching to other hotel operators."
Dan added:
"We pride ourselves on our customer service and value for money. Our company has been built on repeat business and recommendation and we have traded this way successfully for 13 years – in most cases we have been recommended to a new client before we have completed the project we are working on.
"Following project completion we focus on looking after customers on day 2 to service them into the future and maintain strong relationships. Please check out what are customers are saying about us at: http://ultimategroup.uk.com/testimonials.
Chorus Furniture
Chorus Furniture is part of the New Design Group of companies. With a stunning selection of tables, chairs and soft furnishings, Chorus Furniture is perfectly suited to delivering products into the hospitality market. All the Chorus products are currently designed in the UK by British Designers, Mark Gabbertas and Simon Pengelly.
With regards to the Mercure Bristol Holland House project, Chorus Furniture supplied the Diabolo table for this site as well as many others for Mercure. In total over 1000 side and dining style tables were ordered, delivered and installed throughout the hotel group. Diabolo is a collection of tables with a deceptive difference, available in four heights combined with four sizes of round tops.
Created as a universally applicable range it was perfect for the hotel environment. Diabolo in its own right is a refined, pared back and elegantly simple table programme with the emphasis on colour and the mix and match capability of the two elements of base, offering the opportunity for both colourful as well as more sober combinations when called for.
Premier Hospitality caught up with Andy Green, Group Creative Manager of Chorus Furniture, to ask a few questions on the project. He commented:
"This was arguably one of the Diabolo table and even Chorus' most important and prestigious projects to date and certainly the largest. The products have been designed to work in every situation and Chorus was very keen to showcase what it could provide to the Hospitality market."
He added:
"What could be more desirable than to work with Mercure in our first large scale project in this sector! We are very proud to have delivered what was promised and think all of the sites look fantastic, Bristol being no exception."
Motif Glass
Motif Glass specialise in the supply of glass – including clear, textured, tinted and coloured – as well as mirrors and resin for use in the hospitality, commercial and residential sectors. Motif Glass has decades of experience in processing and colouring glass and mirrors in its factory and this allows them to maintain control over the consistently high quality of its products.
Motif's product ranges offer a simple way to modernise and transform any space with cost effective, bespoke, high quality solutions and the company regularly works with customers with hotels, gyms, restaurants and bars, commercial offices and universities.
Most recently, Motif Glass was involved in the Mercure Bristol Holland House project.
Harpreet Dhaliwal, Director of Motif Glass, said:
"We successfully worked with the designers of the first Pullman Hotel in the UK and having built a good relationship with them we were delighted to be approached to work on a series of Mercure Hotel refurbishments starting with Bristol Holland House.
"Whilst we have previously been specified to provide all of the glass and mirrors in other hotels, the additional challenge with Holland House was that each desk top had to be individually templated prior to the glass being processed.
"For us, this tested our ability to be able to produce our glass within the short timescales allowed for each phase, whilst, simultaneously, not compromising the accuracy or quality of our product. We also had the added benefit of seeing the transformation and modernisation of the hotel to a design which is going to remain current for many years."
Discussing the importance of the project, Harpreet said:
"This project was important to us because of its unique challenges and proving again to designers and others in the hospitality industry that Motif Glass is a brand to be trusted and that we can be relied upon to deliver to exacting timescales."