SpongeBob SquarePants, the Teenage Mutant Ninja Turtles, Dora the Explorer and many of their other friends from entertainment brand Nickelodeon, recently moved into their first European flagship store at No 1 Leicester Square, London.
Not only the first store in Europe, but also the first flagship Nickelodeon store ever, the venue opened in May, offering toys, clothing, homeware, stationery and other Nickelodeon-themed character merchandise.
The store is owned and operated by Entertainment Retailer Limited, a division of Entertainment Retail Enterprises in a global partnership with Nickelodeon and Viacom Consumer Products. Entertainment Retail Enterprises specialize in entertainment retail solutions. Their cross-category expertise enables a turnkey solution to support their unique global distribution platform.
Architects, designers and primary partners in the project were Smart Design; lead building contractors were S.J. Henderson Ltd.
The store presents a glass frontage of 1250 square metres looking out onto Leicester Square, and is spread over ground, mezzanine and first floor levels, with the floors being linked by a 'green slime' staircase. 40 LCD screens within the store create a compelling showcase for Nickelodeon the world's leading children's entertainment brand. Specially designed in-store zones bring Nickelodeon's world famous characters and properties to life.
Ruth Crowley of Entertainment Retail Enterprises said: "Although the building was previously a retail store, we had the interior completely stripped out. Externally, a new glazed frontage and new entrance were added, together with Nickelodeon signage. All of the works were carried out in accordance with the strict guidelines set out by the City of Westminster who are really elevating Leicester Square as a tourist destination.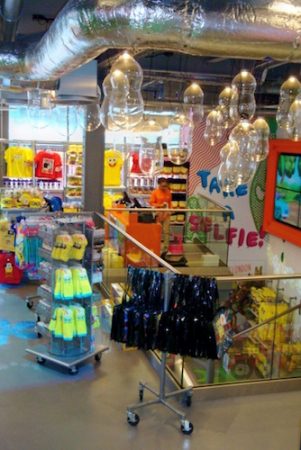 "Demolition and preparation work alone took over five months. All new building services were installed including new electrical wiring, heating, air conditioning plumbing and lighting – down to phone and internet lines. There was also other significant work undertaken on the first floor, including validating the building to meet current fire regulations and removing large areas of concrete to create greater floor to ceiling heights, providing more retail space. Once that was completed, we could proceed with the state-of-the-art multimedia installations, fixture solutions, fittings and graphics throughout the store.
"The ground floor has a London theme while also providing an introduction to the Nickelodeon concept. A particularly fun element is a graphic replica of a London bus, which serves to display exclusive Nickelodeon character soft toys."
Over 80 percent of the products on display have been designed exclusively for the store including a collection of merchandise specially created with a London theme. The sales area incorporates themed displays dedicated to characters such as SpongeBob SquarePants, Teenage Mutant Ninja Turtles, Dora the Explorer, Rugrats, Paw Patrol and many others popular Nickelodeon properties.
The store has a lot of unique interactive elements. There is a pre-school area including a 'colouring tree' where parents and children can sit and colour pictures. Another highlight is the custom-built Pineapple iPad bar where customers can use the i-Pads and check out Nickelodeon apps. And when the SpongeBob character makes an appearance, "happy moments" are abundant.
"As part of our global platform, we want to make sure we appeal across all consumer demographics. The Team worked hard to create a fun experience – everyone likes a little break from reality. As people come to learn of the store, it is becoming a popular destination in Leicester Square," said Ruth Crowley.
"We worked hard on the development of the store which was very challenging because the building was so old. There were many structural complications but we are well positioned to handle a challenge. We are happy to be working with Nickelodeon on the concept and proud to place the first flagship on one of the busiest corners in Europe. We will continue to evolve the concept as part of our global platform creating special experiences for customers."
Entertainment Retail Enterprises has five additional Nickelodeon stores open in Panama, Honduras and the Middle East, with at least four other stores planned to open before the end of the year. London is the first flagship and there are plans to continue expanding the global initiative in other destination cities worldwide.
Tina Calvo CEO of Entertainment Retail Enterprises added: "We are proud to work with Nickelodeon and Viacom Consumer Products and excited to continue expansion of our global retail platform."