Wide-ranging repair, remediation and improvement works have recently been carried out in a total of five projects at Portavogie and Kilkeel Harbours in Northern Ireland.
The schemes, (four at Portavogie and one at Kilkeel), were carried out for the Northern Ireland Fishery Harbour Authority (NIFHA). The NIFA is the statutory body responsible for the operation of Ardglass, Kilkeel and Portavogie harbours, the three designated fishery harbours in Northern Ireland.
The NIFA's key functions are to manage, maintain and improve the harbours, and the projects were carried out as part of this remit – as well as being an element of the organisation's strategic long term plan for asset management.
The schemes have been funded by the European Union and National Government, through the European Fisheries Fund (EFF) scheme. Funding was delivered by the Department for Agriculture and Rural NI.
At Portavogie, the works entailed four projects, including a scheme carried out by Solent Maine Ltd to install a 22 berth pontoon facility to provide enhanced access and egress to small vessels. These works involved the design, manufacture and installation of pontoons, an access gangway and fixtures and fittings. Works on the approximately £175,000 project commenced and were completed in May 2015.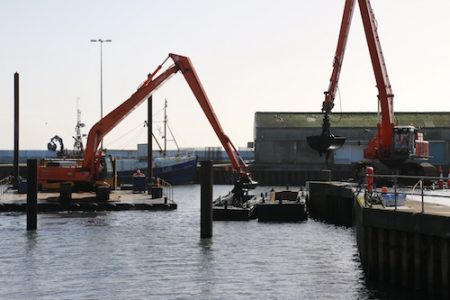 Additional ancillary works to provide fencing, secure access and services were completed under a separate contract awarded to Braham Electrical ltd.
Braham Electrical is a full-service electrical contractor serving the commercial, industrial and residential sectors of the construction market. The company was founded in 1972 and has been delivering excellence by completing projects both on time and in-budget for 35 years.
In another project, Farrans Ltd carried out the refurbishment of the outer breakwater to sustain and preserve the structure which is over 50 years old and was suffering significant erosion as the main coastal defence for the harbour. Works commenced in August 2014 and were completed In March 2015. The contract value was approximately £200,000.
Farrans also undertook a scheme involving the removal, treatment and disposal of approximately 4500m3 of TBT contaminated silt from the inner basin. This legacy contaminant was present in sediments and was preventing the normal maintenance dredging and sea disposal of spoil. Works on the approximately £650,000 contract commenced in December 2014 and were completed In April 2015.
In the fourth project at Portavogie, McLaughlin and Harvey undertook an approximately £700,000 contract to repair sheet piled quay walls suffering from accelerated low water corrosion. These works involved patches, doubler plates and cathodic protection to approximately 300m of steel sheet piles in a working harbour environment. The scheme commenced in September 2014 and was completed In March 2015.
At Kilkeel Harbour, the works entailed the provision of scour protection to the main south pier tip and northern breakwater tip, as well repairing and strengthening the river training piled walls at the west end of the harbour. The approximately £275,000 contract was carried out by Deane Public Works Ltd and commenced in February 2015.