Located on Priory Road, Somerset, The Quarter Jack is a new JD Wetherspoon pub and restaurant.
The pub offers modern interiors and an extensive food and drinks menu, acting as a great location to socialise with friends over a few drinks, or sit and enjoy a meal at an amazing value.
Working from an architectural and design perspective, KD Paine delivered their timely services, ensuring the site was transformed into something spectacular. The multidisciplinary design practice covers a range of services including various stages of planning to project management, through to design phases, focusing on the hospitality sector.
Premier Hospitality caught up with Gregg Elliott, Designer of KD Paine, to ask about their involvement with the renovation. Gregg said:
"Prior to our renovation, the building at the time was a furniture shop, however historically it was part of the bus depot – in fact part of the grounds still is. It is flanked by a light industrial type shed and car park, where bus maintenance where the work of the depot continues.
"Internally, we stripped the building back; whilst retaining the bones of the building fabric. The original building complex straddles a period of the '50s/'60s, offering a solid brick envelope, generous in ceiling height. The major challenge in evolving it from a shop into somewhere inviting, where people would want to sit and enjoy the space was the light qualities – there was limited natural light over the deep plan."
KD Paine spent time transforming the shop into a bar and restaurant, creating a plan to encourage some natural light into the venue. The design team decided to create a courtyard space that served two purposes: to allow for more natural light into the building via new windows, and also to provide an outdoor area for people to eat and drink, especially pleasant in summer.
"This intervention of two fully opening 'walls' of glazing, re-orientated views out into the courtyard and when open, extended the bar, almost seamlessly outside. There is a strong internal-external spatial relationship here."
According to Gregg:
"Part of the strategy was making sure we maintained an active street frontage. The pub is situated on a main road heading in to the main city centre, so connecting with the passing footfall was paramount."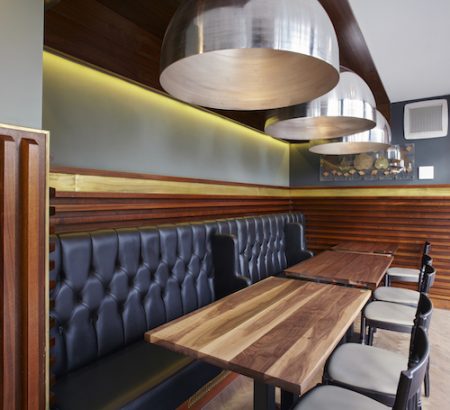 Taking pride in the use of local materials, KD Paine took advantage of the excellent supply of stone from the local quarry by creating a bar that was clad in beautiful Jurassic stone. The bar reflects elements of '50s or '60s design – as does the entire site – sometimes in a deliberately misconstrued way. Blending matte stonework, unfinished stone and highly polished stonework has produced a pleasing product. Fossils also give the pub a subtle archaic impression as well as representing the local area.
Flanking the courtyard, windows were infilled inspiringly with waste bottles that the design team had acquired from the client. KD Paine built porthole windows to the boundary wall and with the bottles created something that allowed light to penetrate through, whilst displaying an interesting feature of the building.
Stylish walnut timber flooring was fitted inside of the pub, as well as a carpeted area that the team designed themselves. The addition of lots of interesting fabrics and lavish leathers were incorporated with various upholstery and furniture. The use of panelling and shadow effects created with various lighting was designed to recall a memory of the 'traditional pub' the impression of a warm, inviting and cosy place to dine and drink.
Gregg commented:
"It has been a great opportunity to work on this development; we've had the chance to rejuvenate a building. We have been able to bring it to life, drawing on existing qualities and enhancing them. The fact that we have created a new environment that people will want to spend their time at and enjoy, is fantastic."
When asked what it means to be shortlisted for the Restaurant & Bar Design Awards, Gregg replied:
"I'm very pleased that we can be acknowledged for our hard work to promote good quality design, for this be recognised is great. If we can continue to produce exemplary work then I think, together with our clients, we're giving something positive and genuine back to the public."
With a wide variety of European, American and British Beers and a vast range of spirits including a whopping ten different gins, The Quarter Jack guarantees that there is something for every palette. The pub supports local brewers and CAMRA, meaning there are International Beer Festivals that run twice a year – a great excuse to support the brewers and drink beer with friends!
The Quarter Jack hosts a range of great value club nights that include Mexican, Steak, Chicken, Curry, Fish and Roast dinners throughout the week. These club nights offer fantastic prices and a great excuse to socialise over a themed meal.
The City of Wells in Somerset is in fact England's smallest city, offering historic value and heritage. The magnificent cathedral and the unique moated Bishop's Palace feature in this beautiful city, two attractions that would be worth a visit whilst dining and drinking at The Quarter Jack.