The much anticipated Marco Pierre White Steakhouse Bar & Grill recently opened its doors to the public at The Hinckley Island Hotel, Leicestershire, following a £310,000 refurbishment of the hotel's existing dining space.
An innovative menu created by the celebrated chef presents delightful dishes including some of his childhood favourites, as well as many of the classics. The Steakhouse serves real, honest food in the form of timeless dishes with British heart and French soul. From the classic Michael Bourdin's Kipper Paté to Marco's childhood favourite 1930's Knickerbocker Glory; there is something on the menu for everybody.
Famous for being a steakhouse, all British steaks are sourced within a 50 mile radius of the restaurant making it the finest quality beef for guests to enjoy. An extensive list of cocktails is also available for guests to choose from, which includes classics as well as more contemporary concoctions.
The Marco Pierre White restaurant takes pride in its iconic conservatory area, allowing light to enter the space creating a brighter atmosphere; whilst also providing the perfect space for friends and families to enjoy lunch or an evening meal whilst appreciating the beautiful surroundings.
Previously, the Hinckley Island restaurant appeared tired and worn before the overhaul took place, due to not having had any refurbishments or repairs for many years. In need of a new lease of life, Midas Contracting Ltd took the challenge head-on alongside several other contractors and produced a high-end steakhouse and grill that the hotel can be proud to present.
Working as one of the main contractors through the Black and White Hospitality, Midas Contracting Ltd delivered their timely and high quality services. The four week refurbishment that took place meant there was a very quick turn around for the site, with a spectacular transformation having taken place.
In order to discuss the refurbished restaurant, Premier Hospitality caught up with Dave Palmer at Midas Contracting Ltd. Dave said:
"We were lucky enough to be one of the main contractors through the Black and White Hospitality. I spoke with Nick Taplin who is the Chief Executive of the company – he was missing someone they could rely on to do this type of work. We started out doing the New York Italian franchise hotel in Stratford-upon-Avon – that was the first one we did – and we have carried on ever since.
"Once we were assigned the project after speaking with Nick, the Designer put a package together and once we had everything signed off, we started on site. We stripped the place out, with the design plans and aims in mind for the steakhouse. The site is now complete and fully operational – and from what I have heard the restaurant has been a success and the feedback has been very positive."
With 180 covers, the décor of the restaurant is one of the main attractions, emanating an opulent feel to the venue. Real leather skins feature on the tables accompanied by faux leather bespoke chairs, adding to the luxurious experience for guests. Wallcoverings and wallpapers are made from high-end material, representing what the diner is all about.
Lots of leathers compliment grey tones and dimmable lighting, creating a moody atmosphere. One of the brand standards is that the entire lighting had to be dimmable within the restaurant, aided by the very competent Fraser Besant, a lighting designer who ensured that the lighting flattered the other design elements.
Dave commented:
"We are very aware of the environment; the franchise is very good in one respect that between the franchising and what we do, we basically breathe life into very tired, old hotel restaurants – and it's the hook that the hotel needs to bring people in."
Starters from the Steakhouse Bar and Grill menu include Wheeler's Atlantic prawn cocktail with Marie Rose sauce and Warm Baked Camembert with toasted sourdough and roast vine tomatoes. Appetisers such as warm sourdough in a basket and mixed olives are available for the table.
Delectable mains include Macaroni of lobster with fresh tarragon, as well as the Great American bacon and cheeseburger, smoked bacon, BBQ sauce, brioche bun served with pommes frites; and of course a selection of finest quality steak cuts that have been dry aged for 28 days. A number of mouth-watering sides also feature on the menu including Baked Macaroni and Cheese, Rocket and Parmesan Salad, Garlic Mushrooms, Triple Cooked Chips and much more.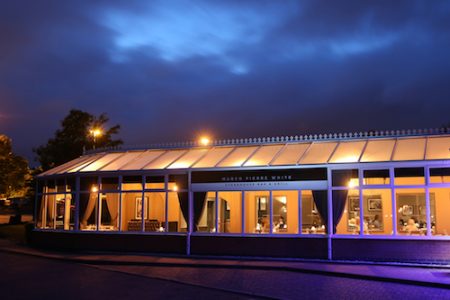 Following the main meal, guests can opt for a dessert, cheese and biscuits or an aperitif. Desserts include Classic New York basked cheesecake with fresh passion fruit sauce, Chicago warm chocolate brownie with milk ice cream, and a selection of ice creams and sorbets. For a savoury option guests can indulge in the selection of fine cheeses; otherwise a choice of coffees, ports and dessert wines are on offer.
"I class myself as very lucky as I have a fantastic team behind me from electricians, to joiners, to furniture suppliers; every task that my company faces involves doing our jobs to the best of our ability. We stick to top-end finishes with top-end materials to produce the best results that our clients can be happy with.
"In terms of the company background we actually came from private housing and private rentals, having carried out developments on our rental properties that are high end – and we have taken that into our restaurants!"
The Hinckley Island Hotel offers 362 stylish and comfortable bedrooms and is situated just off the M69, making it an ideal location for conference organisers and business travellers, especially as it has conference facilities for up to 650 people. Similarly, the hotel is also a popular choice for leisure visitors given its high quality nature, health facilities, and close proximity to attractions like Bosworth Battlefield, Twycross Zoo and the National Space Centre.
Marco Pierre White
Born in December, 1961, British celebrity chef Marco Pierre White is noted for his success and contributions to contemporary British cuisine. After leaving Allerton High School in Leeds without any qualifications, White made the choice to train as a chef.
The notorious chef began his training in the kitchen at the Hotel St George in Harrogate, North Yorkshire and later at the Box Tree in Ilkley, West Yorkshire. White arrived in London as a 16-year-old with little possessions to his name; subsequently he began his classical training as a commis under the famous Albert Roux and Michel Roux at Le Gavroche.
At the age of 24, Marco became Head Chef and joint owner of Harveys with kitchen staff that included the young Gordon Ramsey. Marco Pierre White had become the youngest chef to be awarded three Michelin stars by the age of just 33.
Alongside his culinary career, White also entered the TV business as he became Head Chef in ITV's Hell's Kitchen television series in September 2007. White then returned to ITV's screens to present the fourth series of Hell's Kitchen in 2009. Subsequently, on 18 March 2008, it was announced that White would be the host of an American version of the Australian cooking competition series The Chopping Block.
During the years that White has built up his success and reputation he has had working for him the likes of Gordon Ramsey, Eric Chavot, Heston Blumenthal, Bryn Williams, Jason Atherton as well as a number of front of house staff members such as Max Palmer and Philippe Messy.
The talented chef has a number of books on the shelves including his Autobiography – Devil in the Kitchen – as well as several recipe books. His recipe books include Marco Made Easy: A Three-Star Chef Makes it Simple; Great British Feast, with over 100 delicious recipes; and Wild Food, with a vast range of meat and fish dishes.
Hillside Joinery Ltd
Bristol-based company, Hillside Joinery Ltd, specialise in all aspects of joinery works. The company is owned and operated by Gary Burge and David Sims and works on a range of high profile projects within the commercial and domestic sector.
Hillside Joinery Ltd manufacture and install bespoke joinery all over the UK, from bars and reception counters to domestics sash windows, shutters and more. In addition, the company supplies and installs a range of associated products that directly interact with the joinery elements, such as glass, metal, upholstery and plastics – ensuring a perfect fit!
Gary and David started their careers as apprentices, but their experiences helped them to develop a strong working ethos which has been invaluable when working alongside Midas Contracting Ltd and the rest of the team on the Hinckley Island Hotel project.
Hillside Joinery Ltd Co-Owner, Gary Burge, said:
"We have been very fortunate and feel proud to be working alongside Midas Contracting Ltd, who asked us to get involved with the Marco Pierre White Steakhouse Bar and Grill and the New York Italian restaurants, where we have just completed the bar, buffet counter and main buffet table at the Hinckley Island Hotel."
Hillside Joinery Ltd Co-Owner, David Sims, said:
"This work is important to us as it allows our work to be seen by one of the leading chefs in the country, as well as members of the public."
David added:
"Our relationship with our customers is very important to us, as ultimately it will allow our business to grow."
Ablectrics
Having been in business since 1974, Ablectrics is an electrical wholesaler, featuring a lighting showroom and lighting design service. As a company, Ablectrics prides itself on going the extra mile for their customers, offering the best level of service and product knowledge.
Premier Hospitality spoke to Fraser Besant, of Ablectrics, to discover more information on the company and its involvements with the Marco Pierre White Steakhouse. Fraser said:
"My speciality is LED lighting and LED dimming control. Our niche product is our genuine vintage film set lights which are sourced from America. We then restore them and turn them into gorgeous iconic floor standing lamps. When working with the Marco team I have advised on all aspects of lighting and worked with the interior designer to make sure the lighting works to its best potential.
"Together we have formed a brand identity and helped work with a specialist lighting factory to ensure the design and supply of the lighting to meet the deadlines for each opening. I have also released my own LED vintage style lamp and have had great success integrating this into the rustic style lighting that is favoured by the brand."
Mr McQueen
 Are you sitting comfortably?
Of course you are – it's a rhetorical question for restaurant-goers at Marco Pierre White Steakhouse – thanks to Mr McQueen.
In the same way diners succumb to the temptation of succulent sizzling steaks, they can't resist being enveloped in the funky, luxuriant, oversized Marco Signature Chair.
Size matters when it comes to catching the eye, but big or not so big, our beautifully crafted furniture exudes quality, originality and affordability.
We're edgy, exclusive and we push boundaries.
We're bespoke, environmentally-friendly and we're buttoning down a great reputation in the commercial furniture sector.
We recycle the old, create the new and always deliver the WOW…just ask Marco, Harvey Nichols, the Laurent Perrier Champagne Bar, Malmaison, Hotel Indigo, Hotel La Tour… the list of prestigious Mr McQueen customers goes on.
Don't take our word for it, experience Mr McQueen at Marco's in The Cube, Birmingham and Cadbury House, Bristol. Or, if you fancy an Italian Job you could savour Mr McQueen at Marco's New York Italian restaurants in Oxford and the Holiday Inn, Birmingham – and no, we didn't 'blow the bloody doors off!'
We might however blow your mind with our creativity, but never your budget with our prices.
Contact us…