Nandos – Turning up the heat in Old Street
The home of legendary Portuguese flame-grilled chicken, Nando's, recently opened the doors of its new venue in Old Street, London, with a stunning interior sporting a creative new take on the chain's unique Afro-Portuguese style.
Located in the heart of silicon roundabout, the 140-seater restaurant brings the flavour and fire of Nando's popular Peri-Peri chicken to busy city workers and Nando's fans in the area.
Featuring exceptionally high quality fixtures, fittings, furniture and finishes throughout, the vibrant interior includes several dining areas – each with its own distinct style, together with a feature bar creating the perfect inviting environment for groups of all sizes to enjoy the restaurant's internationally popular menu.
Design highlights include the bespoke furniture, including free standing tables and chairs, leather-upholstered long banquettes around the perimeter and four-seater and larger oval booths.
Varied styles of lighting add a warm ambience in each area, including geometric shaped pendants, large dish and dome shaped lighting, dramatic spotlights and a cascade of light bulbs of varying heights over the bar.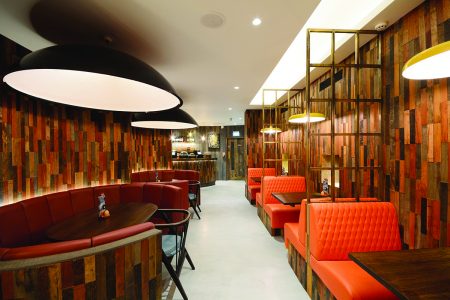 Walls feature dramatic textured finishes in both multi-coloured wood and 'bubble' effect, adding dynamic splashes of warmth and colour.
The design palette includes rich oranges and reds, blues and varied shades of warm wood tones, with floor finishes including a combination of plain and patterned tiling.
The new restaurant has created more than 40 new jobs for the area, ranging from cashiers and grillers to assistant managers.
Today, there are over 350 Nando's restaurants in the UK, but the chain's story starts long before the first UK restaurants opened in the West London suburb of Ealing.
According to Nando's "It's a story of discovery, passion and ambition. It's an evolving story too, so while we always look back on where we've come from with pride, it's where we're going next that really gets us excited."
Nando's specialises in chicken dishes with lemon and herb, mango and lime, medium, hot, extra hot or extra extra hot peri-peri marinades (properly known as Galinha à Africana). In some countries, Nando's has other flavour options, such as Mediterranean.
Peri-Peri is the heart and soul of Nando's. For centuries the people of Southeast Africa have used Peri-Peri to bring fire to their food. It is in Mozambique's rich soil and blistering sunshine that the African Bird's Eye Chilli grows into its fiery best.
When Portuguese explorers arrived there, they were enchanted by its flavour. They added a squeeze of lemon and a kick of garlic and turned Peri-Peri into a very well-travelled spice.
Nando's restaurant was founded in 1987 in the Johannesburg suburb Rosettenville when Portuguese-born audio engineer Fernando Duarte took his entrepreneur friend Robert Brozin to a Portuguese takeaway called Chickenland for a meal.
After trying the chicken – cooked in peri peri, a chilli sauce originating in Mozambique – they bought the restaurant for about 80,000 Rand (equivalent of about £25,000 at the time). They renamed the restaurant Nando's, after Duarte.
And the rest, as they say, is history!
UHS
UHS are the forerunner in the hospitality furnishing industry. The company continually inspires, creates, and finds imaginative and beautiful furniture solutions for restaurants, bars, and hotels.
UHS' main offices are in Oxfordshire and Rome, plus the company has a global presence which has resulted in UHS creating the finest, specific craftsmanship and design of furniture. Recently, UHS has been involved with Nando's – City Road in London.
Natasha Yelland, of UHS Group, said:
"UHS has provided this Nando's restaurant with a range of bespoke furniture, specially designed according to its Portuguese theme. For example, some of the chairs that can be found in this project have been designed with a timber frame and upholstered using two different types of leather provided by Futura called Birch Sunset and Shelly Dark Teal. Another one of our chairs in this restaurant is our popular Tagg chairs where the metal frames have been finished in a bright yellow. Perfect for a Portuguese restaurant!"