Treloar College – A refurbishment to make a difference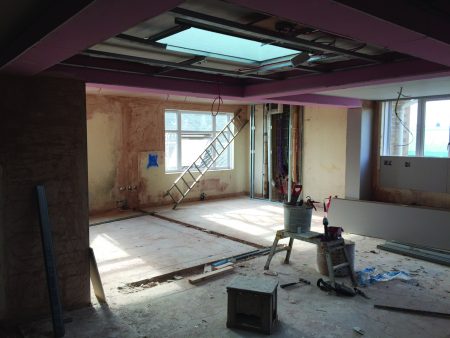 Treloar College is a specialist college for young people, aged between 16 and 25, with complex physical disabilities from all over the UK and overseas. Situated in Holybourne, near Alton in Hampshire, Treloar College offers expertise and facilities that disabled young people need to learn and develop as adults, within a supportive environment.
The College prepares residential and day students for the many challenges of adult life by taking a multi-disciplinary holistic approach. The College creates bespoke plans for all abilities and aspirations – from independent living and personal development, learning skills for life and gaining qualifications.
Known as the Gauvain House refurbishment, the recent project taking place at Treloar College has been underway since December 2015, with an aim to vastly improve the facilities. Developments are due for completion at the end of July this year. Working as main contractor on the project, competent construction company O & D Construction Ltd have taken the lead.
"We are a charity that has been in existence for over 100 years, and was founded by the Lord Mayor of London, Sir William Purdie Treloar in 1907," said Chloe Stoneham, Head of Services at the Treloar Trust. "We are lucky enough to be supported by various charitable trusts who have donated over £300,000 to date to help make this £1.6 million project possible."
"We are known as Treloar School and College – with children as young as two, right up to the ages of 25. However – this particular refurbishment project is for the older students from age 16.
"Gauvain House comprises an old 1960s block housing dormitory style accommodation with shared bathrooms. The bedrooms were typically very small and in order to shower or use the bathroom, students would have to leave their rooms and cross the corridor with their towel and shampoo etc. – and for those in a wheelchair you can imagine this would be a lot of hard work.
"To combat this, we transformed what were formerly 34 small bedrooms, into 18 larger bedrooms that are all en-suite. All of the students will now have their own private bathroom with the most amazing up-to-date facilities, including specialist toilets, height adjustable sinks and hoists – meaning they can go straight from their bed into their own bathroom and leave their personal belongings in there. Also they can personalise it and make the space their own.
"Upstairs, the rooms will be part of a flat as we have found that the students benefit from the opportunity of experiencing what it's like to live at a university or as part of a flat share; again they all have en-suite facilities, however they do have to share an adapted kitchen! This means students can cook together and eat together. The shared common room and shared lounges allow for parties and get-togethers, gaming nights, ordering pizzas and all kinds of socialising."
The important addition of a lovely court garden with a water feature is in the process of being created within the site, acting as a sensory garden for the students and providing a space for relaxing and enjoying the sun.
The main contractor O & D Construction Ltd has experience with carrying out refurbishment projects for Treloar College, having previously carried out a swimming pool refurbishment, as well as the therapy areas. O & D has ensured that all developments they have carried out are bespoke, providing solutions for specialist and individual needs. For example, the swimming pool features hoists that lead directly from the changing rooms into the swimming pool.
When asked if any challenges have arisen so far, Chloe responded:
"There have been several challenges, for example with the hoists, as there has to be one in every room and they have to be fixed to the ceiling – which can be quite difficult when there are a variety of ceiling heights within the building. There have been a few technical issues that needed to be addressed however O & D Construction has been brilliant at dealing with those."
She added:
"So far the project is going very well! It has been fantastic to work on this, to see the students enjoying the college accommodation is great, it is definitely my favourite part. I'm really excited about the development and I look forward to see everyone settle in, personalise the space, and enjoy it together."
Trevor O'Brien, Managing Director at O & D Construction Ltd commented:
"The building itself is quite traditional, it's a brick building and the majority of our work involves the internal refurbishment.
"I suppose our biggest challenge was that there was a lot of work to in a short period of time and the complexity of that was working in the middle of a live, busy college whilst keeping ourselves segregated from the students and staff – so far it has all gone very well.
"It's great for us working for Treloar College, they are a great client and we wanted to carry out this contract as a result of working for them in the past."