BXR: Boutique boxing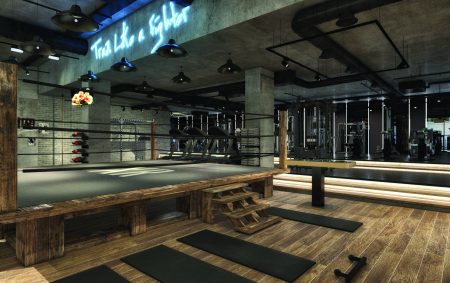 BXR is a state-of-the-art, members-only fitness facility, offering the highest level of professional boxing training in London. Situated on Chiltern Street in the heart of Marylebone, the site has a 6-metre-high triple glass frontage, spans 12,000 sq ft across the ground and lower ground floors and serves up an unrivalled collection of high-tech and high-end gym equipment.
At the heart of BXR is a full-size boxing ring by Ringcraft, which adds to the rawness and authenticity of this training venue. To highlight the passion and pride of the space, BXR is decked out in inspiring iconography, including images of the world's greatest boxers.
Taking the boxing connection one step further, BXR is backed by a founding committee that includes investor and British professional boxer, Anthony Joshua; as well as a team of elite trainers consisting of London's most reputable boxing coaches, ex-champion boxers, MMA fighters and leading sports therapists and osteopaths. To say BXR is in a league of its own is an understatement.
"BXR is a passion project for me. I want people to train like I train. We have pulled together the best coaches, medical teams and equipment in the business and brought the ring to Chiltern Street, offering state-of-the-art training facilities for anyone who wants to join," said Anthony Joshua.
BXR opens its doors in January 2017 after completing a detailed and intensive design and fit-out programme. The programme has seen the space designed from the ground up to ensure every last detail has been accounted for.
Interior designers, Marie Soliman and Albin Berglund of Bergman Interiors were instrumental in the design of BXR, working alongside DHA Designs, WFC and project manager, LXA. Bergman Interiors is a London-based interior design studio, internationally renowned for creating couture schemes for the world's finest gyms, hotels, spas and residences.
Bergman Interiors were involved with BXR from the early stages of the project. After an initial meeting with a BXR co-founder proved very fruitful, Bergman Interiors took the design from concept to completion.
Speaking to Premier Construction about BXR, Bergman Interiors Co-Founder, Marie Soliman, said:
"We were introduced to the founders through the word of mouth of a previous client. At the time we were going to discuss the redesign of their private residence, which led to the design of BXR instead. I believe that bests things happen when you least expect them!"
Marie added:
"With the design of BXR, we wanted to move away from the typical, dated and expected New York-styled gym that has been seen for the past 15 years. We agreed BXR should be a leader to inspire and to be inspired by London´s forward thinking design.
"I had fallen in love with the brief and I knew we would design the next award winning gym."
Bergman wanted to create something timeless, something more fresh and refined, a place that everyone talks about, a landmark to see and where to be seen.
Through continued discussions with the client, Bergman Interiors weaved their thoughts around the initial brief, to expand the design theme and create new ideas. The design introduces a theatrical look and feel from the main street with exquisite unexpected luxurious materials and elements that are not typically found in a gym: A rich blend of backlit dark tinted mirrors and bronze accents, along with warm tones of cognac coloured leather and a refined industrial clean line look.
What sets BXR apart from the competition are the fine details, as well as the soul that has been added to the space. The artwork includes bespoke murals painted on site by the wonderful and talented street artist Ben Slow, featuring some of the biggest names in boxing history such as Sugar Ray Leonard, Joe Frazier and Muhammad Ali.
Albin said:
"BXR is a real showcase in the boxing world. We're reflecting the history, the glamour, the craftsmanship – we're celebrating the rich use of materials and incorporating these into the details."
James Long of LXA was the project manager on BXR. LXA is a property-based design, project management and development company, which takes an original approach to creating outstanding buildings and distinctive interiors.
Discussing LXA's involvement in the project, James said:
"We were approached by the founders of BXR, after they saw our work on MNKY HSE, a nearby project in Dover Street.
"They explained they wanted to create a high-end boxing gym with a spa and recovery element and then they showed us Bergman's design concept and drawings, which detailed the layout and schematics. From here we built and developed the project team to take the scheme forward."
BXR is split across two floors, with the lower ground floor containing studio spaces, changing rooms, sauna facilities, treatment rooms, a circulation zone, storage areas and an equipment store. The ground level focuses on boxing spaces and includes a boxing arena zone as well as BXR's feature boxing ring.
James said:
"From street level, the idea was to create a theatre for boxing, with the ring in the middle and the machinery and equipment surrounding it – this is a key feature."
To ensure BXR is a stand-out gym, the team have invested in state-of-the-art technology from a range of providers, including TPI Sound speakers and renowned brands such as Keiser, Technogym, Wattbike, Hammer Strength and Eleiko. The equipment provides members with the opportunity to accurately measure and track their progress using a fully integrated smartphone app, camera feeds and other analytic tools powered by RNF Digital.
In addition to the equipment, an in-house clinic is included, comprising three treatment rooms powered by CHHP. BXR has also entered into an exclusive brand collaboration with renowned Danish Juicery, Joe & The Juice, who have developed a bespoke fitness menu for the gym's Ringside Lounge.
Although BXR has been a challenging project it has also been a very rewarding one which Bergman Interiors and LXA are proud to be associated with.
Marie said:
"Being involved in BXR has meant a great deal to us. It is the one project that every designer – and I mean every designer, artist, architect in London – wanted to be part of. We had respected designers competing with us, so winning the project wasn't just about us winning the design, but the story that came with it.
"BXR was about designing it, dreaming it and smashing it."
James added:
"From the start we knew this project would receive a huge exposure, because of its design, prime location and the prestigious people involved. We had faith in the team and confidence they would deliver the product in the end and we have. It has been a great project to be a part of."
For more information about BXR, please visit: www.bxrlondon.com.
For further information about Bergman Interiors visit: www.bergmaninteriors.com and for LXA, please visit: www.wearelxa.com.