Emilia's Crafted Pasta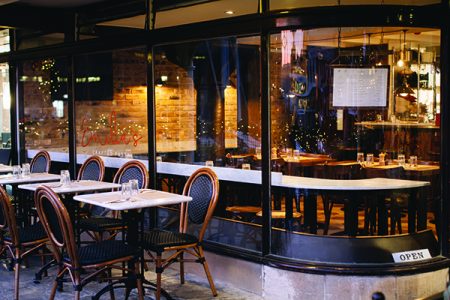 Inspired by founder Andrew Macleod's lifelong dream to open the best pasta restaurant outside of Italy, beautiful crafted pasta has arrived in St Katharine Docks. All the pasta – hand-drawn at the top of the menu to guide diners – is made on site daily, crafted on the marble counter tops in full view of passers-by every morning. Head chef Simone Stagnitto, who hails from Genoa, has taken inspiration from pasta recipes passed down the generations by his grandmother, to bring the food to life in this buzzing waterside spot in the heart of the City.
Simone and Andrew are serving some unique dishes such as Parmesan Balls which are delicious, melt-in-the-mouth fried Parmesan, shaped into small balls as well as twists on classics such as a bolognese made heartier with homemade béchamel. The house-made pesto is also filled to the brim with Parmesan, making it wonderfully creamy and proper Genovese. Simone and Andrew have spent the last eighteen months studying the science and geometry of pasta and have talked to chefs all over Italy to ensure Emilia's offers the finest pasta possible. All the food is made from scratch on site to guarantee freshness, authenticity and taste. What about the liquid menu? Drinks, such as the Lurisia Gazzosa, an artisan lemonade usually only found in Italy and Amarcord Gradisca, a unique Italian craft beer feature.
The pasta bar itself uses reclaimed Heathrow cargo timber (Burton Wood Recycling) for cupboards and shelving which complements the marble-topped pasta bar and worktops (Rectory Stone), while terracotta shaded floor tiles (Marco Corona) have been sourced from rural parts of Italy to give a rustic character to this lively eatery. It is through these three material palettes that Andrew and his team – Architectural consultant Mark Shtanov and Interior Designer Liliane Nguyen – have recreated the warmth of the Emilia-Romagna region in the heart of London. Tarlev Construction Ltd were the main contractors responsible for bringing this project to life.
Andrew says, "It's a very interesting site as Ivory House was originally built in the 1850s as a warehouse for the ivory trade and was the only surviving building in the area following both World Wars. It is a listed building in a conservation area, so structurally there was a lot of stuff we couldn't change and the site itself was never meant to be a restaurant. There were some features that made it a bit more difficult as far as the building works are concerned." The front of the building has a 1.5 metre long, curved glass exterior which is very rarely found in buildings nowadays. The main entrance to the site created a unique challenge for the team, "building a restaurant out of something where the width of your door is 75cm gave us constraints that made it quite difficult as there was no entrance to our site except through the narrow door," added Andrew. Other challenges with the refurbishment included reinstalling electricity and water supplies barely suitable for a shop, let alone a restaurant and walls not being at complete right angles to each other or straight!
Emilia's Crafted Pasta includes the main restaurant, a fully open kitchen, a storage area and outdoor seating overlooking the Docks. The main area and fully open kitchen are 40m², whilst the storage area is 20m² and the outdoor seating is a further 10m². There will be around 35 covers in total.
Andrew says, "Emilia's offer the tastiest Italian pasta in London served in a theatrical environment – a memorable experience at a very affordable price point – you're not going to want to eat pasta anywhere else! I can't wait for Londoners to try Simone's incredible dishes, which burst with flavour and sunshine."