Beaverbrook
Set amidst 400 acres of privately owned Surrey countryside, Beaverbrook is a luxurious country house hotel, boasting the highest quality amenities, unparalleled service and beautiful surroundings. The country retreat sits on land that was once owned by Express Newspapers owner, Lord Max Beaverbrook and is ideally placed just 19 miles away from Piccadilly Circus.
Joel Cadbury, Ollie Vigors, Tim Edwards and Ian Todd are the directors of Beaverbrook and together with an expert collection of designers and hospitality specialists they have created a tranquil haven.
Leisure Industry Specialists WFC are the Main Contractors for a large proportion of the ongoing works at Beaverbrook, including refurbishments to the Upper Lodge, structural alternations and internal remodel of the Garden Cottage and the Garden House. WFC is also the main fit out contractor for the site's clubhouse.
Beaverbrook arrives in three distinct stages, with the first phase – The Garden House – kick-starting the gradual unveiling of this wonderful hideaway.
The Garden House is an 11-bed property situated within a walled garden on the Beaverbrook estate. The Garden House offers guests the opportunity to stay in a collection of cosy, cottage-like rooms all designed to complement the grandeur of the site's main house.
The Garden House is a relaxed space, filled with a beautiful selection of colours, prints and patterns which mix modern aesthetics with classic stylings. The interior is the mastermind of interior designer Nicola Harding, who has lovingly handpicked all of the elements to serve up something unique, yet familiar.
Speaking to Premier Hospitality about her involvement with The Garden House at Beaverbrook, Nicola Harding, said:
"I was invited to come and look at the site shortly after it was purchased. My initial thought was that it would be extremely difficult not to fall in love with Beaverbrook. If Beaverbrook was located anywhere in the country it would be stunning, but the fact that it is just 30 minutes away from central London, without another property in sight, is just outstanding.
"Garden House comprises two buildings, which sit on the corners of a walled garden. The space incorporates 11 bedroom suites, along with a restaurant, a bar and a cookery school, all connected to the garden. There is a sense of one space flowing into the other.
"The brief was to make this feel very much like someone's home – for the environment to feel like it had been there for a long time."
To capture the essence of a real-life home Nicola has included touches that many will be familiar with, such as a selection of Penguin classics, along with fun elements such as 'his and her sinks' and indulgent roll top baths.
Each room – Snug, Guest or
Cottage – is filled with quintessentially British art and antiques.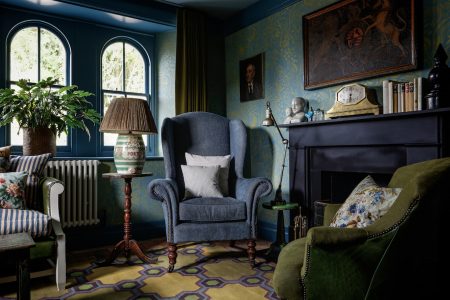 Nicola said:
"Absolutely everything had to be created and put in – the panelling, the architectural detailing, everything. It was a five bedroom house before we started, so getting 11 en-suite rooms, suitable for commercial use was quite challenging for everybody involved, but it was enormously satisfying once it was completed."
Nicola added:
"The feedback has been amazing – everyone has been thrilled with The Garden House and they love the colours and the fact that it's an intimate and personal space. It really feels like someone's home that has evolved organically.
"The housekeeping team are incredible and they all treat it like they would their own home, with all the right loving touches that really go a long way to making this something special. My team and I, feel enormously privileged to have been involved with this project at Beaverbrook."
Following the opening of The Garden House, work is now underway on the second phase of Beaverbrook – The House, which is due to open in spring 2017. The House is a stunning hotel being created by interior designer Susie Atkinson and includes 18 bedrooms, which take design inspiration from the 1920s, '30s, '40s and '50s.
To reflect the heritage of Beaverbrook, Susie is selecting fabrics, furniture and lighting reminiscent of the heyday of Cherkley Court. The interior will tell a unique story and includes pieces sourced from auction houses and specialist dealers from around the world.
The third and final phase of Beaverbrook is The Coach House Spa and The Glass House Cottages, which open this summer. The Spa is an integral element of Beaverbrook's country retreat and includes a floral theme, which runs throughout the space via stained glass windows, mosaic tiles and paintings by Brian Clarke.
Facilities at the Spa include five treatment rooms, a private double suite with shower, private garden, relaxation area, two swimming pools (indoor and outdoor), a salon, Jacuzzi, sauna and deli.
Additional facilities at Beaverbrook include a Sharky & George hideaway and treehouse for children, walking trails, petting zoo, an Olympic race circuit, a cookery school and much, much more.
For more information or to make a reservation, please contact: reservations@beaverbrook.co.uk or telephone: 01372 227 670.
Food at The Garden House
Head Chef of The Garden House restaurant is Kaz Suzuki. Having previously worked in some of the world's finest restaurants including Auckland's One Tree Grill, The Grove Restaurant & Bar and Bracu Restaurant & Olive Estates, Kaz brings unrivalled international experience to The Garden House.
Suzuki has brought with him a number of elements of gastronomy and hospitality to The Garden House, offering a simple yet elegant menu with a twist. The restaurant's menu prides itself on using home grown, seasonal ingredients and the finest organic produce sourced locally.
Most fresh ingredients are handpicked in the morning, with all herbs harvested in The Kitchen Garden and leaves selected right before lunch starts. Suzuki believes that it is important to not over work the ingredients, instead allowing them to speak for themselves.
The restaurant sources fresh fish from Brixham on the south coast, hard to source vegetables from award-winning Mash Purveyor, fresh bread baked from local Chalk Hill bakery and vegetables and herbs from Beaverbrook's own garden, demonstrating the importance of sustainability and high quality produce.
Tommy Wrey, formerly a manager at Daylesford, The Birley Club and Brompton Brands has been appointed as the Head of Food and Beverage.
Surrey Ceramics
Surrey Ceramics specialises in the supply of unique stoneware tableware to professional caterers and manufactures throughout the UK. The company work with and supply many well-known high street restaurant brands, chefs and catering establishments working closely with customers to develop unique presentation ideas and solutions.
Surrey Ceramics have been manufacturing in the UK since 1956 and have supplied to the catering industry for more than 20 years. Clients include Beaverbrook, Wagamama, Bella Italia, The Pig Hotels, Le Bistrot Pierre, Gails Bakery, Blanc Brasseries, Limewood, Lucky onion, Olympic Cinemas, Sushi Samba, Coya, M&S and many more.
Surrey Ceramics work with the clients from inception, discussing their vision, ideas and requirements, in order to translate them into shapes and colour – very much a two way communication process.
Surrey Ceramics Co Ltd Sales Director, Chris Greenaway, said:
"In the case of clients such as Beaverbrook, whom we have just supplied, it is important to be involved in the early stages of design, even in tableware. Listen to the overall style, theme, décor, colour, and most importantly the type of food the chefs are going to present ensures a joint collection of ideas and thoughts from both sides."
Chris added:
"Our greatest strength is listening to the client. Interpreting their aspirations through a continued communication process allows us to develop unique and inspiring tableware."