Celtic Spring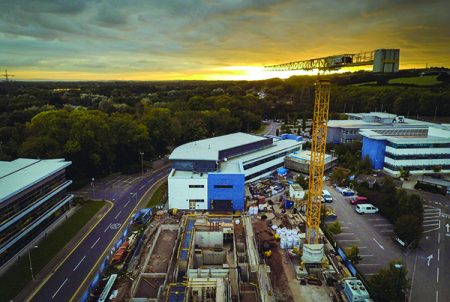 Work on the UK's first proton beam therapy centre began in February 2016 at the Celtic Springs business park in Newport, Wales. Celtic Springs Cancer Centre (CSCC) has been designed by Atkins and is a remodel of the existing building which was also designed by Atkins back in 2006.
The site covers an area of 5,776m² and includes the refurbishment of the existing building and an extension comprising two new wings which house radiotherapy and proton beam therapy treatments. The building includes consulting rooms, Chemotherapy lounge and treatment rooms, Linac accelerator suite, CT scanner area, PET-CT area (PET-CT equipment to be installed August 2017) and a Proteus-One Proton Beam Therapy machine.
The CSCC will be the first of three proton beam facilities currently under construction by Proton Partners International to become operational. Two further centres are under construction, with plans for two further centres in UK and one in Abu Dhabi.
Formerly occupied by Nucleus Healthcare as a gastroenterology unit, the new centre will treat up to 500 patients every year and is supported by the Wales Life Science Investment Fund established by the Welsh Government and further high profile investors
The build has used Macmillan environmental quality guidance to effectively utilise the pre-existing building, with the design team using as much natural light as possible to link the interior to the outside space.
From the main reception area, patients will be able to follow clearly marked routes to the individual treatment areas. Within these areas are secondary waiting rooms with kitchens and external gardens as well as treatment, consultation and diagnostic rooms.
The interior design of the new cancer centre was implemented in order to create a calming atmosphere for patients.
The treatments that will be available include proton beam therapy, PET and CT scanning, radiotherapy and chemotherapy. With such a range of treatments available, the Celtic Springs Cancer Centre will deliver a fully-comprehensive level of cancer care that can be tailored to the needs of each patient.
Proton beam therapy is a type of radiotherapy that is used in cancer treatment. Conventional radiotherapy uses radiation to destroy cancerous cells, however, this can often cause damage to surrounding tissue, leading to symptoms such as nausea and can affect the patient's organs.
Instead, proton beam therapy uses heavily charged protons in a more targeted manner.
In addition, the beam of protons stops once it reaches the cancerous cells, meaning that the radiation does not carry on through the body. The likelihood of causing tissue and organ damage is reduced as the treatment is targeted.
To provide patients with such treatment, Proton Partners International and a team from Phillips worked together to provide the best centre possible. Phillips was appointed to deliver the software and technology tools to all three of the planned UK sites including Philips' Pinnacle Treatment Planning, delivering an intuitive planning environment simplifying workflow. They will also provide big bore CT (Computing Tomography) scanners, which provides detailed images of tissues and organs, at each centre and a PET (Position Emission Tomography) CT in the Newport centre, which helps reveal how these are working, and where disease may lie. IBA (Ion Bean Applications) is the leading provider of proton therapy solutions for cancer treatment and has been selected to install its single room proton therapy system 'Proteus®ONE' at each UK site.
Pravida Bau GmbH is a turnkey radiation protection works specialist, which has been in operation since 2005. On this project, Pravida Bau GmbH was responsible for the radiation protection construction works.
Providing the latest technology in radiotherapy, Proton Partners will acquire Elekta Versa HD™ systems, the most modern linear accelerator on the market, as well as Elekta MOSAIQ offering a fully integrated Oncology Information System (OIS) consisting of MOSAIQ® radiation oncology MOSAIQ® medical oncology and MOSAIQ proton therapy. The Versa HD systems and MOSAIQ software will be installed at the Proton Partners centres.