De Vere Latimer Estate – A celebration of history
Nicknamed The Spy House because of its connections with WWII, Grade I listed De Vere Latimer Estate in Buckinghamshire, a part of The Principal Hotel Company, has recently unveiled a £7 million renovation that places the mansion house back at the heart of the estate.
Main contractors for the impressive scheme were Windsor-based Revo.
Situated in Latimer, among Buckinghamshire's rolling Chiltern Hills just five miles from the M25, the refurbishment uncovered and restored many original features, as well as subtly celebrating the hotel's connection to a secret history.
De Vere Latimer Estate boasts a rich history that dates back to the 16th century, when the original house held Charles I during his imprisonment. The red brick Tudor-style mansion standing today was completed in 1838 and became the temporary host of captured German U-boat submarine crews and Luftwaffe pilots during the Second World War, before becoming the National Defence College until 2006.
De Vere Latimer Estate's biggest transformation occurred in the mansion house, where no stone was left unturned. The refurbished original sweeping staircase with stained glass windows leads guests to 31 new deluxe rooms and suites that were previously meeting rooms and offices, bringing the total number of guestrooms to 205.
All guestrooms feature free Wi-Fi and flat screen TVs, whilst suites and deluxe rooms come complete with king size beds, fluffy robes and slippers as well as luxury bathroom toiletries.
The new 1838 Restaurant & Bar, which is open to members of the public as well as hotel guests, is located in the mansion house and features an open kitchen cooking up locally sourced, seasonal British dishes.
Guests can choose to dine in the modern, wooden-floored restaurant, with soft green touches and indoor trees, or head outside to the courtyard and dine under the trees by candle light.
The new Huntley Bar features stunning views across the Chess Valley and offers both guests and locals a relaxing, stylish environment in which to enjoy a drink whilst taking in the surroundings.
The Library, a fully refurbished space in the mansion house, radiates Victorian charm and features views of the hotel's grounds. The hotel's main reception has also moved to the mansion house and has undergone a full transformation.
For those booking a wedding or event at De Vere Latimer Estate, the mansion house provides four new-look spaces; including a traditional grand drawing room, The Cheyne, with original features that can host intimate celebrations for up to 30 guests, to The Cavendish Suite for weddings and events up to 200 guests.
Respectively added to the mansion during the refurbishment, the Cavendish suite offers state-of-the-art facilities that can double in size by the opening of bi-folding doors on to a new terrace that offers views across the countryside.
Antonio Campanile, general manager at De Vere Latimer Estate, commented: "We're very proud to have restored this remarkable mansion house back to glory; a lot of time and work has gone in to this project, to ensure homage is paid to its important history. The newly refurbished bedrooms are looking fantastic and we're already receiving excellent feedback from guests.
He continued: "As a popular venue for the meetings, conferences and private events market, the renovation was planned and designed to appeal to all our customers, whilst providing a stylish standout venue in stunning surroundings."
De Vere Latimer Estate, nestled in 30 acres of formal gardens and grounds, boasts free superfast outdoor Wi-Fi, a restored Victorian Pond, as well as specially commissioned sculptures by artist Emma Stothard. Guests of the hotel also have access to a gym, indoor pool, sauna, steam room, as well as a boot room which provides complimentary Hunter wellies in which to explore the stunning grounds.
The property also boasts 28 flexible meeting and events spaces, some of which are located in the Cormorant and Mews buildings, which sit adjacent to the mansion house.
The refurbishment has also seen the introduction of De Vere's first Burr & Co. coffee shop concept, where guests can enjoy high quality ethically sourced coffee, tea, juices and soft drinks, artisan cakes and pastries to take away or eat in.
The completion of De Vere Latimer Estate's refurbishment marks another important milestone in De Vere's wider multi-million-pound country estate hotel renovation project, which places the Mansion House at the epicentre of the group's country estate portfolio. The gardens will also receive investment with the addition of outdoor dining patios and sculptures, making the great outdoors an extension of the hotel itself.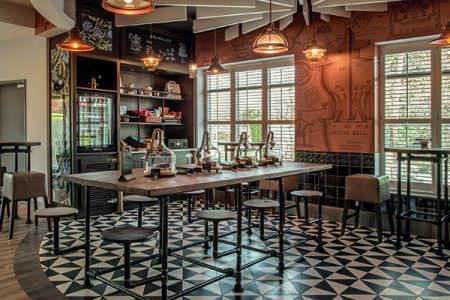 Design & Create
Design & Create specialise in making cost efficient and quality furniture for commercial, residential and office refurbishment projects. Design & Create's craftsmen have a thorough grounding in all areas of the woodworking, furniture and interiors industries; which underlies their commitment to good service and their approachable nature to solving problems for their customers.
Design & Create is a small company working in a modern environment that has never lost sight of the traditional skills, quality, and indeed the hard work that enables them to quickly produce competitively priced, thoroughly designed, beautifully created practical results.
Set up by James and Helen Wyatt, the company has been in operation since 2006 and within this time Design & Create has worked on a range of prestigious projects, from bath store's and Burger Kings to commercial and residential projects working with London based interior designers such as Taylor Howes, Laura Hammett Interiors, Hill House Interiors, KT Design and more recently Peter Staunton Interior Design International.
Working on the De Vere Latimer Estate project, Design & Create was involved with the restaurant area, including the main bar (front and back), all moulded wall panelling, the summer house, bench seating, waiter stations and display cabinets. Design & Create's involvement extended to the restaurant lounge, to include all moulded wall panelling and decorative electrical cupboard, as well as the Cavendish Suite, which included all moulded wall panelling and mirrors, main bar (again front and back) and coffee units either side of main bar.
James Wyatt, Design and Create said:
"This project opened the door to the hospitality market. We understand in all we do that quality and longevity of the pieces we make are key to a successful project, and this project was no different. We're used to both tight deadlines and budgets and we pride ourselves on working closely with our clients to offer design and cost efficient solutions to overcome difficulties with budgets or timescales."
James added:
"Whether it's a single piece of furniture or a stunning interior we apply the same meticulous attention to detail. Accuracy, experience and efficiency underlies our work and the items we create reflect our passion for excellence and practicable design."
Revo
Revo Leisure Services Ltd is a construction contractor, working across a range of sectors including office, health, hotel and restaurant, petroleum forecourts and retail. Revo coordinate all the elements of a project from understanding the first brief to final sign-off, with services including design, fit-out, furniture, relocation, total build, facilities management and a host of ancillary specialties.
The company has been in operation for 11 years and within this time has been involved with a number of prestigious projects, including works for DeVere Venues, JW Marriott, Grosvenor House Hotel, Harlequin RFC, Arqiva, Greenwich Leisure, Larkfield Leisure, Everyone Active, Microsoft HQ, BP & Shell, Barbican Centre, Compass Group and Roux Restaurants, amongst others.
Most recently, Revo has been involved with the ongoing work on the Latimer Estate. The project includes a full refurbishment and fit-out of the Grade II Listed Latimer main house, including reception, bedrooms, lounge & bars, restaurants, kitchens, toilets, function and conference suites, external terracing, landscaping and car park.
Philip Basford of Revo Leisure Services Ltd, said:
"Revo are proud to be appointed as the main contractor at this prestigious and historic estate, with its Grade II listed main house. It has provided us with the opportunity to establish ourselves as a high quality contractor to the hotels and leisure sector with proven experience of dealing with English Heritage projects. It also gave us the opportunity to show we can meet the requirements of the Considerate Constructors Scheme (CCS) Code of Considerate Practice."
Philip added:
"Revo Leisure Services Ltd provides a first-class service, innovative designs in planning, structure and technology; whilst also delivering projects to time and budget with minimal fuss or disruption. We aspire to meet the CCS Code of Considerate Practice: Care about Appearance, Respect the Community, Protect the Environment, Secure everyone's Safety, Value their Workforce."