Lightscape
Inspired by the natural concept of symbiosis, Lightscape is an internal public space located in the Chinese city of Ningbo. Found in the reception area of a newly-completed residential community, Lightscape consists of an entryway, exhibition area, coffee bar and reading area.
Finished in November 2016, the space was designed by XYI Design and features smoky wood panelling, arabescato marble, Milky Way grey marble and various metals. Since completion, the space has proved to be a popular spot with its design accommodating both social and business occasions. More recently it received industry recognition with a SBID International Design Award nomination in the 'Public Space' category.
Moving through the space, the entryway is a transitional area extending from outside the building into its interior. It employs a smoky wood grid as an extension of the external architectural scenery which combines flowing water with a large-area wooden grid. This wooden grid enables sunlight to shine into the space throughout the day, creating patterns of light and shadow.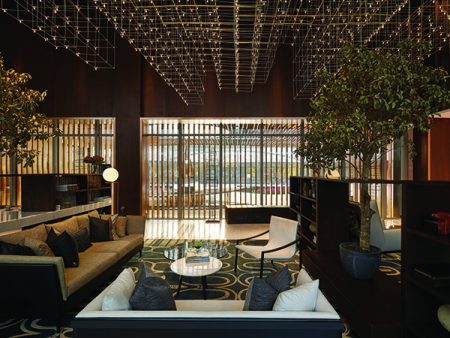 As you move further into the space, an airy flock of birds suspended from the ceiling act as a guide into a casual area where people can congregate and look at displays. The glass birds give way to a metal grid combining solidity and emptiness where the line of movement enters the next area, and hovers above the coffee bar's kitchen island and reading area. Light continues to flood the space along its central axis.
The choice of materials like natural wood and elegant marble forms a semi-primitive, semi-modern atmosphere. This concept of coexistence with nature incorporates a refined modern minimalist vocabulary.
Mac Huang from XYI Design said:
"Generally, the design plan is only executed to about 60% of the original proposed design in China. With this project, however, we executed 90% of the original proposed design which highlights how much trust the client had in us and how much confidence they had in our design ideas.
"I am very glad we have been nominated for a SBID Award as we were also shortlisted last year. We have earned this recognition and I am appreciative for the entire design team. With this project we combined both western and eastern design philosophies. The functional parts come from the west and the eastern aesthetic sense comes from the east. We love this kind of combination and its present effects."
Lightscape was designed to be an appealing, attractive and warm space that offered respite from the outside. Its SBID nomination is recognition of a unique and innovative creation that blends nature with modern design.