BEAR Derby
turnerbates and up-and-coming entrepreneurs and founders of coffee company BEAR have transformed a derelict-bank in Derby's Cathedral Quarter into an all-day coffee and dining experience that marks the start of an exciting 2018 for both companies.
The Beginnings
Founded in 2014 by Craig Bunting and Michael Thorley, BEAR was inspired by Australian coffee house culture which emphasises socialising, wellness and craft coffee and contrasts to the 'grab and go' nature of large chain stores in the UK. They saw a gap in the market particularly in the Midlands, and so opened a site in their hometown of Uttoxeter. With the confident slogan 'not another coffee shop,' armed with a coffee machine inspired by motorcycles and with its own 'Reverse Osmosis' water filtering system, BEAR injects passion and expert knowledge into both its craft coffee and food.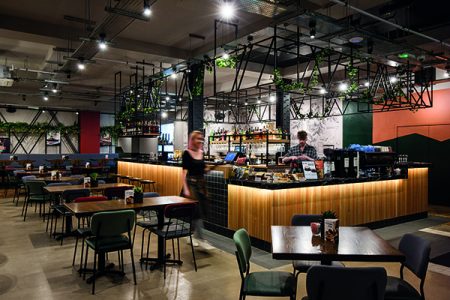 Expanding
After meeting Chris Price at an entrepreneurial event hosted by PWC, the trio decided to collaborate, with a view to open 30 stores nationwide over the next five years. Chris shared a similar vision, as fifteen years prior he had a similar dream to open a coffee shop. His range of business experience, from Claire's Accessories to waste management company Reconomy, meant that the team felt ready to open a new site in their teenage skateboarding haunt of Derby.
Enter turnerbates…
BEAR appointed turnerbates Design & Architecture after visiting their stand at the 2016 Restaurant & Bar show.  After an initial visit to BEAR in Uttoxeter, turnerbates then viewed their chosen location in Derby – a redundant Victorian bank and listed building in the historic Cathedral Quarter that had been butchered by its previous tenants.
An Evolving Vision
The design for BEAR Derby evolved alongside the development of the Uttoxeter site into an all-day environment, from a coffee shop and dining space to a late night bar with cocktails. turnerbates drew inspiration from BEAR's well-established brand identity, referencing the influence of landscapes and the Victorian architecture of the building in the colour palette. The colours also hint to the countries in which coffee originates, and highlights BEAR's creativity and dedication to craft coffee with bespoke wall artwork displaying the process of coffee making.
Talking about the project to Premier Hospitality magazine, Monica Herdlevaer, Senior Designer at turnerbates said: "It has been very rewarding for us to see the to see the project physically take shape on site and see new life being brought to a space which has been neglected for so long."
Through the use of lighting and emphasis on the state of the art coffee machine and cocktail bar as the hub of the shop, turnerbates' design encourages visitors to relax and enjoy the space from morning until late evening.
"It's been a great opportunity for us as a small brand to work with a leading design company. turnerbates have really helped us to establish and develop an on-brand interior design style that we feel confident and excited to continue rolling out across our future stores," said one of BEAR's founders, Craig.
New Year, New Space
The success of the new space in Derby, alongside turnerbates and BEAR's plans to expand their unique type of coffee shop across the UK, means 2018 will be an exciting time for both companies. Watch this space.
Monica said "It has been an exciting experience for the turnerbates team to work with a client that is open to new ideas and are as passionate about the design and details as they are about the quality of the ingredients they source, this has allowed us as a team to create a new concept of which we are proud."