MNKY LNGE in Mayfair
Mayfair hotspot and Latin American restaurant, MNKY HSE, has launched MNKY LNGE. An intimate and creative hub, located on Dover Street, MNKY LNGE will be an exclusive lounge bar and events space.
Accessed via a separate entrance (as well as through) the main restaurant, MNKY LNGE boasts all new interiors and a bespoke collection of contemporary art; including a glass sculpture by celebrated Light Artist, Chris Wood – made from dichroic – a material originally developed by NASA.
Music is an integral part of the MNKY LNGE experience and as such MNKY HSE's Music Director, Francesco Mami, has curated an ever evolving programme of live performers and resident and international DJs.
MNKY HSE hosts DJs such as Yokoo, Nico Stojan, Sabo and Jerome Sydenham, from global hotspots such as Myknonos, Ibiza, Berlin and Tulum. Working in collaboration with artists from renowned labels such as Ibadan Records and Sol Selectas, MNKY LNGE curates unique musical performances and unparalleled tribal beats, available for the first time in an exclusive environment in London's Mayfair.
With a focus on sensory lighting, accessories and stylish low seating, the LNGE is designed to act as MNKY's living room – the perfect place to spend early evenings catching up with old friends. As the night evolves guests can party with new friends, 'hse party' style, till the early hours.
The MNKY LNGE bar boasts a vast list of rare and distinctive tequilas and mescals alongside a selection of signature cocktails and MNKY Botanicals. Created especially for the lounge by bar manager, Javier Escribano, the MNKY Botanicals are available in five different flavour infusions. These include refreshing and floral options, such as the 'Monkey 47' (Merchant's Heart Hibiscus Tonic, plum wedge, edible flowers) and more intense and spicy alternatives, such as the 'Bloom' (Merchant's Heart Pink Peppercorn Tonic, cracked black pepper, grapefruit twist, mint).
Curated by MNKY HSE's Michelin trained head chef, Pablo Peñalosa-Nájera, the bar menu includes a selection of sharing style tapas plates and features several of MNKY HSE's signature dishes, including the Chu-Toro Tartar and the Grilled Octopus.
MNKY LNGE is available for exclusive evening hire from Sunday to Wednesday, and for daytime hire throughout the week. With a capacity of 40 seated or 100 standing, large bar, state of the art custom sound system and DJ booth (Vinyl/CDJ), moveable seating and one of the latest licenses in Mayfair, the space is perfect for dinners, cocktail events, and parties alike. Events packages are available upon request.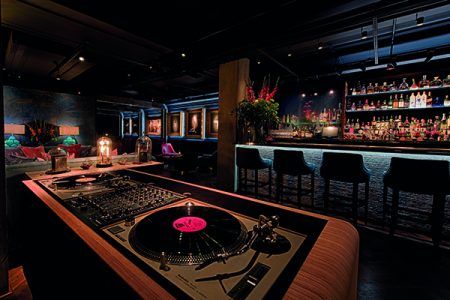 About MNKY HSE:
MNKY HSE in Mayfair is a stylish restaurant and bar, serving high quality, contemporary Latin American cuisine alongside regular live music performances and late night DJ sets. Michelin-trained Executive Head-Chef, Pablo Peñalosa-Nájera, ('Restaurante Martín Berasategui' and 'El Cellar de Can Roca'), re-visits his indigenous roots and combines colourful Latin American cuisine with seasonal ingredients, to create a diverse, distinctive and flavoursome menu.
In keeping with the MNKY HSE ethos of 'eat, drink and play', Pablo's experimental dishes are destined to share, surprise and delight. This is evident in several of the HSE's signature dishes from the Chu-Toro Tartar, to the Smoked Heirloom Tomatoes. Other HSE favourites include the YellowTail Aguachile and Mnky Black Cod.
MNKY HSE, 10 Dover Street, Mayfair, London, W1S 4LQ | Instagram: @mnky_hse