GMK Construction: Building an enviable reputation
Quality of work, reliability and timely completion is the ethos at the heart of every project undertaken by GMK Construction in Jersey.
The company is led by chief executive Greg Kelly, who comes from a family renowned in Ireland for their construction experience, and is a fourth generation tradesman.
Primary construction projects undertaken by the firm include residential schemes, other developments, creating bespoke houses, home improvements and renovation works. In addition, the company is always happy to provide bespoke items for any development.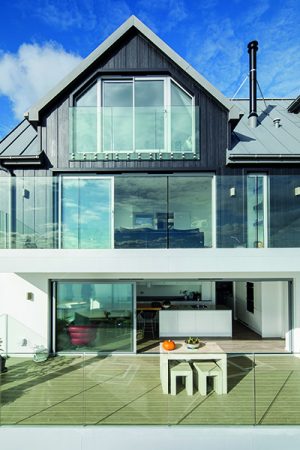 One example of the outstanding projects undertaken by GMK Construction is 'Les Vagues' in Gorey – a recently completed stunning residence occupying a unique site with breathtaking views of the Jersey coastline.
With over 14 years in the business and having 12 years post-qualification carpentry experience, Greg Kelly has developed not only in-depth construction skills, but also the ability to project manage.
As a result, a flexible approach is taken when analysing projects in order to bring clients' requirements to life.
The company carry out projects ranging from minor repair works to major building contracts, with every scheme receiving the time and dedication required to deliver a top quality service.
GMK construction has appropriate insurance to cover projects undertaken, and the company's continual upgrading of equipment and training ensures an exceptional quality of work every time.
Greg Kelly said: "GMK Construction undertake complete projects. For any areas which are not our specific speciality, we work closely with and engage professionals to ensure every aspect of each project is completed smoothly to the highest standard, on the agreed timeline. We engage only those who are considered to be highly skilled in their relevant trade, and where we have first-hand experience of their high level of skill and workmanship."
The company's services are built around the following key principles – integrity, intelligence and respect.
Integrity – Through dealing with customers, suppliers and other stakeholders in an open and honest fashion to develop a level of trust which allows long term relationships to be formed.
Intelligence – The company realise that specialists have skills which can be pooled to ensure that services provided are appropriate and delivered to the highest standard.
Respect – A culture of respect is implemented for those who work with and for GMK Construction, in order to protect the customer and society at large.
Les Vagues
Superbly designed and constructed to take advantage of its unique location with breathtaking views of the Jersey coastline and Gorey Castle, Les Vagues is a stunning new four storey four bedroom residence just completed by GMK Construction in Gorey.
TSA's Steph Scudder assisted in the interior design of the property.
With its sleek linear modern design featuring elegant, minimal strong lines, the building is structured around  a ring beam timber frame with a blockwork first floor and insulated render and cladding externally. Large areas of glazing maximise natural light internally, as well making the most of the stunning views.
Initial site works included the demolition of a building to make way for the new residence, with the construction team rising to the challenge of working on a sloping site with limited access.
Externally, decking has been installed to provide an exceptional outdoor area, and to maximise living space on the sloping site.
Greg Kelly said: "Due to the location of the site, this project was a great opportunity to create a unique living space maximising some of the finest views of the Jersey coastline."
New build properties offer the opportunity for locations to be utilised to their full potential and GMK Construction understand the importance of bringing the vision of architects and clients into reality.
GMK Construction can convert site plans into a finished home on time and on budget, with a complete turnkey package.
Their construction work in this field includes timbre frame kits which allow homes to be erected faster than traditional structures.
Affordable Electrics Ltd
Established in 2007, Affordable Electrics Ltd specialise in a range of electrical works for the construction industry. Works vary from job-to-job, but could include anything from small installations through to the full electrical fit out for large developments.
Affordable Electrics' reputation is built on good client relations, high quality and affordable prices. Most of the company's business comes from repeat customers or referrals and at present, Affordable Electrics employs six fully qualified electricians and a further two fulltime apprentices, who are currently studying to receive there industry recognised apprenticeships.
Affordable Electrics Ltd was recently appointed as the main electrical contractor for Le Vagues. The company was proud to work alongside GMK Construction on this scheme.
Aaron Want, Affordable Electrics Ltd, said:
"We have undertaken many projects with GMK Construction and all have been successful. We find GMK Construction to be a joy to work with."
Aaron added:
"At Affordable Electrics Ltd, we pride ourselves on our ability to provide a high quality service at a competitive price. Our work is always neat, clean and tidy and whatever service is required, our clients can rest assured they will receive the highest standard by our selected team of engineers."