20 Stories
Open from 1st March 2018, 20 Stories occuppies the 19th floor rooftop of the No.1 Spinningfields building. The 15,263 sq ft development features a restaurant, grill, bar, and terrace that offers unparalleled 360-degree views of Manchester's city skyline.
Formerly Chef Patron at Manchester House, renowned chef Aiden Byrne comes to D&D with an intimate knowledge of the Manchester area and a wealth of experience, having worked at a number of Michelin-starred restaurants including Adlards, The Commons Restaurant, Danesfield House and Spa and Tom Aikens restaurant. The menu at 20 Stories is modern British, celebrating local produce with suppliers sourced, where possible, from no more than 50 miles from the city.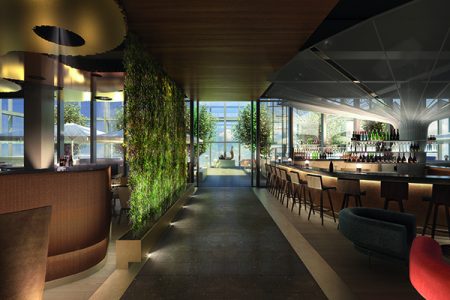 Alongside the restaurant, a more casual brasserie serves dishes mainly from the grill while the bar boasts a unique list of modern cocktails and craft beers.
Aiden Byrne, commented: "I am thrilled to become part of the D&D family. The space has something for everyone, with a restaurant, grill and cocktail bar all in one place – and food has a real focus on the local produce that has always been close to my heart."
Behind the interior design is the New York based firm, CetraRuddy, an international award-winning architecture planning and interior design company. Their design for 20 Stories is inspired by nature, reflecting the dynamic beauty of the ever-changing sky and tactical nature of earth through a rich landscape coupled with modern and glamourous art elements. Using locally sourced materials and the use of handcrafted textiles that honour Manchester's past, the design brings warmth and authenticity to this unique venue.
An alluring roof top garden features trees scaling two stories high and hosts an outdoor lounge bar under a canopy of trees and dramatic lighting. Outside BBQs and al fresco fireplaces are dotted along the terrace to create a cosy atmosphere against the backdrop of Manchester's skyline.
The name, 20 Stories, not only pays homage to the restaurant's skyscraper location overlooking the city, but also to the original use of the building. Northcliffe House was once renowned as a hub for the printed word and as Manchester's centre of news, housing a variety of printed press publications such as Manchester Evening News, The Guardian and The Daily Mail.
Chairman and CEO of D&D London, Des Gunewardena, commented: "Manchester is a fantastic city and we have watched closely over the last few years the resurgence of the restaurant scene in the city generally and in Spinningfields in particular. Working with Mike Ingall's Allied London as landlord and now with Aiden Byrne, a chef who we've long admired, is a very exciting prospect for us. 20 Stories is a project that we at D&D, have looked forward to launching with huge anticipation and in Aiden, we couldn't have asked for a better chef to partner with."