The Maldron Hotel
The construction of a new four star 265-bedroom six-storey flagship hotel – the Maldron Hotel in Newcastle – has just been completed on the city's former Newgate centre site and has been hailed a resounding success..
The 100,000 sq.ft, hotel, completed in November 2018 by McAleer & Rushe is let on a 35-year FRI lease to Dalata Hotel Group, Ireland's largest hotel operator and forms part of McAleer & Rushe's wider £75 million mixed use regeneration scheme in the city.
Alongside the flagship hotel, the redevelopment of the former Newgate Centre comprises 185,000 sq. ft of student accommodation operated by Unite Students to deliver 575 beds, as well as 20,000 sq. ft of modern retail and leisure space, making it a truly mixed-use scheme with all the associated long-term economic and employment benefits for the city.
The hotel is Dalata's first Maldron brand operation to be opened in England and includes an extensive bar, restaurant and business meeting facilities, which provide a major boost to the Newcastle economy.
The development is strategically located on Newgate Street at the heart of Newcastle City Centre and is close to St James' Park, home to Newcastle United FC and the Eldon Square Centre.
The building is structured around a concrete frame with external elevations primarily in natural sandstone with aluminium curtain walling, and a flat roof split into four different levels, one of which is a 'green biodiverse roof'.
The hotel also incorporates two inner courtyards with external elevations in a combination at aluminium cladding and render. The main courtyard incorporates hard and soft landscaping and is accessible for use by Hotel guests from the ground floor public area. In addition, beneath the Hotel are two storey retail units and a large basement area, shared with the Student Accommodation Building and retail tenants.
The ground floor of the hotel includes a reception area and breakfast servery, a restaurant and bar, a kitchen and public toilets. A business suite with four large meeting rooms, a breakout area, toilets and staff offices, together with guest bedrooms are located on the first floor, and the remaining levels two to six are occupied by guest bedrooms.
Mark McCormick of McAleer & Rushe, Contracts Manager for the Newgate Development, including the Maldron Hotel scheme said: "This was a particularly challenging project as the site is located in the heart of Newcastle city centre with considerable logistical constraints, being surrounded by existing Listed buildings and fronting onto one of the main bus routes, as well as being within a conservation area."
The project included heavy involvement with the city council's planning department as well as the conservation officer – which led to the choice of natural sandstone for the main elevations to fit in with the surrounding buildings. The site also included five electricity sub-stations which provided power to the wider city centre, and these had to be de-commissioned and removed prior to commencement of demolition of the existing Newgate Centre.
In addition, Newcastle City Metro tunnels run beneath the site, which created significant challenges during both the demolition works and the construction of the new building sub-structures, with daily liaison being needed between the contract team and the Metro service.
Mark McCormick added: "Despite these challenges, the contract was successfully completed 16 weeks ahead of programme and this could not have been achieved without the support of all the project stakeholders, including the Dalata Hotel Group, the funders Standard Life and the continued co-operation of Newcastle City Council.
"The project has completely regenerated this area of the city and was a very high profile successful scheme for McAleer & Rushe.
"Even though it is still early days, feedback from guests has all been very positive and complimentary with very good reviews for the Maldron Hotel."
The Maldron Hotel scheme represents another significant project in the long-standing partnership between the two companies which has seen McAleer & Rushe deliver numerous hotels across the UK and Ireland for the leading hotel operator.
The most recent of these include the 237 bed Maldron Hotel in Belfast which opened for trading in March 2018 ahead of programme.
Dalata Hotel Group plc is Ireland's largest hotel operator, with a current portfolio of 39 three and four star hotels with over 7,900 rooms.
Dalata successfully operate Ireland's two largest hotel brands, the Clayton and the Maldron Hotels across Ireland and the UK, as well as managing a portfolio of partner hotels. 28 of the hotels are owned by Dalata, 9 hotels are operated under lease agreements and 2 are operated under management agreements.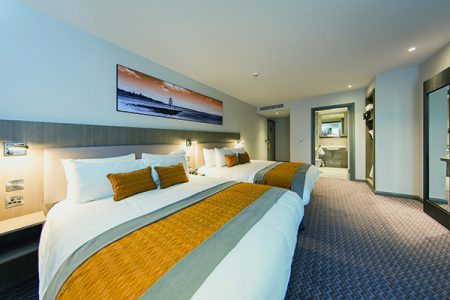 FG Mechanical Building Services
FG Mechanical Building Services is a leading contractor specialising in commercial works. The company has been in operation since December 2007 and over the past 11 years has built up a strong portfolio of projects within the construction sector.
Most recently, FG Mechanical Building Services was appointed as the mechanical services sub-contractor for the Maldron Hotel, Newcastle. The company worked alongside McAleer and Rushe, Caldwell Consulting and CCM to provide the domestic hot and cold water plumbing, soils and rainwater, heating, ventilation and BMS automatic controls installation for the scheme.
FG Mechanical Building Services Managing Director, Francis Glackin, said:
"We are very proud to have been working with McAleer and Rushe on this project. This was our first scheme with McAleer and Rushe, but hopefully the start of a long, strong working relationship. We already have two projects secured with the company for next year."
Francis added:
"At FG Mechanical Building Services we pride ourselves on providing a first class and professional service to all our clients."
M Squared
M Squared is an external works contractor, specialising in hard & soft landscaping, groundworks & civils, street work, public realm installations and fencing. The company has been in operation since 2008 and within this time has worked on a range of projects, including Heriot-Watt University for Bowmer & Kirkland, The Engine Yard in Edinburgh for Places for People, Lewisham Gateway for John SISK, and the Salisbury Court Student Accommodation project and Hampton by Hilton, Edinburgh for McAleer & Rushe.
More recently, M Squared was involved with the work on the Newgate Centre project. Work included a mix of hard and soft landscaping, public realm works and the creation of bespoke outdoor landscape spaces.
M Squared Director, Kerr McEwan, said:
"We feel very privileged to be involved in such a prestigious project in the centre of the city."
Kerr added:
"Our experienced team of operatives and management have a track record of delivering a diverse range of projects across the UK. We have a strong strategic focus on quality and delivery of complex projects in challenging environments and project timeframes, and this is something we're very proud of."
Zintek Systems
Backed by a full team of engineers covering the country seven days a week, 364 days per year, Zintek Systems specialise in delivering service & support to hotels, bookmakers and nursing homes. Services include video walls, security, signal distribution, software development, data cabling and network installations, as well as digital signage solutions & installation.
Established in 2003, the family-owned and operated business has worked on various projects over the years, with clients including Dalata Hotel Group PLC, Paddy Power Betfair, Best Gaming Technology, Boyles Bookmakers, HSE & Tesco, to name but a few.
For Paddy Power Betfair, Zintek Systems has provided AV systems in Ireland and Northern Ireland since 2012. From the beginning, the company's mission has always been to exceed expectations set out by Paddypower and over the years Zintek Systems has been able to demonstrate its ability to deliver both day-to-day maintenance and nationwide roll out campaigns in a timely and professional manner.
For Best Gaming Technology, Zintek Systems provide service & support, including maintenance and an extensive nationwide roll-out campaign to help grow the estate.
More recently, Zintek Systems has been involved with the Newgate Centre project for Dalata Hotel Group PLC. Commenting about their working relationship with Dalata, Lisa Browne, Zintek Systems, said:
"We have been working with the Dalata Hotel Group PLC for a number of years. This year we have delivered two new hotel openings under challenging deadlines and we will deliver another two before the end of 2018.
"Dalata Hotel Group PLC is Ireland's largest hotel operator, with an ever-expanding portfolio and over 39 hotels, successfully operating Ireland's two largest brands, the Clayton & the Maldron Hotels throughout Ireland and the UK. The group deliver unrivalled expertise in hospitality, backed by extensive hospitality experience & delivering a consistent track record for improving the hotel sector."
Lisa added:
"With over ten years of account management and experience, our management team have built a strong working relationship with our clients across all departments. This has been key to delivering a class leading service and installation record.
"We have successfully demonstrated that we can plan, implement and complete a variety of projects that run concurrently and we can fully oblige any short notice requests that come in. We are fortunate in that we have a team with the size, experience and capabilities to do this."
O'Hanlon & Farrell
In operation for 30 years, O'Hanlon & Farrell specialises in electrical installations for the hospitality and commercial sectors. This includes all specialist requirements, from fire and security systems to control systems and communications.
O'Hanlon & Farrell has worked on a vast range of hotel projects for well-known brands such as Clayton, Holiday Inn, Hilton, Jury's Inn and Premier Inn. The company has a strong working relationship with McAleer & Rushe.
For the new Maldron Hotel in Newcastle, O'Hanlon & Farrell Contract Manager Michael McKee was on site, managing the procurement, coasts and documentation for the project.
Gavin McAleese, from O'Hanlon & Farrell, commented:
"This is our fourth Maldron Hotel for the Clayton Brand successfully completed. To be associated with the brand and working with McAleer & Rushe is something we are particularly proud of and we hope to be involved in more in the future."
Gavin added:
"We pride ourselves on our track record of delivering challenging projects in all sectors, on time and within the client's budget. We provide satisfaction and have established an understanding of their needs and a very successful working relationship with McAleer & Rushe carrying out these projects."