Whatley Manor
Whatley Manor has undertaken a full refurbishment of its kitchen to ensure a more efficient and effective working environment.
Designed by Executive Chef Niall Keating, the kitchen includes a bespoke Athanor cook suite, four induction hobs, two plancha cook plates, an integrated water boiler and a 'quick therm' salamander grill which uses infra-red technology. Gas appliances no longer feature in the kitchen, making a huge saving on energy bills as well as reducing the hotels carbon footprint.
Speaking to PREMIER HOSPITLAITY MAGAZINE about the project, Andy Wood from CCE Group, the company behind the new kitchen, said: "We were approached by Steven Hobbs, Managing Director of Grand Cuisine who in turn was approached by Niall Keating, for a bespoke Athanor cook suite. I had previously worked closely with Steven on selling Athanor in the UK. Together, we went to site to meet with Niall and the General Manager for general discussions and it all went from there.
"It is a brand new Kitchen but also a refurbishment of the whole area. The old kitchen and cook suite had, funnily enough, been put in by Steven Hobbs about 20 years ago.  There was nothing really wrong with the kitchen but it had just got to the point where it had become old fashioned and the layout did not reflect how contemporary kitchens function. In the hotel they have two restaurants to cater for so they needed a kitchen that could cope with both sides of the business and was more modern and up-to-date.
"Before we did the kitchen there were wall shelves all around the space and things on the walls. We have cleared all of the walls so there is no barrier going down the middle of the cook suite. This means the chefs can all speak to each other easily, rather than shouting, and overall it makes for a far better working environment; it really is a super modern kitchen."
"The Athanor cook suite is a bespoke French suite and it is the first white enamel one that they have ever done in the UK. Having made that design decision, all of the stainless-steel fabrication around the cook suite was manufactured by CCE in our own factories."
Athanor hosted Niall and Sue Williams (General Manager) on Friday on 9th January 2019, where the stove was manufactured by Grand Cuisine. The new kitchen also features a Rational 'Vario Cooking Centre' to maximise the overall kitchen space and produce higher quality stocks and sauces.
The flexible new kitchen layout is designed to meet the hotel's changing needs. Modular units are able to move around, recognising that each F&B outlet, whether The Dining Room, Grey's Brasserie or event outlet has its own specific requirements met on any given day.
The new layout allows up to eight guests to dine in the heart of the kitchen (available for Friday and Sunday lunches). This interactive and intimate experience offers an insight into Niall's internationally recognised Michelin-starred kitchens. Guests can be encouraged to engage in conversation with chefs as they prepare and serve each dish. The Chef's menu is £95pp and a curated wine flight is also available.
Commenting on the kitchen, Executive Chef Niall Keating said: "I am incredibly proud of what we have achieved over the past two years since I joined Whatley Manor. Refitting the kitchen has been a crucial part of developing our food outlets, increasing efficiency and creating a more memorable guest experience."
Andy added: "The client is exceptionally pleased with it. It has been described as space-aged and world-class by some of those who have seen it.
"For us, this was a very important project. It is a very prestigious hotel in the West Country and it is a great name to have in our portfolio. It was a great project to work on, with great people involved and is probably one of the best kitchens we have ever done."
Sue Williams, Whatley Manor General Manager said: "It is timely that we had opportunity to completely renew Whatley Manor's kitchen, as it is a hard-working hub of the house."
The owners recognise that Niall and his team have great skills and passion and feel that it is imperative to support and motivate them with the latest equipment to develop the hotel's food offering. Since this work on the kitchen required the hotel to close for a period of time, it was the perfect opportunity to carry out light refurbishments on the bedrooms as well."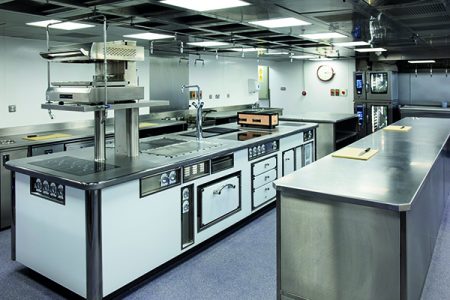 CTS Interiors
CTS Interiors specialises in high-quality curtains, tracks, blinds and shutters. The company has been in operation since 1990 and has a wealth of experience and expertise to provide a full range of services and products tailored to individual needs.
CTS Interiors has worked with architects, interior designers and clients on projects all over the UK and abroad. Based in Frome, Somerset, it has built a reputation for installing quality products with a friendly, reliable service.
The company was recently involved with the refurbishment works at Whatley Manor. Matthew Bridge, CTS Interiors Managing Director, said:
"From the initial planning stage we worked with the designer and the client to find the best solution for each individual room. We supplied and installed high-quality tracking for the curtains and blinds as well as Pelmets & Silent Gliss electric tracks for the large bay windows.
"This project was particularly satisfying in that everyone involved worked really well together. We pride ourselves on achieving a high standard of finish and ensuring that any project we work on goes smoothly from day one to completion."
To find out more, please visit www.ctsinteriors.co.uk.
Richardson & Paige
Richardson & Paige is an upholstery business specialising in the traditions of the trade. The company was founded 15 years ago and still uses methods handed down through generations to create a stitched edge and extraordinary comfort for people to enjoy.
The company was recently involved in the Whatley Manor renovations; working across the bedrooms, drawing-room and parts of the reception area to bring new life to the tired furniture. Their craftsmanship and use of beautiful fabrics made for a unique and stunning finish.
Robbie Richardson, Founder, said:
"For us, a project like this is an absolute joy. Bringing life back to old and neglected furniture; and making it look better than when it was new in most cases. Also, ensuring these beautiful pieces, our heritage, don't end up in a landfill site (a particular bugbear of mine!) is rewarding in itself.
"A lot of what we do makes us proud, (which means we must be in the right business!). But, as simplistic as this may sound, putting a smile on a client's face is number one. It means we've achieved our aim of customer satisfaction through our upholstery work and the promises we gave them at the start."
To find out more, please visit www.richardsonandpaige.co.uk.