From Charlie Chaplin and Laurel and Hardy to Elizabeth Taylor and Sir Sean Connery, The Caledonian Hotel in Edinburgh has played host to many of Hollywood's A-listers down the years.
Acquired by Hilton Hotels in 2000, The Caledonian has now been transformed and restored to the A-list of Edinburgh's hotels with a £24 million investment from Waldorf Astoria Hotels & Resorts.
Placing a strong emphasis on luxurious accommodation, fine dining and exceptional service, Waldorf Astoria Hotels & Resorts currently has more than 20 hotels in landmark destinations around the world on its books.
The company's latest project, The Caledonian, boasts 241 rooms, seven elegant suites, two gourmet restaurants and a spa. The hotel is also centrally located on Edinburgh's Princes Street- with stunning views up to the imposing castle that dominates the city.
Established in 1903, The Caledonian was originally a railway hotel- a theme which is ever present in this redevelopment. The reception and lobby have been stripped back to their former glory, giving a grand sense of arrival with marble flooring, sweeping staircase and a glittering chandelier of fine amber and crystal droplets dusted with gold.
Continuing the subtle railway and station references, bespoke luggage inspires the furniture, with luxury leathers, bronze metalwork, dusted gold and warm rosewood joinery.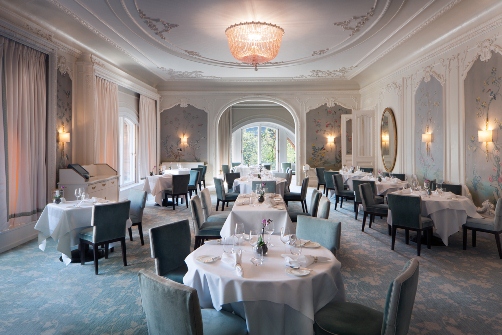 John Vanderslice, global head of luxury and lifestyle brands for Hilton Worldwide, said:
"The successful launch of The Caledonian, A Waldorf Astoria Hotel underscores our commitment to grow our portfolio of one-of-a kind properties in a variety of leading destinations across the globe.
"The Caledonian has been carefully restored and perfectly showcases our world renowned Waldorf Astoria brand, with fine culinary and spa experiences."
Simon Vincent, European President of Hilton Worldwide, added:
"Edinburgh is a truly international city and we are delighted to have the opportunity to showcase Waldorf Astoria, at a hotel with over 100 years of tradition in Scottish hospitality.
"I would like to congratulate everyone involved in delivering this new luxury vision for The Caledonian, which I am sure will quickly be established as a leading luxury hotel in Scotland and our European portfolio."