Clos Barbier is a recently completed housing development located on Rue Jehannet, St Martin, Guernsey.
The development was constructed for the Guernsey Housing Association – an independent not-for-profit company – in order to provide accommodation for older people living in St Martin.
The Clos Barbier development comprises three apartment blocks, containing a total of 24 units, with each block split into two levels. Work began on the project in December 2011 and reached a very successful completion in December 2012.
RG Falla was the main contractor on the project, whilst Tyrrell Dowinton Associates provided a full architectural service. P3 Projection Coatings Ltd was responsible for the exterior render work, interior plastering and full decoration on the development.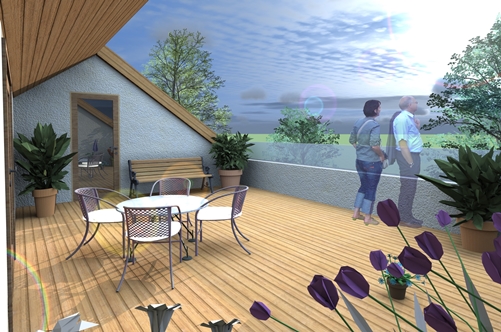 P3 Projection Coatings Ltd Company Director, Glen Cawdron, commented:
"Working on Clos Barbier we assisted RG Falla to complete the project in a cost effective and efficient manner. With our spray render and plaster system we are able to offer a quick application method, saving on time. We pride ourselves on our system being low maintenance. At P3 Projection Coatings Ltd we keep up to date with all the latest products and always offer a high quality finish."
The Clos Barbier development was built utilising timber frame construction, rendered blockwork outer skin, high performance uPVC windows and natural slate roofs. The project was constructed on a Brownfield site and was completed ahead of programme and within budget.
Each apartment at Clos Barbier comprises one-double bedroom, a study/hobby room, an open plan kitchen/dining/living area and a DDA compliant bathroom. All ground floor apartments also have the capability for lifting hoists to be installed within the bathrooms and bedrooms, should they be required.
In addition, the project also provided full external landscaping works, which cincluded the construction of two car parking areas, along with a central communal and pedestrian area walkway. The central walkway was designed to include sufficient space to act as an occasional vehicular drop off point as well as accommodating emergency vehicles.
Tyrrell Dowinton Associates Director and Project Architect, Paul Dowinton, said:
"Clos Barbier was designed for older people who are downsizing from within the Parish of St Martin; moving from larger States Housing Department houses to smaller flats. Each unit has been designed to meet Lifetime Homes' recommendations and to exceed current Building Regulation requirements. In addition, the project has been designed, where possible, to achieve level 5 of the Code for Sustainable Homes whilst integrating design principles of the HAPPI report.
"Clos Barbier is a unique project for the Island and is the first project to adopt Policy RH2 of the current Rural Area Plan, which permits the construction of Social Housing within the rural Parishes.
"Unusually for apartments, each unit has its own private outdoor space, which is very popular with the residents. The ground floor apartments have their own gardens to the rear, whilst the first floor apartments each have their own dedicated roof top terrace. This is unique for a Housing Association project in Guernsey and has proved very successful."
Paul added:
"We experienced no particular problems with the scheme, indeed the project was delivered ahead of program, on budget to a very good quality.
"Following completion of the project, Tyrell Dowinton Associates met with the project team and client for a 'lessons learnt' debrief of the project. The feedback from the meeting was very positive and The Guernsey Housing Association are extremely pleased with the outcome of the completed development."
In addition to Clos Barbier, Tyrrell Dowinton Associates has previously completed other developments with The Housing Association and are currently involved in a number of larger residential developments for private clients. In addition, the Practice has a diverse portfolio which includes individual bespoke housing and commercial projects throughout the Island.
Tyrrell Dowinton Associates strive to produce innovative architecture which in turn, improves the quality of the built environment, whilst providing a professional service which fully considers the needs of the end user.
For more information about Tyrrell Dowinton Associates or the projects they have completed, please visit: www.tda.gg.