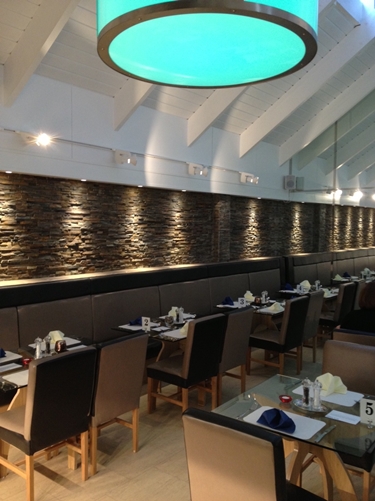 Following a very successful seven months since opening in September 2012, The Clink Cymru at HMP Cardiff will begin to open their doors one evening a month, following a very positive trial run.
The restaurant will now be available for private reservations-only bookings on the last Wednesday of every month. Diners will be asked to arrive at 6.30pm for a set four-course menu designed by Chef Alberto Crisci and his team.
The evening will conclude with tea and coffee before diners vacate the restaurant by 9.30pm. The restaurant is also available for private bookings for a minimum of 25 guests, Monday to Thursday evenings and bespoke menus can be specially created by the chefs to meet your requirements.
28 category D prisoners from HMP Prescoed and HMP Cardiff work full-time in the kitchens and restaurant at The Clink Cymru, training towards gaining nationally recognised NVQ qualifications before returning to their retrospective prisons at the end of each working day.
The prisoners help to develop the seasonal menus under the watchful eye of founder trustee and director of operations Al Crisci. The Clink Cymru uses a variety of local and organic produce with prisoners at HMP Prescoed also training to grow, maintain and produce meat, poultry, salad, vegetables, herbs, fruit and honey that is then used in the restaurant.
Menus reflect the changing seasons and the wealth of incredible ingredients found throughout Wales and the UK with dishes such as a trio of Welsh pork: crispy belly, braised cheeks and escalopes with caramelised apple, served with seasonal vegetables.
To find out more about The Clink Cymru and the charity's other initiatives please visit www.theclinkcharity.org or to book a table at The Clink Cymru please email: cardiff@theclinkrestaurant.com.