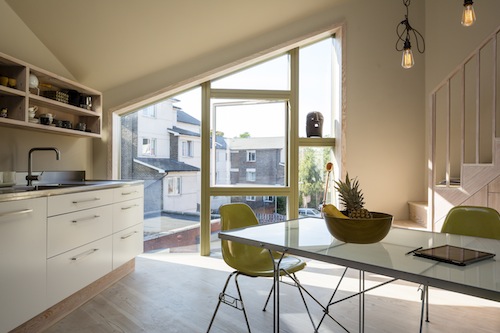 Picking up the RIBA London Building of the Year Award last month and shortlisted for this year's Housing Design Awards and New London Awards, Church Walk is an iconic new build terrace on one of the oldest roads in Stoke Newington, North London. 
The project has provided four dwellings, with two houses, a flat and a triplex on a previously overlooked brownfield site.
David Mikhail and Annalie Riches undertook the project as both architect and developer with the aim of providing themselves and their newborn son with a home and three further dwellings which they could rent out. From the outset they wanted to concentrate on a design that would not significantly injure the light and amenity of the neighbours, and would contribute, not detract from the street.
The pair certainly achieved their aim as RIBA Chairman, Stephen Hodder said: "Church Walk is an exemplary model of how careful, sustainable design can greatly enhance the value of difficult inner city sites. It also offers a paradigm and a reference point for the quality of homes required to meet this country's growing demand for housing."
Materials for the build were intentionally taken from a limited palette, with white oiled Siberian larch, arranged board over board giving a 'corduroy' effect. A light buff coloured brick set in a flush white lime mortar, recalling the London stock brickwork of Georgian London, and a large gauge expanded aluminum mesh, finished like the windows in anodized bronze.
The extensive use of timber, lime mortar and wildflower roofs were all praised by RIBA for their carbon reducing effect.
Reflecting the external white wood, internally muted shades prevail. Light pours in through lined window reveals and internal sills and tall skirting boards and solid wide plank floors give an open spacious feel.
At the heart of each dwelling is a double height family room. It gets good natural light, with windows looking north, plus clerestory glazing at the terrace level above. Living rooms address the street, providing surveillance and security. The rear 'concertina' elevation acts both to provide oblique views that prevent overlooking, and also to avoid a potentially overbearing and acoustically reverberant wall to the neighbours.
Based in Clerkenwell Green, David Mikhail Architects were established in 1992 and specialise in bespoke homes, Church Walk is just one of many to win an award.
For more information please visit:  www.davidmikhail.com.