A project to update and improve gas producing provisions at La Collette Gas Production Plant is nearing completion.
The project, which will see the existing facility upgraded, continues to make great progress and is due to reach completion in autumn 2013.
Keen to discover the importance of this project, Premier Construction caught up with three key members of the team, Senior Project Manager Paul Vass, Customer & Network Services Director Robert Gardner and Director of SHE and Asset Management Stuart Crossman, to discover what this project means to the island.
Discussing the project, Senior Project Manager, Paul Vass, said:
"The existing gas plant is the primary source of gas supply for Jersey however as it is an aging facility there is now a need to replace the plant with a new, more modern facility."
Almost every aspect of the existing plant is being replaced – including new compressors, standby generator and gas blending equipment – with the exception of the storage tanks. The tanks are validated every ten years so they receive an update as and when required and are not part of the project.
Paul added:
"As this project is effectively replacing an existing facility, which is still in use, there are a number of challenges and restrictions when approaching the work. This can add delays, but we are aware of this and this aspect of the scheme is accounted for when setting out the programme of work.
"The new plant is on schedule to be operational by winter 2013 however it will run parallel with the old plant, which won't be decommissioned until 2014, when we are certain that everything is running smoothly on the new plant."
Work began on the project in summer 2012. With a number of external contractors working under the control of Jersey Gas, supplying Design, Material, Electrical, Control and Pipe-work expertise to ensure the plant meets current codes of practice for operation and maintenance.
By upgrading the plant, a more sophisticated control system is being introduced and a more dynamic gas quality measurement is being introduced which will increase the range of feedstock options available.
As Customer & Network Services Director, Robert Gardner and his team is overseeing the future operation and maintenance of the plant. Robert said:
"This new plant will provide us with the flexibility to utilise both propane and butane gas, whilst at the same time removing an aging system. Part of my role on the project board is to support and oversee the planning for the safe operation and maintenance of the plant as a key supply asset within the business.
"We are now in the final stages of construction. We are utilising modern plant and equipment, all meeting British and European standards and once work is complete the site will provide a long term secure supply for customers."
Stuart Crossman is the Director in charge of delivering this important project for Jersey Gas. Discussing the significance of the new plant, Stuart said:
"This project is very important for the island. As the primary source of gas to all of our customers in Jersey we have to ensure that we can provide a continuous supply for every gas consumer. The project has been very interesting and we have used a unique process, making use of relatively new technology.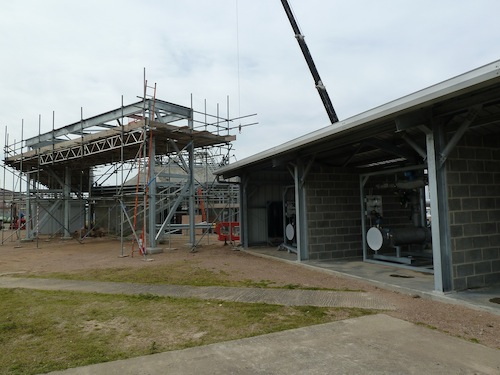 "As mentioned by Paul, the project has been very challenging at times, for many reasons, not just from a technical point of view, but from a logistical one too, but it is very worthwhile.
"We have gone around the world for the technology required, making this an extremely interesting project to be involved with.
"I look forward to seeing this new plant operational."