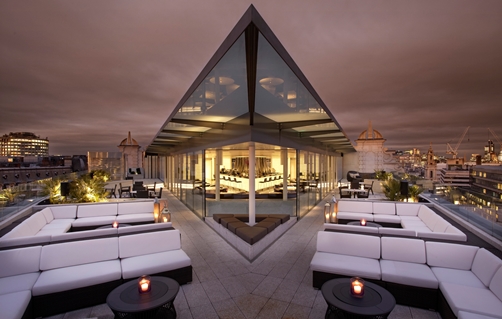 Situated along Aldwych Crescent, Westminster, ME Hotel London is a five star flagship hotel from Meliá Hotels International.
The hotel opened in March 2013 and boasting 10 storeys, 157 bedrooms and 83 apartments, ME Hotel London brings a touch of lost glamour to the heart of the West End.
Work began on constructing the hotel in 2006 and reached completion in late 2012. The project comprised the erection of a new building along with the restoration of an adjacent 1904 Marconi House, whose interior was entirely restructured to seamlessly accommodate the hotel's apartments.
The hotel covers a gross area of 28,070m², was built from a steel frame on a concrete substructure and features a glass and Portland stone facade. Adprotel was the main contractor on ME Hotel London, whilst Foster+Partners provided all architectural services.
Discussing the project, Foster+Partners Head of Design, David Nelson, said:
"Our intention was to make sure that the hotel would be a unique experience, efficient to run and appropriate to the level of service that the ME hotel wished to deliver. We put ourselves in the guests' position to make sure that their experience would be exceptional – we extensively prototyped the rooms and made many changes to improve design and to stay within agreed budgets. The result combines a high level of functionality with a simple, refined aesthetic."
Giles Robinson, a Partner at Foster+Partners, added:
"By designing the hotel inside and out, down to the last detail, we were able to maintain a high level of quality and continuity. Inside, the bold black and white interior palette establishes a strong identity – we defined the individual character of each space through variations in tone, texture and scale. This commitment to quality throughout would not have been possible without the encouragement of our client and our shared goal to create an exceptional experience for guests."
The 157 guest rooms at ME London have all been expertly designed and include floor-to-ceiling windows, a TV/entertainment system, back-lit onyx shelves, discreet lighting and a fully stocked mini bar. Amongst the bedrooms are 16 suites, including the Passion Suite, the Personality Suite and Suite Me, a two-level duplex suite situated on levels nine and 10.
On the tenth floor the hotel's rooftop terraces are an urban oasis and include the Radio Rooftop Bar, which offers truly spectacular views of the river and Westminster skyline. Radio Rooftop Bar is accessible via a dedicated express lift, and serves up finger foods and light bites, alongside a mouth watering selection of drinks.
On the last Thursday of each month, Radio Rooftop Bar hosts Frequency, London's premium cocktail party. Each Frequency night showcases cocktails, finger foods and great live DJ music from local, national and even international music talent.
Additional facilities at ME Hotel London include, the Nine Story Atrium, Marconi Lounge, a range of meeting and events space and car and bicycle parking provisions.
ME Hotel London has been shortlisted in the Newbuild Hotel category of the European Hotel Design Awards 2013 and the category of Best Lobby, Lounge & Public Areas.
For more information about ME Hotel London, or to make a booking, please visit: www.melia.com.