Interiors UK Ltd is a specialist national interior contractor delivering a variety of prestigious projects for the leisure and hospitality industry.
The company has been trading for ten years and has worked with many repeat clients, including Dishoom, The Restaurant Group, Gondola Group, Jamie Oliver, Casual Dining Group, Sticks n Sushi, Five Guys, Las Iguanas and more.
Recently Interiors UK Ltd has been involved with three sites at Stansted Airport: giraffe, Halo Fizz Bar and Coast to Coast. Each project was successfully handed over earlier this year and each demonstrated the efficiency and attention to detail that has become synonymous with the Interiors UK Ltd name.
Keen to find out a little bit more about the projects, Premier Hospitality recently caught up with Interior UK's Managing Director, Angus Gregory to ask him about the company's involvement with each venue. Angus gave us the lowdown about the restaurants and discussed the importance of working on projects within such a key location such as Stansted Airport.
The first project which Interiors UK Ltd handed over was giraffe Stansted, which was delivered mid-March 2015. Whilst Interiors UK Ltd was the main contractor on the project, international hospitality design consultancy, Harrison Design provided architectural design services on giraffe.
With more than 60 giraffe restaurants around the country – and a further three restaurants outside of the UK – giraffe is a family friendly restaurant, serving up freshly cooked food on a daily basis. The restaurant is one which Interiors UK has considerable experience with, having worked with giraffe previously, so the contractor was more than keen to tackle this latest addition to the portfolio.
Angus, said:
"giraffe is a concept which we are very familiar with and as with all giraffe venues, this site falls broadly in line with what has come before; however this restaurant in Stansted has its own unique style. The site includes a steel tree structure, which is situated in the middle or the restaurant, as well as design features such as wattle and daub wall panelling."
With giraffe Stansted complete, Interiors UK Ltd is continuing to work with the brand by delivering their next venue in Scotland.
Angus commented:
"Since handover the feedback has been positive – everybody loves it. We are now working on another giraffe site, this time in Glasgow, so we are pleased to continue this working relationship."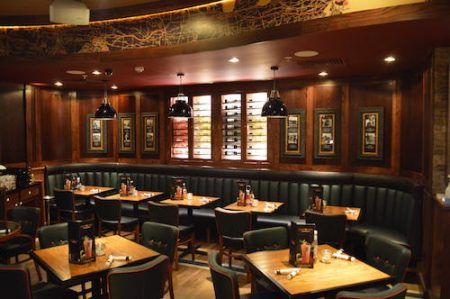 Following handover of giraffe, Interiors UK Ltd worked with London-based commercial interior design and architectural practice, Grapes Design, to deliver Halo Fizz Bar. Located within the International Departure Lounge of the airport, Halo Fizz Bar is a stunning champagne bar which showcases style, confidence and a fantastic selection of drinks and snacks.
Amongst the shimmer of the silver ice buckets and the sparkle of the flute glasses, Halo Fizz Bar provides the perfect surroundings to relax and converse ahead of a flight. Working on the bar gave Interiors UK Ltd the opportunity to bring the bar's selection of drinks to the forefront, without comprising on style and the result is a truly striking venue.
Angus, said:
"Halo is a champagne-style, fizz bar. It is an individually designed unit, with quite a clever use of materials. It has a fairly complex structure, with an architectural focus that keeps the framing to a minimum.
"We handed this over at the end of March 2015 and the feedback from the client was also very positive – specifically when it came to the look. I believe Stansted Airport is very happy with Halo Fizz Bar too as it is a very different type of offering at the airport."
The final project that Interiors UK Ltd was involved with at Stansted Airport was Coast to Coast, an American restaurant which serves up a fantastic selection of burgers, pizzas and pastas. Interiors UK Ltd worked with Nicolson Designs on the project, which ran concurrently with the other two schemes.
Angus said:
"Coast to Coast is an American-themed restaurant and bar, with a number of sites around the country. To date we have worked on every one of its sites and this one, like giraffe, is in keeping with the brand standard, whilst offering a few twists and differences which are applicable to the airport."
One of the biggest differences with working on airport-based projects, such as Coast to Coast is how to present a front-less restaurant without losing any of the flavour of the brand, as Angus explained:
"With all airport-based restaurants there is no shop front, they are all open and exposed, so we have to bring more of the interior to the exterior, to draw people in. Therefore Coast to Coast Stansted had to be designed slightly differently from the other Coast to Coast venues that we have worked on yet still had to present everything that customers have come to expect from the brand."
Each of the three venues was handed over within a three week period of each other, a considerable feat when taking into account the fact that the projects took place in a location where security is of paramount importance.
"Security issues, delivery issues, working restrictions and ensuring that all health and safety protocols are in place are key aspects of working in an airport," said Angus. "It's at a different level to working anywhere else. Systems have to be in place to ensure that nothing is left unattended and all tools must be locked away – working at an airport is very different to working on the high street."
With all three sites now operating as planned, Angus reflects on the success of taking on projects such as these.
Angus said:
"We feel privileged to be involved with all of these projects, furthering our working relationships with our clients.
"At Interiors UK we pride ourselves in keeping clients happy by focusing on costs, quality, health and safety and delivering on time. It is this focus that allows us to keep building new clients whilst maintaining existing clients."
For more information about Interiors UK, or to take a look at other projects in the company's portfolio, please visit: www.interiors-uk.net.
Harper Signs
 Established in 1954, Harper Signs specialise in all aspects of brand implementation works within the hospitality, retail and corporate sectors. The company provides initial design concepts, manufactures and offers a project management service. Site installations which include all relevant aftercare service solutions are carried out by Harper Signs' directly employed engineers.
The company manages individual bespoke projects and multiple roll outs on a global scale and is extremely knowledgeable of the latest trends, no matter what industry they are operating within.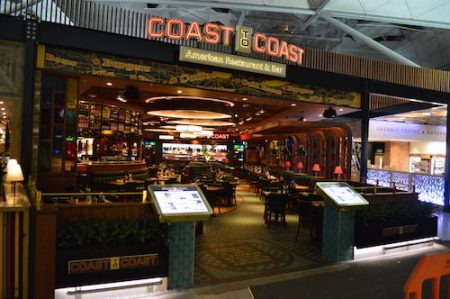 Clients include The Restaurant Group, SSP, NOKIA, Tesco, William Hill, Millie's Cookies, ZA ZA BAZAAR, Turtle Bay Restaurants, Showcase Cinemas and Enterprise Rent-a-Car, amongst others.
Working alongside Interiors UK, Harper Signs were responsible for the delivery of signage and menu displays for giraffe and Coast to Coast. Meanwhile, at Halo Fizz bar, the company manufactured and installed the architectural halo as well as the branding incorporated within the design of the pod.
Discussing the importance of the project, Graham Gellatly, Senior Project Manager & Business Development Consultant for Harper Signs, said:
"The three projects were in very close proximity, in a prestige site where footfall is of a high ratio. Having been awarded the contract we were presented with the opportunity to provide signage for other brand operators within the vicinity."
Graham added:
"We pride ourselves on our high level of service, quality and reliability to consistently deliver projects."