Flemings Mayfair Hotel, Suites & Apartments is situated in one of London's most exclusive neighbourhoods, Mayfair.
The boutique London hotel is just a few steps away from Green Park, Piccadilly and the fascinating boutiques and restaurants of Shepherd Market and Bond Street.
The hotel is in the process of an ongoing remodelling project, where the walls have been stripped back to the original shell. General Manager Henrik Muehle and designer Tony Filmer have used their years of experience together to create an elegant contemporary venue.
The remodelling project has been in the works since July 2014, when Henrik was appointed general manager. It is expected to complete in April of 2016.
Phase one of the works; a remodelling of the hotel's 129 bedrooms, is complete. The next phase includes a redesign of the popular restaurant and bar.
Flemings Mayfair Hotel is made up of 13 ex townhouses, all of which have combined to create a beautiful Georgian hotel with Great British Heritage and existing Georgian features. The breathtaking interiors of the boutique Mayfair hotel are a mix of contemporary style and Georgian elegance, with an intimacy that belies the 129 luxury Mayfair rooms, suites and Mayfair apartments.
Speaking about the design brief, Tony Filmer of Tully Filmer said:
"It was very important to have a design which was relatively easy to implement across lots of rooms, so we couldn't do individual bespoke rooms for all of the 129 bedrooms. We developed a bespoke range of furniture and fabrics which are exclusive to the hotel. Everything from the curtain fabrics to the light fittings has been designed and developed by myself and I feel as though that gives rooms their own personality.
"We have emulated a 1930s feel with the unique furniture shapes. We didn't want it to have an art deco feel, rather an elegant and understated yet glamorous look."
The colour scheme in the bedrooms includes soft, warm greys with a lot of texture. The greys are accented with three colour ways which vary room to room. Some of the rooms have indigo accents, some mustard and others indigo. Tully Filmer developed bespoke fabrics and carpets to work within each of the colour ways.
Tony added:
"Our principal goal was to return the rooms back to their elegant Georgian heritage. For example for all of the skirting boards and the door archeries we tried to restore or replicate a Georgian finish. It's very rare in London to have a ceiling height of over three metres; some of the rooms have up to four meters and huge windows."
The renovation works have so far run smoothly, with the hotel remaining open through the construction process.
Henrik said:
"We can't close the hotel for two years so it has and will remain open for the duration. It's been slightly easier for us with the hotel being made up of townhouses; it means we can just renovate one townhouse at a time. This way guests of the hotel are unaffected by the works."
Following the completion of the bedrooms, Designer Rumana Swinton and main contractors Stone Black begun works on The Drawing Room. The newly designed Drawing Room at Flemings Mayfair Hotel echoes elegance and grace in homage to the hotel's 18th century origins. This Georgian history is reflected in the room's harmonious proportions with reinstated period detail including 3m ceiling height and sash windows as well as an original marble fireplace providing the focal point of the room. The room is complemented by a natural, soft colour palette. Contemporary design is mixed with the classic and showcases bespoke cabinetry by specialist artisans with Maccassar Ebony wood tables edged in antique brass, velvet teal sofas and chairs and coffered ceilings.
The room's heritage is further complemented by exquisite hand-painted wall panels by famous de Gournay depicting early views of India and 'The Tree of Life' by upcoming intuitive painter Eileen Schaer. Bookcases on either side of the fireplace display a fascinating collection of art books from Assouline for guests to enjoy and peruse at leisure.
A perfect setting
 The Flemings Hotel is considered one of London's best kept secrets; boasting 129 luxury hotel rooms, suites and apartments, and The Townhouse, a unique 7 bedroom private residence in the heart of Mayfair. Guests and the public can visit the restaurant, The Grill, for classic grill food, or for those who like to indulge the hotel offers couture cocktails or afternoon tea in the stylish Cocktail & Tea Rooms.
The stylish London restaurant, The Grill, serves classic grill food in glamorous and intimate surroundings. Savour robust, colourful flavours and the best seasonal ingredients in an AA Rosette winning London grill restaurant. Enjoy a relaxed ambience and friendly service for your lunch or dinner in Mayfair. The tempting menu changes regularly to ensure fresh seasonal ingredients are used.
The refined Indian-inspired tea room welcomes guests and visitors to enjoy light refreshments and beverages all day or to imbibe wine and champagne at its small bar. The Drawing Room is also a perfect setting for a genteel afternoon tea – The Drawing Room Traditional High Tea, Jacquart Champagne, Chocolate Indulgence or Ruinart afternoon teas. All of the English afternoon teas include freshly made sandwiches, light fluffy scones with jam and clotted cream, delicate cupcakes and handmade petit fours.
Please note minimum 24 hours' notice is required. Working in partnership with the East India Tea Company, guests may choose from a selection of thirteen different traditional and exotic teas including a signature Flemings blend.
Flemings Cocktail Bar in Mayfair is a hidden gem, with a relaxed, intimate atmosphere and delicious cocktails. The vibrant surroundings feature cobalt blue interiors, Murano glass chandeliers and plenty of plumped cushions. Enjoy a Mayfair Martini or the signature Flemings Negroni, expertly mixed by the friendly team.
The hotel offers a number of meeting rooms to provide a discreet, stylish setting in an ideal central London location. Make your choice from a number of London meeting rooms, whether the modern Looking Glass Room, the unique Private Dining Room or traditional Boardroom. Varying capacities are available, from small meetings for 4 people to a boardroom set up for up to 22 people.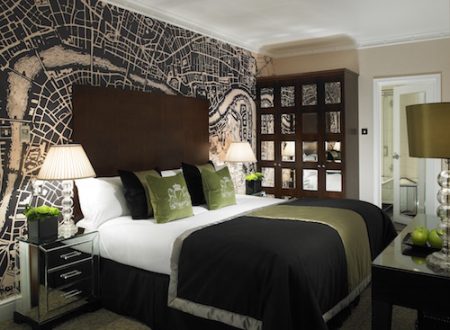 Relax and Unwind
 Exclusively for residents, Flemings complimentary hotel gym is a discrete space to exercise in central London with top of the range Technogym fitness equipment. Guests can enjoy use of the power plate, treadmills, crosstrainer and cycling machine as well as state of the art weights machines and free weights. The concierge will be happy to recommend running or cycling routes in London, and can arrange a session with the hotel's personal trainer Adam Stansbury, a London Personal Trainer and Nutrition Coach, for the duration of your stay.
The hotel has announced an exciting new partnership with Michaeljohn, Salon and Medispa in Mayfair, only 7 minutes' walk from Flemings Hotel, Suites & Apartments.
Enjoy the very best in hair, beauty and medical aesthetic services in luxurious and relaxing surroundings. Michealjohn's expertly schooled team of stylists and colourists are renowned for creating elegant and sophisticated looks for a modern day lifestyle. The Medispas offer the very latest in medical aesthetic services and their luxurious beauty rooms offer a full range of tailor made spa treatments.
Whether you are looking for a makeover or some finishing touches, Michealjohn, Salon and Medispas, offer a wide range of beauty services in their Mayfair salon. Enjoy beautiful make up, premium facials, manicures and pedicures, eyebrow services, waxing and more in the fashionable Mayfair. Michealjohn has tailored the best treatments just for you.
For more information, or to stay at the Flemings Mayfair Hotel, please visit: www.flemings-mayfair.co.uk.
Manborne Custom Furniture
Specialising in the manufacture of high-end custom furniture, Manborne Custom Furniture limited have been in operation for 25 years. The establishment deals with contract and residential projects, offering a quality service and a wealth of experience in the hospitality sector.
Premier Hospitality spoke to Justin Osborne, the Owner of Manborne Furniture, who told us:
"We pride ourselves on quality and reliability; those are the business' key priorities. We have never advertised before, all of our work is attained through recommendations. We work with interior designers and contractors, many of which we have a long standing working relationship."
Manborne Furniture added a touch of chic to the Flemings Mayfair hotel, by providing bespoke furnishings for the bedrooms. Each room was equipped with contemporary, stylish features such as coffee table, dressing table, wardrobe and mini bar.
When asked what it meant to work on the project, Justin replied:
"It's very important to us, it is a high-end exclusive hotel and it is always nice to be associated with this type of project where you have the opportunity to produce quality pieces on this scale."
Other projects that the company have been involved with include the exclusive RAC Club, luxurious Pall Mall clubhouse, The Goring Hotel and numerous top London Resturants. The company is currently focusing on supplying a bespoke table with chairs for one of Heston Blumenthal's private dining rooms.
Stone Black Ltd
 Stone Black Ltd specialise in the delivery of commercial and residential refurbishment works, as well as joint ventures with property developers. The company has been in operation for five years, and within this time has worked on a number of high-end residential developments in Mayfair and Knightsbridge, along with numerous schemes with interior designers and high-end clients.
Most recently, Stone Black Ltd was involved with Fleming's.
Sanjay Raisinghani of Stone Black Ltd, said:
"I am involved with all projects, from securing business to daily management, client and designer meetings and the procurement of materials.
"Working on this project required us to work to tight deadlines and to ensure guest disruption was kept to a minimum."
Sanjay, added:
"My team and I specialise in high-end finishes and we enjoy the complex builds. We never say no to a client unless what they are asking is unrealistic."
Martin Huxford Studio
Martin Huxford Studio specialise in the provision of elegant Modernist inspired decorative lighting, as well as accent furniture & mirrors. All products are designed and hand built in the studio's workshop in the South Downs, Sussex. The designs mix opulent materials such as bronze, brass, marble and English crystal, with geometric architectural lines and harmonious curves to create standout pieces for restaurants, bars, hotels and private residences.
Martin Huxford Studio's designs have proved popular with luxury boutique hotels and private residences alike, and in a very short time have captured the imagination of exclusive clients both here in the UK and abroad. The company has supplied clients in the UK, Hollywood USA, Singapore, Kuwait, Germany, Portugal, and UAE, and this year the company celebrates its first successful year in the industry; an occasion which will be marked by the launch of new lighting and furniture designs at Decorex.
Working on the Fleming's Hotel project, Martin Huxford Studio was responsible for the supply of lighting for the redesigned hotel, with the company's Bibendum Chandelier forming the centrepiece light feature in all the rooms and suites.
Martin Huxford of Martin Huxford Studio, said:
"We are delighted to have such a central involvement and significant presence in such a prestigious project.
"Our Bibendum Chandelier is the major light feature in the rooms and suites, which we have supplied in two different sizes, in addition to our specially designed Bibendum wall lights. All our lights are fitted with energy efficient LED lamps."
Pamela Huxford added:
"The interior designers, Tully Filmer have produced a beautiful redesign for this very special luxury hotel, and it is very exciting to have our chandeliers chosen to play such an important role in the project. It is especially pleasing to see our British designed, British made Bibendum chandeliers and wall lights featured throughout such a quintessentially English hotel."
Martin Huxford Studio prides itself on its sophisticated modernist inspired designs, as well as its high standards, resourcefulness, efficiency, and great attention to detail.
Martin said:
"Quite simply, we delight in designing and creating beautifully made lights and furniture, here in Britain."
info@martinhuxford.com +44(0)1903 740134   www.martinhuxford.com
Martin Huxford Studio, Unit 11 Water Lane, Storrington, West Sussex RH20 3EA
Alter London
 Alter London is a high-end English furniture company with a passion and focus on delivering bespoke furniture to the most demanding clients. The company's furniture is designed and manufactured in Park Royal, West London by a team of specialist craftsmen, and each piece is expertly crafted so that it is both attractive and functional.
Alter London is owned by business partners, Carsten Duvander and Khale Kohi and has been in operation since 2013. Within this time, the company has provided furniture for numerous high profile projects, including hotels, restaurants and high-end residential schemes across Europe. In addition, Alter London provides furniture direct to many leading designers.
Most recently, Alter London has supplied furniture to Fleming's Mayfair. Furniture included benches, sofas, chairs, headboards and numerous items for the hotel's restaurant.
Carsten Duvander, said:
"We enjoy working on large hotel projects, so working on Fleming's Mayfair was very important to us."
Carsten added:
"We pride ourselves on our ability to provide our clients with a bespoke service which allows us to meet all of their requirements."
Interiors of Chiswick
 Interiors of Chiswick specialise in commercial and residential refurbishment projects, with a promise to deliver a smooth transition. Since its inception in 1978, the company has produced a vast amount of projects including The Grand Hotel in Eastbourne ,Luton Hoo Hotel Golf and Spa, St James Hotel and Club, The Capital Hotel, Tylney Hall, Ashdown Park and many more 5* hotels.
Recently, Interiors of Chiswick has been involved with Flemings Mayfair, a boutique hotel boasting Georgian elegance with a contemporary touch. Interiors of Chiswick have contributed to the project in making, supplying and fitting the soft furnishings throughout the entire hotel, adding the final touches to the luxurious site.
Stuart Harris, Managing Director of Interiors of Chiswick, said:
"Seeing the end result at each stage is very satisfying, especially when the feedback is so positive. We are still currently working on the hotel, which has remained open during the process of refurbishment.
When asked if there were any challenges faced during the restoration, Stuart replied:
"There are always demands with refurbishment projects where room sizes and ceiling heights increase and new lighting and bathrooms are installed. The challenge for us is meeting the required deadlines. When this is accomplished it makes the whole project rewarding."
Stuart added:
"It is very exciting to be a part of something like this."
Please note: Images within this feature showcase work from a selection of designers. Not all of the designers are listed above.