A project to provide Flitwick in Central Bedfordshire with fantastic new leisure facilities is well underway and making excellent progress.
The project – which is scheduled to reach completion in January 2016 – will see the construction of a new leisure centre, effectively doubling existing leisure provisions in the town. The scheme is being implemented by Central Bedfordshire Council, with SDC appointed as the main contractor, Darnton B3 Architects providing all architectural work on the scheme and Deloitte Real Estate providing project management.
Speaking to Premier Construction, Jill Dickinson, Head of Leisure for Central Bedfordshire Council, said: "The project has been implemented as a result of our leisure facility strategy, something which we have focused our attention on in order to understand and meet the needs of Central Bedfordshire as it grows over the next few decades.
"We worked with Sport England on a Leisure Facilities strategy, in order to identify the facility needs in our area, and this highlighted the need for additional water space at Flitwick."
She continued: "At present Flitwick has a four-lane pool, but the strategy identified there is a need for eight 25-metre lanes, as well as other facilities including a sports hall and squash courts.
"The current fitness offer is also very limited at Flitwick and we undertook an assessment of how much demand for additional gym equipment there is. In the existing centre we have 60 units, but it is clear there's a demand for 100-120 units, which is what we are now addressing in the new facility."
Although work is taking place on constructing a new leisure centre for Flitwick, Jill explained that Central Bedfordshire Council had considered refurbishing existing facilities before opting for a new-build.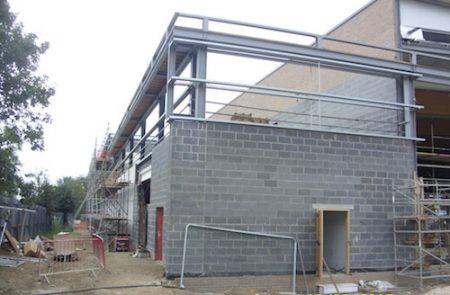 She said: "We did look at the option of extending the current facility, but over time it has been developed in a piecemeal fashion. The building had already been extended a number of times and we knew that it would be difficult to extend it any further. A new build was the best option for providing these additional facilities."
Flitwick Leisure Centre comprises two floors, with each floor boasting a range of facilities designed to offer visitors the best fitness and leisure provisions possible. The ground floor includes dance studios, a sports hall, a climbing wall, swimming pool, a learner pool, confidence water, wet-side changing rooms with provisions for disabled visitors, a café and additional changing facilities for the site's artificial pitch. In addition, the ground floor houses the reception desk as well as spectator area for the pool.
The first floor includes a 120-station gym, dance studios, changing facilities and squash courts. Additional space has been allocated to the first floor of the centre as a way of future proofing the building in the event that facilities need to be increased.
Jill said: "We have planned for future changes in the industry, so should we need additional gym space we have the ability to do this."
The land that the new leisure centre is being built on has been made available by Flitwick Town Council through a land exchange agreement. The project has also been supported by Sport England, which awarded Central Bedfordshire Council a £2million grant through its Strategic Facilities Fund.
Discussing the importance of the project, Jill said: "The new centre will be a vast improvement on the facilities which are currently available for the people in this catchment area. They currently have an ageing facility, which doesn't meet the needs of our current or future customers. The building which is being constructed is much more energy efficient and is up to modern day standards."
She added: "By taking a strategic approach to our leisure service, we have been able to identify the properties for investment across our leisure estate and have implemented refurbishments at a number of our leisure centres.
"As Flitwick comes to completion we are planning for the next redevelopment in Dunstable. Modernising our leisure estate to provide high quality value for money services which meet the needs of our communities is important to us. We have an important public health duty to meet and we are very much in the business of supporting people as they make positive lifestyle choices."