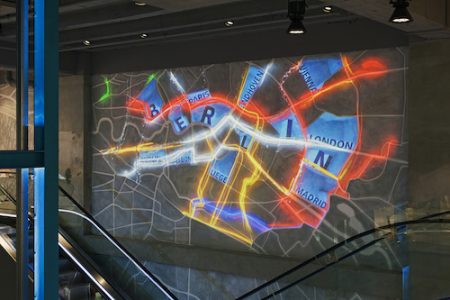 Retail design specialists Dalziel & Pow are a multi-disciplinary design agency providing an array of services for clients worldwide.
Since their inception 32 years ago the design agency has established a wealth of experience in all areas of retail design by employing a range of expert interior designers, graphic designers, digital designers and strategists.
The agency delivers a first class retail design service to clients by operating a four-stage approach for all clients taking each project through a Define, Create, Realise and Review stage. These stages involve understanding a clients brand, their brief and the market before coming up with the actual design concept. The D&P team then develop the necessary visuals, sections, drawings and bring the material palette together for the store before undertaking the physical build and liaising with the architects, clients and contractors to bring the store to fruition.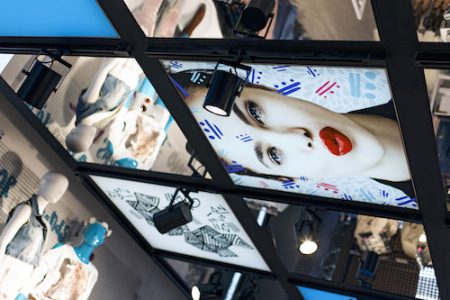 After the store has been physically built and completed the firm work with the client to review how well the store has performed and lived up to original brief. Customer's reactions are gauged so that in the future the concept can be fine tuned and revamped to further fit the clients' brief.
The agency delivers brand concepts for clients as well as the actual store-by-store design of each project they work on, as well as oversee the project when it moves on site by liaising closely with the client, architect and contractors.
Keith Ware, Group Development Director at Dalziel & Pow, commented:
"As retail design specialists we offer concept services, design and drawing packages as well as material selection. We don't build anything and instead have established longstanding relationships with a plethora of suppliers who we have worked with over many years."
The firm has established a longstanding relationship with a number of brands since their formation three decades ago. Well known UK clients include River Island, Next, John Lewis and Primark whom the firm has worked with since 1989 creating a benchmark retail identity for the brand across the UK, Ireland and Europe.
Most recently the firm has delivered the new Primark flagship store in Berlin which includes the first permanent application of Projection Mapping technology in a retail interior. The three-floor store on Alexanderplatz has been designed to capture the aesthetics of the city outside and so reflects Berlin's edgy, creativity through exposed concrete architecture, specially commissioned graffiti art by local illustrators, and neon logos.
The exterior features a fascia sign formed of hundreds of polished clear illuminated acrylic rods permeating an industrial-looking mesh metal cladding.
The architecture and graphics have been overlaid with innovative digital treatments including large screens at lift and escalator entrances displaying Primark's digital navigation directories, as well as video wall located in the store's Beauty Hall.
A bespoke multi-media installation has also been installed on the stores atrium wall, which couples a cast-concrete map of Berlin with best-in-class Projection Mapping content. Another key feature is the Trend Room.
The creative agency also work with a plethora of international brands including Samsung, Timberland, Adidas and Nokia, as well as international brands well-known to the individual markets such as David Jones Department Store in Australia and Mr Price in South Africa.
The firm delivered Timberland's new look Regent Street store in London cementing their position as an outdoor lifestyle label with a new concept.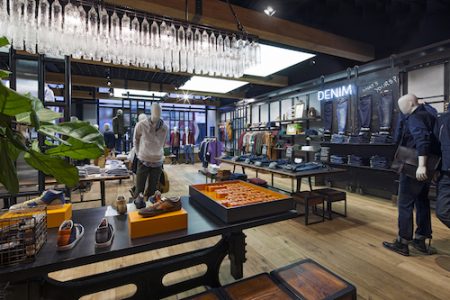 Timberland has been on Regent Street since 2008; the new-look 500 square metre store has been specially designed to showcase the brand's retuned, stylish identity and recognise this unique central London location.
Set across two floors, the store stocks the full men's, women's and children's collections, with a dedicated footwear area and brand experience room. Customers are able to make their own boots using unique studs, patches and coloured laces available every day, or plan their trip on the two days each week that the laser machine is on- site to 'tattoo' initials and designs onto the leather.
Once a month an artist in residence will be chosen to add their flair to Timberland's designs and will include up-and-coming illustrators and graffiti artists.
All elements of the store are handmade, with many coming directly from the brand's birthplace in New Hampshire, USA. Sustainability, authenticity and heritage have been key principles within the bespoke design, which features repurposed construction elements and recycled materials to create a stylish and atmospheric environment.
Keith Ware added:
"As a company we pride ourselves on our creativity as well as having a different approach to how we deal with our suppliers and clients.
"As a straight forward, approachable, friendly agency we typically get great feedback from our clients. We have established longstanding relationships with clients and as a result gain a lot of repeat business because of our approach. Our 32 years experience in the field means our staff are experts and we are skilled at working in most markets around the world."