A swanky new basement-style club has recently opened to the public in London's exclusive area, Mayfair. Stepping down to the venue, guests are welcomed by friendly staff into a quirky environment full to the brim of drama.
Planning on the developments began in February this year, with main contractor Stroods collaborating with Interior Design Company, Edwards McCoy. The luxurious addition to Mayfair was opened to the public at the very beginning of September.
In order to discover some key information on the renovation, Premier Hospitality caught up with Sally Anne McCoy – Director at Edwards McCoy. Sally told us:
"We have been in the business for around 20 years developing pubs, nightclubs, restaurants and high end residential work"
"It is an eclectic themed club, with dancers wearing crazy costumes and makeup – definitely a vivacious setting. The brief was an organic brief, which started off with it being a bit out there and a little different and the name came along halfway through. So we created something that represented the name, it is very quirky."
The venue features deep buttoned velvet seating, with a lot of reflective materials used to make the club bright and colourful, opposing the usual club design which tends to be dark. Reflective, tinted materials in pinks, teal and gold were utilised, as well as the ceiling being reflective with a lot of mirroring added to give the club a more lively feeling.
Sally commented:
"My thing with the interior of any club or restaurant is after seeing it a few times you know exactly what it will look like and it becomes boring; so to address this with Drama we have created a number of areas that are forever changing. So every three months the art installations are taken out and replaced with new ones, to keep the place alive and constantly fresh."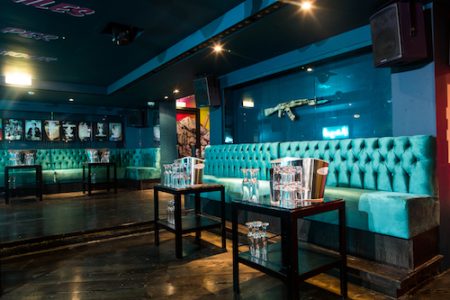 One particular room has large, striking black and white writing that reads "what's the drama?" on the walls – ideal for photo opportunities and promotion. The artwork will constantly be updated in order to relieve the predictability of the venue, adding a fun spark and a sense of mystery about the place.
Impressively, the entrance boasts a captivating floral jungle, provided by a company called Graphics Planet, who specialise in large scale images that they can present on floors, walls and ceilings in every medium possible. An intriguing collage is also situated in one of the artwork areas, creating a collage effect in a landscape image.
Sally told us: "To have been working since February on this project, then to have the final image come to life is amazing – that is why I love my job. After planning for so long and having all of these fabulous ideas, to actually see them come into practice is great."
Whiskey Mist was the previous club on site before it was renovated into Drama, based on the idea of Whiskey and the Highlands complete with whiskey barrels, stag heads and wooden and leather interiors giving it an almost gothic, church-esque vibe.
There was a massive change from the existing site to the current site which was very important, even the shape of the place was altered, with the ceiling being lifted and stylishly mirrored. It was one of the most vital things of the brief to ensure that Drama Park Lane looked completely different from the previous club.
Sally commented:
"The feedback has been really good and the opening night was so busy, there were so many people there. Watching the promotional videos it also seems as if the venue is constantly full and so many people seem to love going there."
Edwards McCoy work on interior design solutions on new build and refurbishment projects worldwide. With an inspiring attitude of taking any brief and exceeding its expectations, the prospect of transforming a site into something spectacular excites them, and this is evident in their work.
Edwards McCoy has worked for leading hospitality clients and recently started working with Stonegate Pubs, ensuring the highest quality service. Similarly, the design establishment's portfolio also includes many independent hotels, private residential projects and currently, a new restaurant soon to be opening on the Brompton Road.
Similarly, the interior design company has also been a key participant in the formation of three Cirque le soir venues, based in Dubai and Shanghai, following the original introduction of the inspiring London site in 2009. The club situated in Dubai was completed in 2011, with the Shanghai addition opening its doors to the public in 2013.
Cirque le soir holds a reputation that boasts a truly immense clubbing experience, having scooped a host of awards including Worlds Finest Club for the Dubai and London sites. Three clubs, three continents, but one instantly recognisable and completely unforgettable experience.
Graphics Planet Limited
Graphics Planet Limited specialises in the design, manufacture, supply and installation of signage and building graphics for use throughout the construction industry, from internal wall graphics through to fully-lit external signage. The company has been in operation for ten years and within this time has worked with a range of high profile clients, providing graphics, signage and branding for the likes of Royal Mail, Mothercare, VW, Vodafone and Pepsico, amongst others.
Most recently, Graphics Planet were involved in Drama Park Lane, where it was responsible for external signage, all internal wall coverings and floorgraphics. In addition, Graphics Planet worked closely with Stroods to install gold reflective panelling for the venue's Gold Room – ensuring the Gold Room was indeed gold!
Commenting on the project, Jez McCoy of Graphics Planet, said:
"It was great for us to be part of a high profile graphic installation in such an exclusive club as Drama Park Lane – showing off what we can do."
Jez added:
"At Graphics Planet we are most proud of our versatility and our ability to problem solve. We can tackle all jobs that arise and this comes from our experience within the industry which helps us to continually meet the requirements of our clients."
Stroods
Stroods is a leading construction and interiors contractor specialising in works within the hospitality industry; from bars and clubs, to restaurants & pubs. Stroods has been in operation since 1988 and each year completes around 100 projects, with 60% of the company's turnover taking place within the hospitality and leisure sector.
Over the past 27 years Stroods has worked on many prestigious projects, from the Lanes of London Restaurant at the Marriott Park Lane to Whittard of Chelsea in Covent Garden, the Voltaire Bar at the Crowne Plaza and the Herb 'N' Kitchen deli at the Hilton Metropole. Most recently, Stroods was the main contractor on the Drama Park Lane project.
Discussing the importance of the project, Stroods Director, Lee Tyler, said:
"Hilton is one of our clients and this is our type of work, so we were perfectly suited for this project. It is also a very prestigious club for us to put our name to."
Lee added:
"At Stroods, we always finish on time and the majority of our work comes from recommendation or repeat business – this is something we are very proud of."