Nominated as a finalist in the prestigious SBID International Design Awards, the exceptional new design of Zacry's restaurant at the Watergate Bay Hotel, set on a spectacular surfing beach on the north Cornwall coast, has impressed award judges, client and diners alike with its relaxed and luxurious, stylish yet unpretentious appeal.
One of the most prestigious design industry accolades, The SBID International Design Awards serve to recognise, reward and celebrate design excellence across a broad range of categories. Winning a SBID International Design Award is a high achievement as they are awarded exclusively by leading industry experts, both for technical content and aesthetic creativity.
Architects and interior designers for the Zacry's scheme were Household, who have worked on other phases in the redevelopment of the hotel. Main contractors were Ease Build, who have also undertaken previous schemes for the client.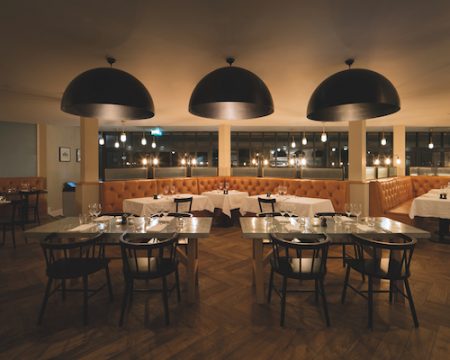 The design was developed in response to Zacry's Executive Chef Neil Haydock's brief to extend the 'active relaxation' concept which Household had previously developed for the hotel's not-spa experience, right through to its main dining space.
"We were delighted to have been nominated as award finalists – the competition is really tough and there are some great entries. We are all really excited," said Siu-Lan Choi of Household.
In addition, the refined experience and targeted menu at Zacry's has seen a 275% increase in non-resident diners.
Household's design had to multi-task – from dealing with high-traffic self-service breakfasts for guests including children and pets, to accommodating evening diners including couples and groups, and catering for wedding parties.
Key design features of the venue include: a main dining room with zinc-topped refectory-style tables through its centre; an open kitchen area of leather-clad family booth seating; and a bright orangery-style terraced extension with floor-to-ceiling windows.
"Zacry's has been designed to achieve a relaxed, luxury ambience to make diners feel as though they are enjoying a real treat, whilst at the same time enjoying an accessible and unpretentious environment," said Siu-Lan Choi.
The original interior was completely stripped out and a new orangery-style glazed extension, designed to take advantage of the spectacular views, was constructed along the full length of one side of the restaurant overlooking the bay.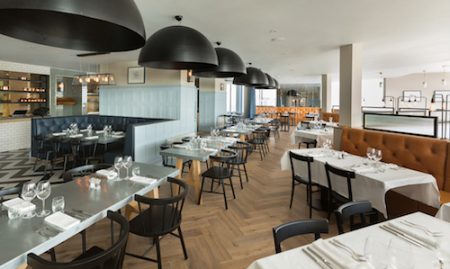 "This was quite tricky as the extension also overlooks the hotel car park, so we erected balustrades to obscure the car park from seated diners and encourage them to focus on the hills and bay beyond. The glazing incorporates bi-fold doors which can be opened to further blur the line between the interior and exterior in the summer," said Siu-Lan Choi.
She continued: "The dining area within the original element of the building will be the main area used in the evenings when it's darker and you can't see outside. It features cosy intimate pockets of banquette seating – creating a very different atmosphere for dining during the evening as opposed to during the day, when the dining focus is on the new extension which is light, bright and great for families.
"The main focus within the dining area is a long central sharing refectory-style table running down the middle and highlighted by dramatic overhead lamps. This is great for weddings, groups and parties, but can also be split up if required."
To the left of the room is a private dining area which can be booked separately and is screened from the main area by a wine cooler storage wall, which still allows views of the restaurant through the storage racks, conveying a feeling of privacy whilst still connecting to the remainder of the restaurant.
An existing semi-circular dining space has also been converted to almost a full circle and houses a large circular table, providing a great location for events such as family parties. This area includes a velvet curtain which can be closed if desired, for added privacy.
"It was quite important to create a varied atmosphere in different sections of the restaurant space – bearing in mind that hotel guests might potentially be dining here twice a day for several days, so we wanted to create a variety of different 'pockets' and spaces that people could enjoy at different times of the day throughout their stay. For this reason, we have included a range of seating including leather banquettes down the centre of the space, leather-clad family booth seating by the open kitchen, deep blue leather banquettes in the orangery and moveable seating in different areas. Much of the new furniture for the restaurant is bespoke," said Siu-Lan Choi.
Each internal space is linked by a chevron floor – realised in practical black and white stone tiles in the kitchen and orangery areas, and in solid oak in the main dining room. Feature lighting also marks each area out, with oversized domes in the refectory, delicate brass fittings in the orangery, and elegant glass box pendants over the kitchen area's booths. All of the lights have dimmers, allowing the creation of different atmospheres at different times of the day and throughout different seasons.
The colour scheme includes soft hues of blue throughout in classic Farrow & Ball paints, with some of the leather banquette seating in a warm tan and some in a deep blue. This is complemented by zinc topped and timber tables and striking panelling detailing featured on many of the walls.
A new kitchen was also installed to a new layout, together with completely new back of house facilities.
Will Ashworth, managing director of the Watergate Bay Hotel said: "We presented a very difficult brief to Household. In essence, we wished to transform our guests' breakfast experience and create a destination evening restaurant within the same space. They nailed it and have delighted our guests in the process with a clever use of lighting, textures and zoning. This was not the first project I've done with Household and over time they have become an indispensable member of our wider team with their knowledge of our brand, target market and our unique attitude to hospitality."
Ease Build were also commended for their work on the scheme. Will Ashworth, managing director at the Watergate Bay Hotel, said: "It's great to continue to work with the team at Ease on our latest project. With their support we've been able to successfully develop the hotel over the last few years. Whilst creating our new restaurant, Ease has enabled us to remain open throughout construction, importantly without disruption to our guests or staff."
UHS
UHS are the forerunner in the hospitality furnishing industry. The company continually inspires, creates, and finds imaginative and beautiful furniture solutions for restaurants, bars, and hotels.
Their main offices are in Oxfordshire and Rome, plus the company has a global presence which has resulted in them creating the finest, specific craftsmanship and design. Recently the company has been involved in Zacry's restaurant at the Watergate Bay Hotel.
Natasha Yelland of UHS Group, said:
"Working with the team at Zacry's, we were able to create a restaurant with a buzzing atmosphere and a classical twist with the use of our furniture. This includes our zinc wrapped table tops, curved spindle back Roberta chairs in Farrow & Ball colours, and our leather Rhone arm chairs located in the panel walled dining areas."